on
Angeli Mehta reports on emerging technologies tackling the threats to food security from monoculture, climate change and population growth
We have a problem. By 2050 there will be almost two-and-a-half billion more mouths to feed on planet Earth. To sustain them, we need to produce almost twice as much food as we do now.
Irrigation has been a big contributor to increasing yields, but the challenge of a changing climate means water will not be available where it is needed most.
And farming is itself a big contributor to climate change, generating some 14.5% of global greenhouse gas emissions.
There's a tremendous urgency around connecting the challenges of human health and planetary health
A burgeoning agricultural sector in the developed world has led to diminishing biodiversity, deforestation, soil and water contamination, and air pollution, while elsewhere subsidence farming denies food security to billions. How can we produce more from our agricultural systems – and produce it sustainably?
"There's a tremendous urgency around connecting the challenges of human health and planetary health and having a really sustainable food system," says Diane Holdorf, chief sustainability officer at Kellogg.
Water scarcity is a big challenge for traditional agriculture. (Credit: JoeyPhoto/Shutterstock)
"The swirl of risk is going to be coming quickly; there's a lot of work to be done. It's going to impact everyone even if this is not the sector you work in."
"Speed is of the essence," agrees Brande Wulff, project leader for crop genetics at the UK's John Innes Centre in Norwich. Staff there, he says, are "working in a race against time to … develop crops better equipped for tomorrow's climate and more sustainable to grow."
The challenge cannot be underestimated, he contends, even here in the UK. That's because we grow a lot less of our own food than we did 30 years ago, making us vulnerable both economically and politically.
With climate change, much of the breeding is just to stand still. "If you take a cultivar [plant variety cultivated by selective breeding] from just a few years ago, the conditions have changed so much it would likely produce less."
It is not just agricultural researchers who are focused on cracking this issue. According to equity crowd-funding platform AgFunder, agri-tech start-ups raised $4.4bn globally in the first half of last year; 21% of that in Europe.
One focus of investment is in urban farming. Siting farms in urban centres cuts at a stroke land and water use, slashes transportation emissions and storage costs. Singapore-based Sky Greens has come up with a water-powered hydraulic system to rotate tiers of growing troughs hung on a 9m-high frame, so plants get equal shares of light and nutrients. Water and soil are recycled and re-used.
In the northern hemisphere, vertical farming is made possible by LEDs (light emitting diodes), which use far less energy than sodium lamps and, crucially, produce light in the wavelengths plants need to produce their own food through photosynthesis.

AeroFarms' vertical farms are as much about data science as farming. (Credit: AeroFarms)
Growers like New Jersey-based AeroFarms have created recipes of wavelength and intensity to get the most out of their crops of baby leaves, and to cut energy use further. Thanks to closed-loop recycling, the company says it uses just 5% of the water that would be needed in the field. The plants aren't grown in water or soil, but rather misted with ideal quantities of water, nutrients and oxygen, called aeroponics.
No pesticide is required. Seeds are germinated and grown on a reusable cloth made from post-consumer recycled plastic. It's a highly controlled operation: AeroFarms monitors 130,000 data points for every harvest for continual fine-tuning. Founder and chief executive David Rosenberg describes the business as a data sciences company as much as a farming one.
The big issue is not the growing, but logistics. You need to shorten the chain from seven actors to one, or even zero
In Stockholm, Plantagon has used crowd funding to help finance the imminent opening in April, of its first city farm in an underground room that once housed newspaper archives. Its green produce is already reserved by Sweden's largest retail chain ICA for its store just 800m away.
Despite using renewables, the operation is still energy-intensive. Plantagon aims to recover all the heat from the LEDs and send that to the host building in winter, or use it to warm the water in summer. Water use is minimal: a kilogram of lettuce grown outside would use 250 litres of water, explains sustainability strategist Sepehr Mousavi. Plantagon uses on average 1.2 litres.
Concept photo of Plantagon's 'plantscraper'. (Credit: Plantagon/Sweco)
The ultimate aim is to have a negative carbon footprint. As at AeroFarms, a huge research effort has gone into creating the optimal environment for growing, providing just the right nutrients to ensure yield and taste. Again sensors and big data are key.
The company had hoped by now to have built a hi-tech demonstration facility further south in Linköping, but it was held up for two years by campaigners concerned that migratory birds might fly into the glass walls. What they learnt during the hiatus has been invaluable. "You need a real estate owner and a retailer," explains Mousavi. "They [the real estate owner] want to know how much money they will make and will it help my sustainability?" The next lesson was having control of the value chain. The big issue is not the growing, but logistics. "You need to shorten the chain from seven to nine actors, to just one or even zero."
These are exciting times ... to meet global sustainable development goals, we need to start somewhere
Both companies have a wider social purpose. AeroFarms is contributing to urban regeneration, trying to inspire a local population about the technology on their doorstep, and providing employment to those locals and to ex-offenders. A mini farm in a Newark school has given students a connection to their food, explains Rosenberg, and it's changed eating habits there.
Plantagon is providing work opportunities for people with disabilities, who find it had to get employment.
Because Plantagon uses pumice, rather than soil, as a growing medium it can't achieve organic status. So it is focusing effort on developing a certification system and a means of demonstrating provenance and nutrition.
While LED technology is enabling indoor farming, it could also be used to speed up plant breeding. Going from one generation of seed to the next takes time, which is why Wulff at the John Innes Centre and his collaborators in Australia started to experiment with "speed breeding".
Some of the 'super bred' wheat at the John Innes Centre in the UK. (Credit: John Innes)
With each generation of a crop, breeders try to improve wanted traits like resilience to drought and remove unwanted ones like susceptibility to disease. So Wulff is using light to trick plants into staying awake for up to 22 hours a day, and has been rewarded with six generations of wheat in a year as opposed to just two or three. Such research could also have an impact on vertical farms.
The crops still have to be proven in the field, but Wulff hopes to walk into a field in 10 years' time and see newer and better crops produced with the help of speed breeding.
"These are exciting times" says Mousavi of Plantagon. "To meet global sustainable development goals, we need to start somewhere."
Saudi dairies are buying land in California and Arizona to grow hay that will be shipped back home
The world's population is also becoming more affluent, which suggests we'll spend more of out income on protein. In the US and Europe, we eat more protein than we need. Indeed, the UN's Food and Agriculture Organisation expects the daily diet of a 2050 Earth inhabitant will contain more protein and vegetable oils than it does today. At the moment, the most efficient way to get it is by farming animals and fish.
A third of global agricultural land is used for livestock feed production, according to Forum for the Future, a non-profit organisation that tackles sustainable development. Almost all water used in animal production (98%) goes into the feed crops, while more than a fifth of wild fish that are caught go into feed.
One example of the competing pressures comes from Saudi Arabia, where its large and highly automated dairy industry has contributed to a depletion of the country's water reserves.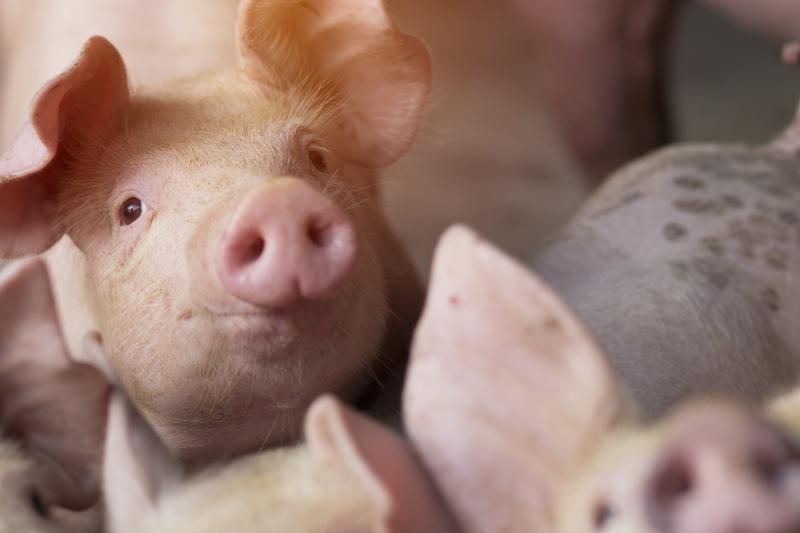 More than 70% of food for pigs and chickens could feed humans.
In response, the Saudi government has cut domestic production of forage, which means millions of tonnes will have to be imported. As a result, Saudi dairies are buying land in California and Arizona – both with their own water supply issues – to grow hay that will be shipped back home.
"It's almost impossible to compare different feeds," says Simon Billing, who leads Forum's work on proteins. Moreover, he says, "promising solutions are at very small scale...... and there's very little good practice to point to." Working with a range of companies in the food supply chain, Forum is developing a sustainability assessment tool to help the industry compare different types of feed that will guide purchasing decisions.
While chickens and pigs produce more meat (and hence more protein) than cows and sheep, more than 70% of their diet could be consumed by humans, explains Thomas Kaufmann, head of sustainability development at Evonik Nutrition & Care, one of the companies working with Forum for the Future.
The overarching need is to move from soybean to locally produced feed as 40-50 years ago
Soy bean provides ideal animal nutrition, but it's a major driver of deforestation in the Amazon basin.
"The overarching need is to move from soy bean to locally produced feed as 40-50 years ago," says Kaufmann. Billing thinks that is, in part, an issue for government, although there is no real policy on feed anywhere in the world: "It's a big beast that won't restructure overnight … but we do need to be starting now.."
Evonik's approach is to develop the vital amino acids that build proteins in crops consumed by animals. Using these as a feed supplement frees up arable land for other crops: its estimates suggest that their use today is freeing up 11.6m hectares of land, roughly the size of Ohio or Malawi. They can also be produced closer to home.
Shrimp and salmon fed on mealworm protein are more resilient to bacteria.
"This is, for us, a business decision, as well as an environmental one," says Kaufmann of Evonik. "In the past [a growing demand for protein] was good for business – but we have to change."
There are other solutions for feeding animals and fish. French firm Ynsect has a demonstration plant near Dole where mealworms, larval forms of the mealworm beetle, are grown to produce fish feed, with some unexpected benefits.
Initial trials suggest farmed shrimp nourished with Ynsect's protein meal had much better resistance to pathogenic bacteria, while in farmed salmon mortality during the stressful transition from fresh water to sea water was lower.
A crop of rapeseed grew three times as big as rapeseed treated with chemical fertilisers
Chief executive Antoine Hubert has theories for the underlying mechanisms, but these need more research. Given that animals and fish eat insects in the wild, they are perhaps well adapted to them.
Ynsect is not wasting any part of the creatures bred on its farms, producing protein, oil and fertiliser as well as chitosan, a sugar that comes from the larvae's protective exterior and has anti-microbial properties.
Ynsect's fertiliser is being put through its paces now. A crop of rapeseed sown in September had – by December – grown three times as big as rapeseed treated with chemical fertilisers. Hubert says his firm hopes to start building a commercial production facility next year.
Angeli Mehta is a former BBC current affairs producer, with a research PhD. She now writes about science, and has a particular interest in the environment and sustainability. @AngeliMehta
This is part of our in-depth briefing on Future of Farming. See also:
Future Farming: Pastures new for big data
A sea change in the way we farm fish
Can agri-tech sow a green revolution for India's poorest farmers?
Applying AI to the humble potato
 
Main picture credit: AeroFarms
Kellogg
Sky Greens
Plantagon
AeroFarms
AgFunder
SDGs
water scarcity
Forum for the Future
urban farming
Ynsect
Evonik
Related Reads
comments powered by

Disqus