on
With thanks to Miriam Heale, Allen & York www.allen-york.com
APPOINTMENT OF THE MONTH
Nancy Mahon has been appointed senior vice-president, global corporate citizenship and sustainability at Estée Lauder Companies (ELC). She also serves as chair of the Presidential Advisory Council on HIV/Aids in the US.
Mahon started working for herself when she was 12, selling leather bracelets, belts and coasters at a local flea market. "From that moment forward, I have always enjoyed entrepreneurial jobs where I can make a difference I can measure," she says.
When Mahon was 14, a girl from the Fresh Air Fund (which sends inner city children to stay with hosts in the countryside) lived with Mahon's family. "I realised how many opportunities I had relative to others with less resources," she says. "I decided that making money was great, but I would rather commit to making a bigger difference. It was also when I stopped saying things were 'not fair'."
Mahon joined ELC in 2006 as vice-president, MAC Cosmetics and executive director of MAC Aids Fund, and was able to build a "global, impactful grant-making programme" as the company grew. In 2011, she began supporting cause programmes for Bobbi Brown, Jo Malone London and La Mer. "In some profound ways, I have been trying to answer and address the same question: how can we do good in the world and do good for the business so we can allow corporate giving to grow?" she says.
"To solve many of the world's toughest challenges, like ending Aids, achieving universal access to primary and secondary education for all children, and understanding why and how cancer cells spread and grow, we need to have business thinking and donor dollars at the table," she adds.
Nancy Mahon, Estée Lauder Companies
Tauni Lanier is the new executive director of Impact 2030, a collaboration between the UN, the business sector and other stakeholders to unite companies in their corporate volunteering strategies to help advance the UN Sustainable Development Goals.
Lanier is founder and managing partner of EcoCapital Ltd and was the first managing director of the Dow Jones Sustainability Indexes.
"For most of my career, I have been a part of the private sector's efforts to engage the global community in making the world better," she says. "Impact 2030 provides an opportunity to coalesce the sector's most valuable asset – its people – around this unique moment in time where the world has a unified set of goals to achieve."  
Grady Lee, chair of the Impact 2030 board and executive committee, says: "Impact 2030 is focused on bringing a broad range of voices, theories and experiences to the table so we can pioneer new strategies for how human capital investments will impact the development agenda. Dr Lanier has the right mix of qualities that will elevate our mission and the global efforts of all us to change the world."
Patricia Espinosa Cantellano of Mexico has been named as the new executive secretary of the United Nations Framework Convention on Climate Change. Espinosa Cantellano has more than 30 years of experience at the highest levels in international relations. Since 2012, she has been serving as ambassador of Mexico to Germany.
Patricia Espinosa Cantellano

 

 

 

 
Global logistics company UPS has appointed Tamara Barker as its new chief sustainability officer and vice-president for environmental affairs. Barker, who has worked for UPS for almost 30 years, has held a number of roles at the company, most recently as the west region director of plant engineering.
Tamara Barker
UN secretary-general Ban Ki-moon has appointed Erik Solheim of Norway as the new executive director of the United Nations Environment Programme. Solheim is currently chair of the Development Assistance Committee of the Organisation for Economic Co-operation and Development, a post he has held since 2013.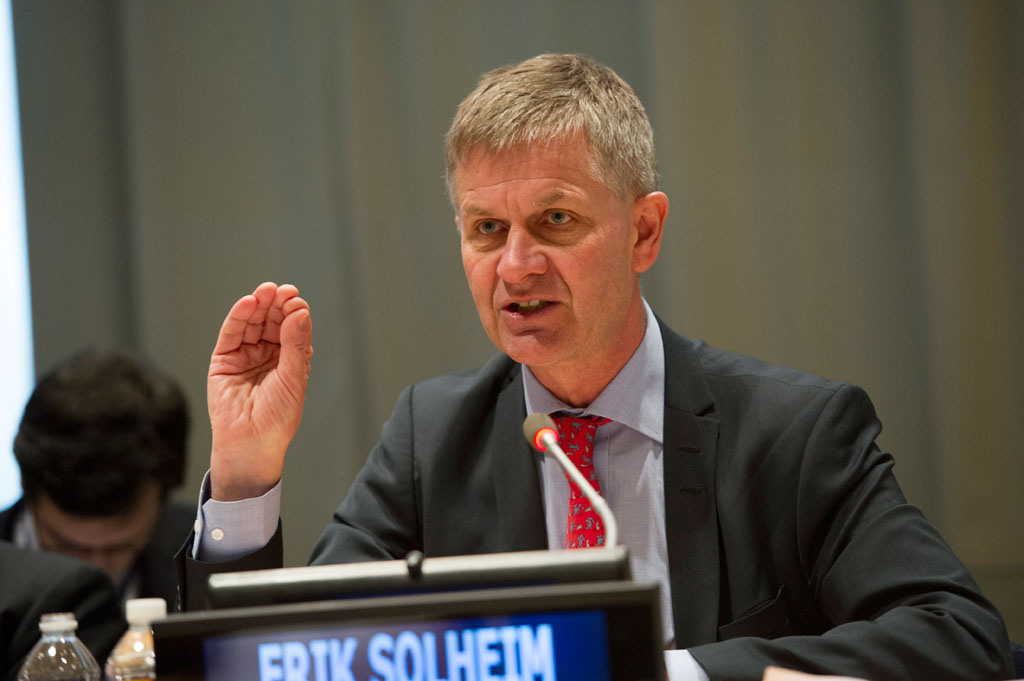 Erik Solheim
Abdalah Mokssit, from Morocco, is the new secretary of the Intergovernmental Panel on Climate Change, the world body for assessing the science related to climate change. He is currently vice-president of the World Meteorological Organization.
David Harris is now group head of sustainable business at the London Stock Exchange (LSE). As well as taking on this newly created role, he will remain director of environmental and social governance at FTSE Russell, a member of the LSE group.
Mott MacDonald has appointed Steve Canadine as development director for its environment business. He was previously managing director at engineering firm Ramboll.
Steve Canadine
The Global Impact Investing Network, a non-profit organisation dedicated to increasing the scale and effectiveness of impact investing, has appointed Wouter Koelewijn as global liaison for Europe. He was formerly a senior innovation manager with Dutch pension asset manager PGGM.
Wouter Koelewijn
General Motors (GM) has appointed Jeffrey A Taylor as deputy general counsel and chief compliance officer. Taylor, who will have overall responsibility for GM's ethics and compliance programme, joined the company last year as deputy general counsel for federal oversight. He was previously vice-president and general counsel of Raytheon Integrated Defense Systems.
Jeffrey A Taylor
Jeffery Smith has joined Six Senses Hotels Resorts Spas as director of sustainability, based at the firm's Bangkok headquarters. He was previously a broker for Canadian company Solar Brokers.
Jeffery Smith
Sustainable investment specialist RobecoSAM has appointed Rocco D'Urso as senior relationship manager for index products. Before joining RobecoSAM, D'Urso was regional director at Stoxx.
Rocco D'Urso
people on the move
Related Reads
comments powered by

Disqus