on
Helle Bank Jorgensen of Competent Boards on how boards can cut through the confusion surrounding climate risk by learning from sustainability leaders like Paul Polman and Cornerstone Capital's Erika Karp
As someone recently said to me "it seems that there isn't a company in the world that doesn't have climate change on its radar." The question is: do company boards have the competencies required to do anything about it?
There is an ever-increasing amount of data and reports being released with regards to climate risks, and it's becoming even clearer that this is an issue that cannot be ignored by any country, industry, business, or board of directors.
But climate change is a tough topic to navigate, and it is much easier to talk about than it is to act in a world of conflicting political beliefs, industry initiatives, etc.
As many of us know, it will be more expensive to wait than to act now
Some companies want to be leaders, while others may wait for regulation. But as many of us know, it will be more expensive to wait than to act now.
I set up my company Competent Boards because in my experience from advising companies, interviewing leaders, speaking at board meetings, and reviewing reports, it seems that many boards could use assistance to overcome several roadblocks when it comes to climate change and other issues such as environmental and social governance and the SDGs.
I have been fortunate to work with some fantastic people and companies that are now seen as global leaders in these areas. At Competent Boards, we have interviewed a wide range of these leaders, including Paul Polman when he was the CEO of Unilever; Jim Hagemann Snabe, chair of Siemens and AP Moller-Maersk; Erika Karp, founder and CEO of Cornerstone Capital; and many more.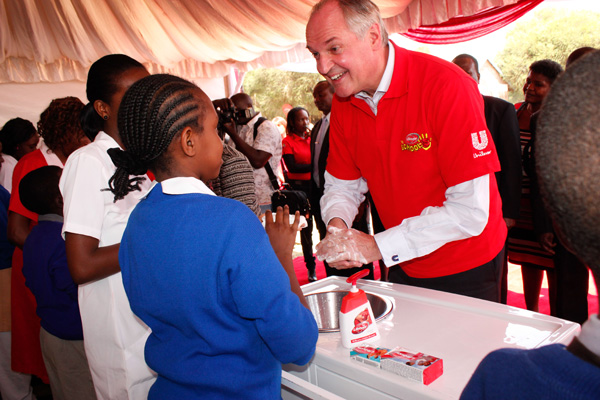 As head of Unilever, Paul Polman was a global leader on ESG issues. (Credit: Unilever)
Through these interviews, we've gained a better understanding of the different challenges faced by boards in becoming climate-competent. I believe we need to accelerate the sharing of those insights in order to turn words into action.
This year's World Economic Forum global risk report, based on global risk perception survey, is yet another warning of the consequences of inaction. Of the top five risks in terms of likelihood, the first three are related to climate change:
1. Extreme weather events
2. Failure of climate-change mitigation and adaptation
3. Natural disasters
4. Data fraud or theft
5. Cyber-attack
At Davos we hosted a roundtable to discuss the role of the board of directors when it comes to sustainability, climate change and long-term value creation. Those around the table agreed they should be a central part of the board's discussion.
Some say it's part of a board's fiduciary duty to act on climate change risks, but it's hard to think the unthinkable
To help boards of directors, WEF released a guidance report during Davos: How to Set Up Effective Climate Governance on Corporate Boards. The report provides a list of questions to help boards navigate climate risks and opportunities.
Some leaders say that part of the fiduciary duty of the board is to be both aware and act upon the risks associated with climate change. Others might not yet be aware of the disruption climate change presents. As my good friend, Nik Gowing, would say, it's hard for most to think the unthinkable.
Extreme weather tops the WEF global risk report. (Credit: Marc Bruxelles/Shutterstock)
Many investors, however, won't accept excuses or complacency. They are asking for disclosure, scenario analysis, resiliency plans, the insurance of business continuity, and transition strategies. This is especially true for pension funds. They need to ensure that their funds are invested in a way that provides a high return for investors once retired. So, they need to take into account the implications that climate change will have on our investments.
That is also why in 2017, Mark Carney, the Governor of the Bank of England and the former Chairman of the Financial Stability Board, asked Michael Bloomberg to head the Task Force on Climate-related Financial Disclosures (TCFD). The TCFD is now supported by over 580 global organisations and it has ignited a pivotal global dialogue on finance and climate risk. The business community and investors have clearly started to listen.
The companies and investors we hear from are trying to respond to stakeholder demands, while also reconciling short-term gains and long-term strategy. To quote the WEF report: "Climate change poses longer-term risks that extend beyond the considerations of the typical business planning cycle – causing conflict when it comes to strategic planning."
When boards start thinking long term, climate change strategy and accountability will fall into place
Becoming climate competent and creating long-term value go hand in hand, and when boards start thinking long term, climate change strategy and accountability will fall into place. We are seeing boards start to recognise this, and as a result there has been a shift in leadership. Is this enough? More importantly, is it happening fast enough? Only time will tell, but time is a luxury we do not have.
To become competent with regards to the risks and opportunities surrounding climate change, boards need to start asking themselves some critical "what if" questions. It's not enough to simply read reports on this topic. Boards should maintain regular communication with all stakeholders, and of course, educate themselves. 
Competent Boards will be hosting a webinar on March 13th (4pm CET) to discuss How to set up effective climate governance on corporate boards, based on the report by the World Economic Forum, in collaboration with PwC. We are looking forward to having a discussion with the document's authors from WEF and PwC. We will also have an investor's perspective included in the webinar as we have invited Ceres to join. Ceres works with influential investors to build leadership around sustainability challenges, including climate change.
Helle Bank Jorgensen is CEO and founder of Competent Boards. Please visit https://competentboards.com/webinars/ to register for the webinar on 13 March.
Cornerstone Capital's CEO Erika Karp will be speaking at Ethical Corporation's Responsible Business Summit New York on 18-19 March.
Competent Boards
ethical investing
Ceres
Paul Polman
Unilever
Siemens
TCFD
Related Reads
comments powered by

Disqus