on
The rise of Justin Trudeau as the 'anti-Trump', determined to drive through an ambitious climate plan, is a breathtaking reversal from his predecessor, who pulled the country out of the Kyoto agreement
There is a telling moment in Al Gore's new film An Inconvenient Sequel when Justin Trudeau goes up to the former US vice president at the Paris Climate talks in 2015 and eagerly introduces himself, prompting him that he is Canada's new prime minister.
Canadians have long chaffed about being overlooked by their powerful and populous southern neighbour, but for the most part could at least comfort themselves that they were seen as the good guys on the global stage.
That all changed from 2006 to 2015 when Stephen Harper, the son of an Alberta oil executive, was prime minister, and turned Canada into what environmentalists called a petro-state, slashing green regulations, silencing its own climate scientists, and launching a campaign to exploit Alberta's energy-intensive oil sands, far dirtier than conventional oil production.
Although a signatory to the 2004 Kyoto agreement, precursor to the Paris Climate Agreement, Harper's government did nothing to implement its commitments, and in 2011 shocked the world by pulling out of the UN process altogether, with Greenpeace labelling Canada a "climate criminal".
For liberal-minded Canadians the angst of those years was compounded by the progressive strides being taken by Barack Obama in the White House, wearing the white hat to Harper's dark Stetson. 
Justin Trudeau has a vastly different pedigree to his predecessor as eldest son of Pierre, the flamboyant intellectual who brought in sweeping constitutional changes during his 15 years in power, and tried to model Canada on a Swedish-style social democracy.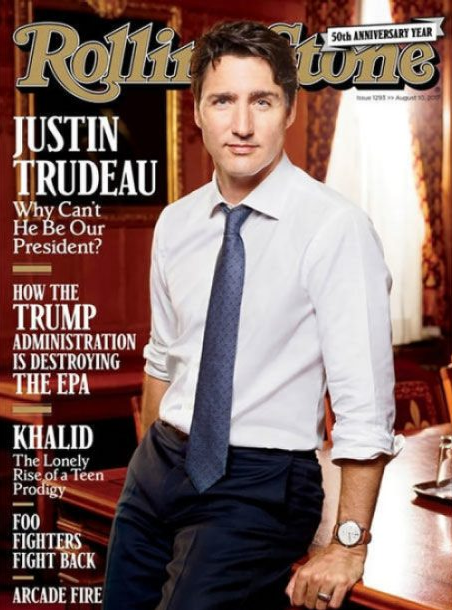 Justin Trudeau has been embraced by the US left
If Al Gore didn't know who Trudeau was at the beginning of the Paris climate conference, he certainly did by the end. Trudeau grabbed attention with his fresh-faced good looks and earnest rhetoric, appearing on several panels promoting the carbon pricing schemes that Canada's provinces had been pioneering during the Stephen Harper years: British Colombia's carbon tax and Ontario and Quebec's carbon markets, which they've joined up with that of California.
Canada sent 383 delegates to Paris – more than the UK (96), the US (148), and almost as many as host-country France (396).  "Canada is back, my good friends," he told the conference. "We're here to help. To build an agreement that will do our children and our grandchildren proud."
With the election of Donald Trump less than a year later, the role reversal was complete. In May, Bloomberg Businessweek called Trudeau "The Anti-Trump" in its cover article, while Rolling Stone featured a full-length picture of him on its August cover, asking: "Justin Trudeau – why can't he be our president?"
The question is now whether Trudeau can prove that he is more than a pretty face, and that he and his environment minister Catherine McKenna can implement their Pan Canadian Framework on Clean Growth and Climate Change when it comes online in 2018, overcoming opposition from the resource-rich prairie province of Saskatchewan, one of Canada's biggest emitters by volume, and by far its biggest per capita.
The question is now whether Trudeau can prove that he is more than a pretty face
Saskatchewan's popular premier, Brad Wall, was a lone voice at premiers' meetings, insisting that the answer to cutting emissions lies in innovation rather than punitive taxes. His province has some form on this, having scored a world-first by developing a commercial-scale carbon capture and storage project on a coal power plant in 2014.  Wall's surprise announcement in August that he will retire from politics is potentially good news for Trudeau – providing, of course, Wall's successor is more compliant.  
But as we detail in this month's in-depth briefing on Canada and climate change, numerous other challenges lay ahead, including renegotiating the North America Free Trade Agreement with a White House that is pulling in a diametrically opposite direction, and maintaining the support of Canadians, who are starting to turn against carbon pricing as it hits their pocketbooks. Trudeau will need all his natural charm and new-found leadership skills to pull his hugely ambitious climate plans off.
This is part of a package of articles on Canada's climate change challenge. See also
Can Alberta put a cap on the oil sands?
Canadian mining companies clean house in hopes of leading the green economy
Can 'anti-Trump' Trudeau unify Canada behind his bold plan to price carbon?
Trudeau goes head to head with Trump on climate in trade talks
Resource firms try to learn lessons from Canada's troubled history with First Nations
climate
UNFCC
climate pricing
carbon tax
Donald Trump
Nafta
Related Reads
comments powered by

Disqus