on
Oliver Balch speaks to the new executive director of the United Nations Global Compact about stepping into Lise Kingo's shoes, and her agenda for delivering the SDGs by 2030
It has been a busy few days for Sanda Ojiambo. Last week, after packing up her home in her native Kenya, she flew to New York and collected the keys for a new flat and a new life.
This week, in her capacity as the new head of the United Nations Global Compact, she is preparing to address an online audience of over 10,000 delegates at the initiative's annual summit.
The Uniting Business LIVE event, which kicks off on Monday and runs until Wednesday, 23 September, comes at a pivotal moment for the high-profile UN initiative. Now in its twentieth year, the Compact is taking stock, readying a new strategy for January 2021 that will guide it through the next five years.
Most obvious is Ojiambo's total commitment to the Compact's 10 principles, which CEOs are required to personally endorse
Today's world is very different from the one into which the business-focused body was born in 2000, and a million miles from the post-war reality in which the UN, its parent organisation, was conceived 75 years ago.
Businesses are now more global and interconnected, communications are more instant, and climate scenarios are more worrying. The only constant is the state of the economy, which, as in 1945, is looking thoroughly battered and worryingly bruised.
Progressive business is also a considerably more crowded field now than it was 20 years ago. The Global Compact may still be able to lay claim to being the "world's largest corporate sustainability initiative" (it counts 15,320 signatories, two-thirds of which are companies), but it is no longer the only player in town, by any means.
Climate scenarios have become more worrying since the creation of the UNGC in 2000. (Credit: Ringo Chiu/Reuters)
So, at a time of converging global crises, with sustainability initiatives now popping up here, there and everywhere, how does the UN-backed initiative remain distinctive and relevant?
This is the chief question for the organisation's new 47-year-old executive director, who took over the reins from Danish businesswoman Lise Kingo in June.
Ojiambo holds her cards close to her chest, anxious to state her intention to listen to the Compact's participants before developing an action plan.
On certain points, however, her mind is quite clearly set. Most obvious is her total commitment to the Global Compact's "10 principles", which chief executives are required to personally endorse.
The work of the Global Compact is not philanthropy. It's making business do good
These core tenets, which cover human rights, labour standards, environmental issues and anti-corruption, continue to provide companies with a "north star", she says. They also provide a function for businesses' external audience, bringing a "human face to the global market". It's a phrase, she is quick to acknowledge, borrowed from the Global Compact's initial champion, former UN general secretary Kofi Annan.
"The principles are not to be taken lightly … it is very easy, especially in tough business environments, to ignore some of these fundamentals. We've seen it happen even with the largest of companies," she emphasises.
She may be remaining tight-lipped, but after 10 years as head of sustainable business at Kenyan telecoms giant Safaricom, Ojiambo will have her own views about what the Compact does well – and where improvements could be made.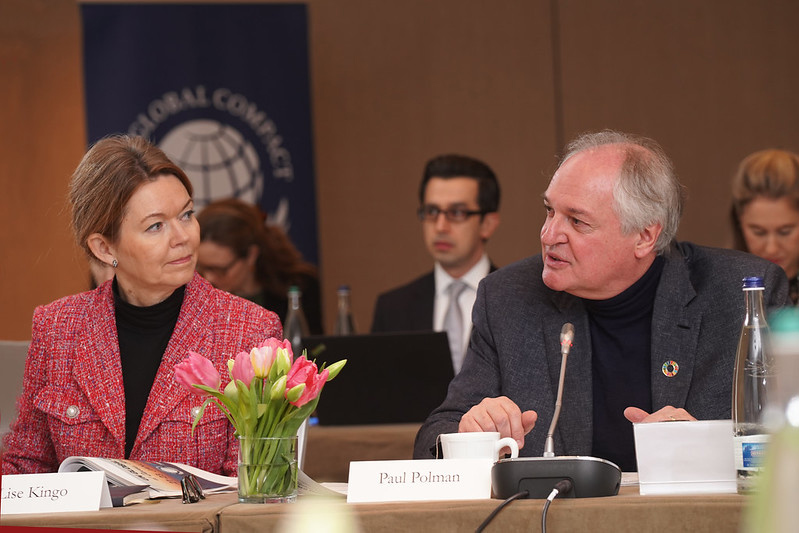 Former UNGC chief Lise Kingo with board member Paul Polman. (Credit: UNGC)
She participated closely over many years with the Global Compact's local chapter in Kenya, one of 68 such country affiliates around the world. A number of years working in international development in Somalia gave her additional first-hand experience, this time of the kind of cross-sector alliances that the UN seeks to foster.
Making the world a better place is all well and good, but one lesson from her time in the trenches is the importance of the Global Compact being able to deliver business benefits to its signatory companies.
"The work of the Global Compact is not philanthropy," she said. "It's making business do good. So, the message is that there has to be a benefit to business in what we do."
Business is engaged in society, so it needs to deliver value for society as well
By helping alleviate poverty, promoting inclusion and equality – to deliver on the Sustainable Development Goals (SDGs), in other words – society will prosper and so, in turn, will business.
"I often say, 'The business of business is no longer business'. Business is engaged in society, so it needs to deliver value for society as well," she reasons.
The other stand-out point in her notebook is urgency. With a deadline of 2030, the countdown clock to the SDGs is ticking. The UN's landmark objectives contain a "clear expectation" that business will contribute to their delivery, she observes. Hence, her preferred name for the 2020s: the "decade of action".
None of these quite crack the issue of distinctiveness or relevance, however. Is the Global Compact set to drive the sustainability agenda forward? Or will it become another well-meaning initiative whose logo graces companies' websites but has little material impact on day-to-day operations?
Ojiambo insists it will be the former. The Global Compact's presence in 160 countries, its network of local contacts and experts, and its experience at delivering impact-oriented programmes continue to set it apart.
"Through Covid, a lot of our local networks have been sitting with businesses and helping them reposition and pivot, particularly with women entrepreneurs … and doing mentorship to keep businesses up and running as a whole."
Going forward, we will work closely with the UN's country teams to be able to build our presence
She gives the example of Global Compact's local network in Ecuador, which launched a programme to help local SMEs keep working and trading through digital platforms during lockdown.
Through these networks, the Compact also provides management toolkits, advisory services and other tailored resources to help companies align their products and services with the SDGs, she clarifies: "Going forward, we will work closely with the UN's country teams to be able to build our presence, whether or not we have a local network in place."
The involvement of SMEs and companies from the Global South is a moot point for many international sustainability initiatives, the public face of which are invariably well-known western brands.
Local UNGC networks have been helping women entrepreneurs reposition through Covid-19. (Credit: Cory OHara/Shutterstock)
Ojiambo is anxious to defend the Compact's record here, noting that 64% of members have annual revenues below $50m. But she concedes that more could be done to expand the initiative's membership.
Interestingly, she doesn't just reference developing markets, but notes that there are large sections of the private sector in the US, China and Eastern Europe that remain untapped.
"There's a lot of work to be done in the Global North as well as the Global South. There are businesses in all these markets that have the opportunity to send massive signals to investors and governments, as well as to other businesses."
The last six months show that no one entity can tackle the biggest global issues that we have
Another key area where Ojiambo feels the Compact has an edge on its rivals is what she refers to as its convening power. She's not wrong. If the UN announces a summit (like today's), people tend to come; if its representatives put in a call to a regional official, she invariably picks up.
How to balance advocacy with delivery remains an open question for the Compact's new chief but expect her to fight hard to amplify the space for business leaders to engage directly with policymakers.
The way in which business has been called into the Covid-19 response effort confirms the ongoing appetite for private-public cooperation, she insists: "The last six months show that no one entity can tackle the biggest global issues that we have, which is what the spirit of the SDGs is all about."
Ojiambo will be run off her feet as she seeks to draw up a new strategy for one of the world's most influential sustainable business organisations. Expect to learn more specifics in January. Right now, however, she's in listening mode.
Sanda Ojiambo will be speaking at Reuters Events Sustainable Business's virtual Responsible Business USA 2020 on 27-29 October.
Main picture credit: UNGC
UNGC
SDGs
Lise Kingo
decade of action
Related Reads
comments powered by

Disqus