on
Christian Mensah of Rainforest Alliance says the cocoa industry should focus on helping the most vulnerable farmers replant, not the top performers to expand production
The planet is back on the agenda of the cocoa industry. Last month the World Cocoa Foundation's 28th partnership meeting was in Abidjan, Côte d'Ivoire, the first of its kind to be held in the leading cocoa producing country in the world. The meeting and trade fair were jointly organised by the World Cocoa Foundation and Le Conseil du Café-Cacao, Côte d'Ivoire's cocoa regulatory agency, and centered on the theme "people, planet, profit in a changing world".
I shared in the happiness of Madame Massandjé Touré-Litse, director general of Le Conseil du Café-Cacao that the meeting took place in Côte d'Ivoire, and agreed with priorities for the conference. Among other issues of concern, she wanted to hear answers to the fundamental question of how to grow cocoa in the face of climate change and deforestation. 
Côte d'Ivoire annually produces more than 1,500,000 metric tonnes of cocoa beans, and cocoa sales account for approximately 10% of its GNP. Globally more than 90% of cocoa comes from smallholder farms, contributing significantly to the livelihood of more than 2 billion households. Forest  regions, with higher and more reliable rainfall and better soils, produce most of our cocoa, including in Cote d'Ivoire, Ghana, Indonesia, Nigeria and Cameroon.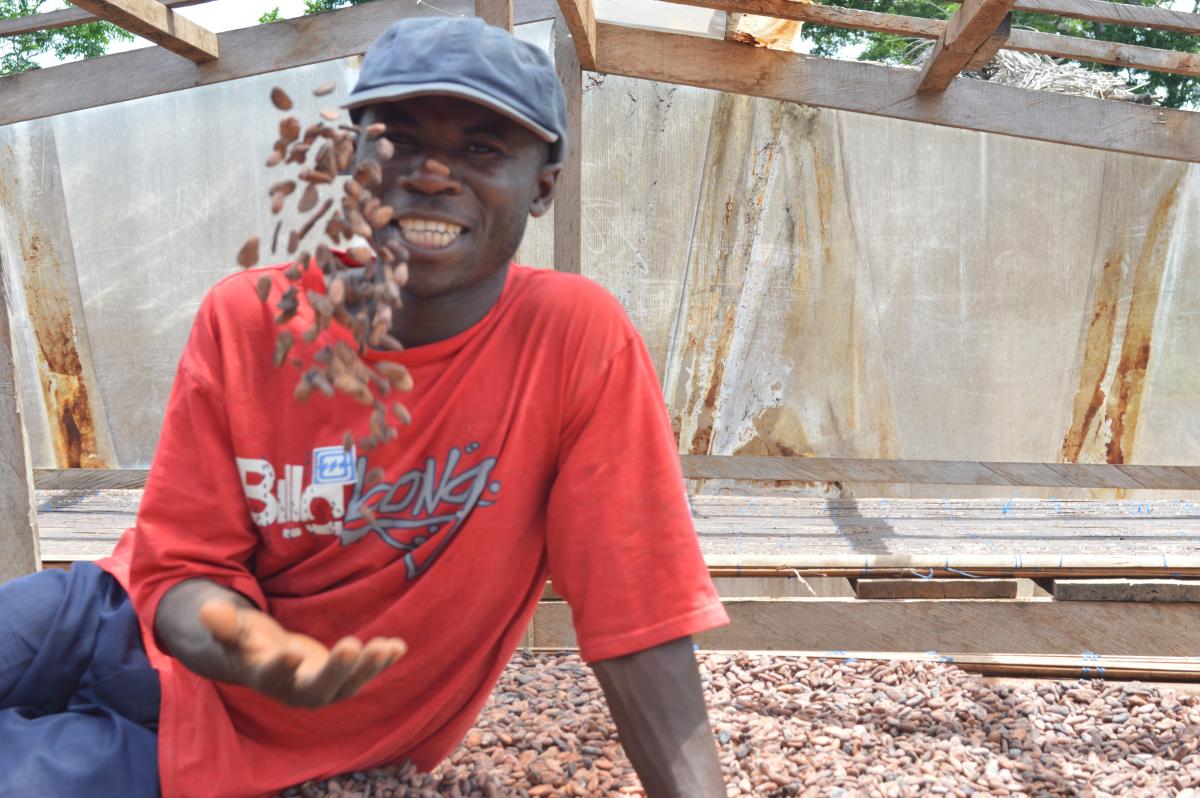 Ivorian cocoa farmer Adrien Kouadio Koffi
Image Credit: Rainforest Alliance
Soaring demand for chocolate had unfortunately led to rampant deforestation and degradation of West Africa's tropical forest, due to the expansion of environmentally destructive cocoa farming practices Ghana, Nigeria, Cameroon and Cote d'Ivoire are part of West Africa's Guinean Forest Region, a world biodiversity hotspot and an ecosystem of great biological richness, species diversity and endemism. This region accounts for 70% of global cocoa supply. By the start of the millennium it had reduced to 18% of its original area.
Most of the forest blocks designated as national parks or forest reserves have been replaced with full- sun cocoa farming. A recent study established significant positive correlation between cocoa farming and the absence of primate species inside Côte d'Ivoire's national parks and forest reserves. Forests regulate climate, conserve water in the soil and provide vital services for cocoa farms, such as pollination. As forests are lost, the climate will get hotter, extreme weather events will become more frequent and important cocoa growing areas will no longer be suitable for production, threatening the livelihoods of many poor families.
There are no quick fixes to halting deforestation, but the industry is well-positioned to act together. Cocoa industry companies need not repeat the vague commitment to deforestation-free supply chain that has characterised many other consumer group companies. The industry needs to recognise that tackling deforestation is a complex problem that requires long-term solutions and entails many interlinked sustainability issues, including non-forest ecosystems, water resources and community and worker rights. In its commitment to supporting commodity supply chains, the Rainforest Alliance recently issued a position paper on deforestation-free commitments which identified five pillars to build the bridge from deforestation-free declarations to long-term gains for forests, people and sustainability. It highlights the need for governments and the private sector to clarify definitions of deforestation-free that are rigorous yet realistic for smallholders, and help address all other critical risks and impacts of commodity production including increasing the productivity and efficiency of existing cocoa farms; effectively governing the remaining forests and other natural resources; and restoring degraded lands to productivity and health.
Reflecting on the International Cocoa Organisation conference in Dominican Republic in March, Jeffrey Hayward, vice president at Rainforest Alliance, wrote in his blog: "Climate change is a real and present danger, not a faraway problem." Considering the centrality of climate to cocoa, it was staggering to him that there is not more action and investment to help build resilience in the ecosystem of the smallholder farming communities. The Rainforest Alliance and Olam have been executing a $4.3m project in Indonesia to develop climate-smart cocoa, funded by the US foreign aid agency Millennium Challenge Corporation. Together with the Consultative Group for International Agricultural Research, efforts are also under way to mainstream climate-smart cocoa in Ghana.
The 2017 Sustainable Agriculture Network Standard integrates further climate adaptation techniques to strengthen Rainforest Alliance certification. This will make a significant contribution to the long-term cocoa productivity, providing a more secure future for farmers and a more secure supply of cocoa for the industry. Though it missed the opportunity to integrate climate and deforestation in its CocoaAction sustainability strategy, the WCF has recently announced a new partnership in West Africa and Latin America to strengthen collaboration to address the threat of climate change.
Cocoa pods from a Rainforest Alliance certified farm in Ghana
Image Credit: Rainforest Alliance
These efforts emphasise the need for a common strategy to develop innovations to assist farmers in climate adaptation. We must move from individual initiatives to sector-wide action if we are to succeed at building resilience in the supply chain.
Still, Massandjé Touré-Litse's question remains important: how can the increasing demand for cocoa help protect forests and improve the lives of farming communities around the world? The biggest challenge facing production is that cocoa is not being replanted on the same land but expanding through the clearing of tropical forests. Yields are low and cocoa farmers in Cote d'Ivoire and Ghana earn the equivalent of only $0.54 and $0.82 per day.
Rehabilitation and replanting have been found to be incredibly easy but for our cocoa farmers this means ripping out the trees that provide them sustainable income, and we do not have a system yet to finance that transition period. There are emerging models that show a clear business case for financing. We also have tools and the opportunities to get it right with an investor platform for the development of financial services for the smallholder farmer market.
A cocoa farm on the Ivory Coast
Image Credit: Rainforest Alliance
It is in the chocolate industry's interest to provide financing to limit the environmental impact within its supply chain. Companies need to send a strong signal to jumpstart replanting. Government should provide subsidies and incentives to encourage farmers to rehabilitate and replant their unproductive farms. Agricultural banks and state banks should help finance the transition with the support of development agencies.
It has also been established that a small cohort of underperforming farmers are responsible for around half of negative impacts in the cocoa industry, including deforestation and fertilizer misuse. Company-focused sustainability efforts, including CocoaAction, are focused on rewarding top-performing farmers; but negative environmental impacts could be significantly reduced by also focusing on the lower proportion, most of whom would be women and young farmers. This means that the mechanism for revitalising the sector must be customised for different types of growers and actors with different needs.
The cocoa industry stands a chance to be ambitious in the next 14 years. We can move fast and deepen our impact, widen our scale and be sensitive to gender and marginalised farmers. Let us do this for the sake of the millions of people whose lives depend on cocoa, the hundreds of millions of consumers who love chocolate, and the future of our children, who need us to protect the remaining forest to sustain their lives.
Christian Mensah is manager, West Africa, at Rainforest Alliance
NGO Voices
cocoa
farmers
RAN
Rainforest Alliance
rainforest
climate
Related Reads
comments powered by

Disqus