on
The world's fastest-growing country is betting on solar to power its future, but daunting sustainability challenges remain
Spot the real India:
• A vast state-of-the-art green building, solar panels glistening over a pristine campus, home to Infosys, one of the world's most successful IT corporations.
• Waste pickers crouched on the kerb of a Mumbai thoroughfare, breathing in filthy bus exhaust while painstakingly recycling heaps of plastic.
• Young people with smartphones living in houses without tap water.
• A government that repeatedly exceeds ambitious targets for renewable energy, working from offices in the most polluted capital on earth.
• The world's fifth largest economy, and one of its fastest growing, where up to half the population lack reliable electricity despite the fact that India is the third largest emitter on the planet.
• An increasingly powerful and self-confident modern nation whose lifeblood rests on an uncontrollable, and increasingly capricious, set of annual rains.
The answer, or course, is all of the above. If there were ever a case for deploying the journalistic cliché, "the land of contradictions", India would be it. When it comes to progress towards sustainability, the sheer scale of the task can be daunting. Most pressing is air pollution, from industry, traffic, cook stoves and crop burning, which kills an estimated 600,000 Indians a year, and debilitates millions more. Ten of the world's 20 most polluted cities are in India. Water is another huge issue, with demand on track to outstrip supply by 2020. Already over 300 million people are affected by drought while over 70% of urban sewage is left untreated. Another growing problen is soil erosion and degradation, caused by overgrazing, deforestation and poor land management. This is forcing farmers to spend large amounts on artificial fertilisers, which cut their profits and cause more pollution. 
Yet the opportunities are enormous. Until recently India's economic growth has been largely of the coal-powered variety. Many of its companies, large and small, have historically prospered through low-cost production, with a "take-make-waste" approach that contrasts with an older underlying culture of conserving and reusing materials; a culture closer to newly fashionable principles of a circular economy. (See Circling back). As consumer behaviour expert Rama Bijapurkar jokes: "The last thing we Indians voluntarily threw out was the British."
Delhi has recently beat Beijing for title of most polluted capital (credit: Ajay Bhaskar/Shutterstock Inc)
In recent years, though, there's been a decisive shift – and it's most apparent when it comes to climate and energy. After years of being a laggard in climate diplomacy, blaming the West and insisting that its own industrial development take precedent over environmental concerns, India has now signed up to international climate agreements, notably the Paris accord, with a target to cut carbon intensity by 33%-35% by 2030 (on a 2005 baseline). It's also committed to producing 40% of electricity from non-fossil fuels by the same date.
Climate change threat
So what's triggered the shift? Business leaders point to a mix of factors. On the push side, there is growing evidence that climate change is a problem for India in the here and now – in terms of erratic monsoons, heatwaves and droughts and chronic air pollution. On the pull side, there is a growing realisation of the potential for sustainable technologies, such as solar energy, to help lift rural Indians out of poverty, and for Indian business to prosper by doing so. And as major Indian companies become increasingly powerful players in the global economy, so they are under pressure to match international standards. (See Beyond Philanthropy)
Then there's the China factor. India is acutely sensitive to the actions of its vast Asian neighbour. Now that China is taking on the mantle of global climate leader in the face of Trumpist wavering, New Delhi is reluctant to be left in its wake.
Joe Phelan, director of WBCSD India sums up the shift: "India's embraced its international role. Obviously there's the big question of how much support [financial or technical] it will get from the rest of the world, but the line now is 'we will meet our commitments without you – and if you want to help, please do'!"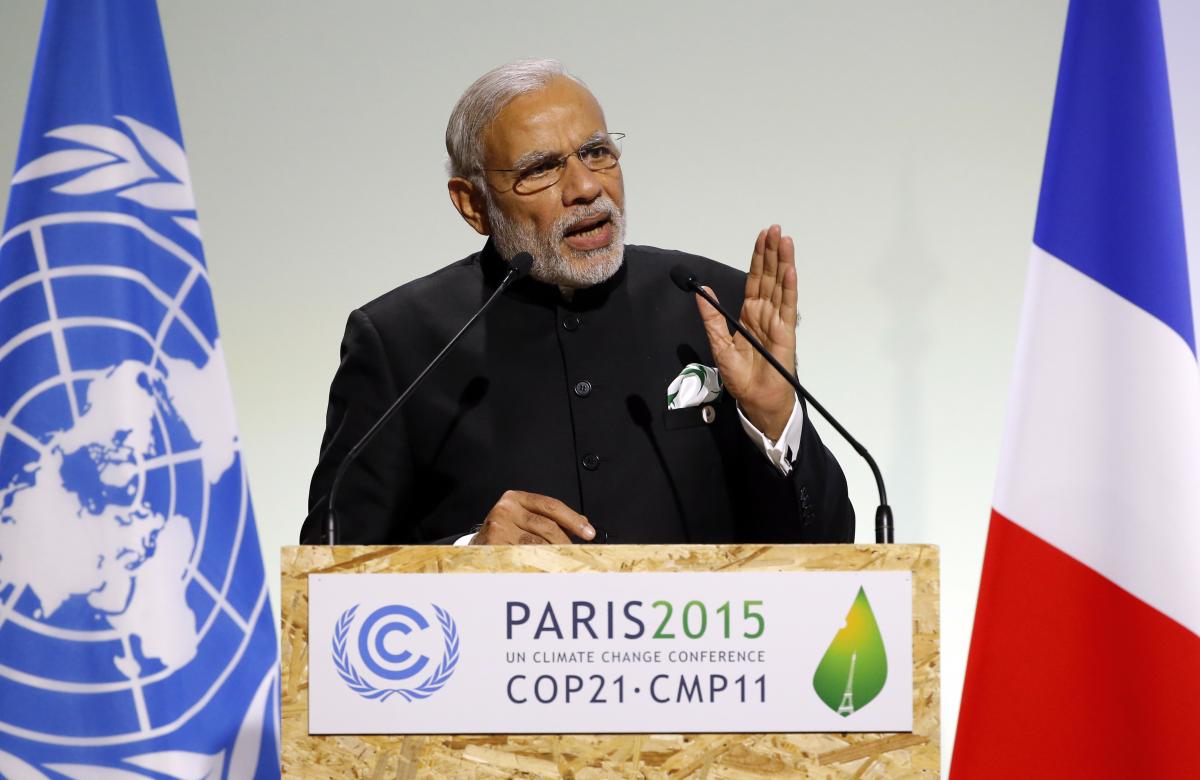 Prime Minister Modi launched India's solar strategy at the Paris climate summit (credit: UNFCC)
India is also aware of how a dynamic attitude on climate can actually help deliver other goals, he adds, particularly its much-trumpeted commitment to inclusive growth – in other words, growth that doesn't leave the poor out of prosperity. "It's recognised that sustainable growth is part of inclusive growth, [in the sense of delivering] clean air, effective waste management, plentiful water resources and reliable energy supplies."
Speaking at the Paris climate summit, Prime Minister Narendra Modi grandly declared that "the world must turn to the sun to power its future". India appears to be doing just that. Blessed with 300 days of sunshine on average per year, it's not surprising that solar sits at the heart of India's seriously ambitious energy targets, assigned to contribute 100GW of 175GW installed renewable capacity by 2022. Fulfilling this solar goal would make India second only to China.
Rooftop photovoltaics (PV) is a particular focus, set to grow tenfold to 40GW over the next five years, spurred by guaranteed revenue from selling power into the grid under a new government scheme. "PV panels used to be a rare sight in Delhi," comments solar expert Hemant Lamba. "But you see them springing up all over the place." He ascribes the surge to a combination of affordability, cheap finance, the promise of revenue, and "people just wanting to do the right thing, and to be seen to be doing it".
Huge grid-connected solar farms are also coming on stream, like that at Kamuthi in the southern state of Tamil Nadu. Covering an area of 10 sq km, its 648MW capacity makes it the largest such plant in the world, nearly a fifth as much again as California's giant Topaz farm.
Coal, once the mainstay of the energy economy, is fast being side-lined. Leading government figures such as Power Minister Piyush Goyal and Railways Minister and influential Modi adviser Suresh Prabhu have both emerged as strong renewables advocates. At the end of 2016 the Power Ministry released a 10-year blueprint that envisaged as much as 57% of electricity coming from non-fossil sources by 2027, effectively ruling out the need for any new coal-fired power plants in the next decade.
Tumbling costs help keep the solar bullet shiny. They're driven by a combination of falling PV panel prices, low interest rates, and fierce competition between solar providers, bidding low to win some of the plentiful contracts needed to deliver that 100GW goal. Recent months have seen bid prices falling as far as 4 rupees per kWh (equivalent to $0.06/kWh – by conventional standards, an astonishingly low rate).
Rooftop solar panels are now omnipresent in Delhi and Mumbai (credit: Jiri Rezac, courtesy of the climate group)
As Lamba observes: "Solar has been outcompeting diesel [generation] for years, but now it's also competing directly with the cost of power from the grid." Lamba is chairman of the Ashden India Renewable Energy Collective (AIREC), an alliance of the country's leading decentralised clean energy providers, all of them winners of the UK-based Ashden Awards for sustainable energy, and an adviser to the Ministry of New and Renewable Energy (MNRE). He says he has seen a transformation in solar's reputation at government level. "Just recently, people at policy-making level have been talking about renewables at a much larger scale than before. And they're even contemplating a major transition in transport, too, from the internal combustion engine to electrical mobility. Previously, these were dismissed as dream-like scenarios, but now they are being taken seriously."
But can such rock bottom prices really be sustained? "Well, there are gigawatts being installed right now, and some pretty high-acumen business people – and their bankers – are putting a lot of money in. That said, I'm a little nervous – it's pretty optimistic pricing."
Powerful backers
Such concerns don't seem to bother major international lenders. Japan's Softbank is committing $20bn to Indian solar, in partnership with Taiwan's Foxconn and India's Bharti Enterprises. French energy giant EDF has followed up with $2bn, citing the sub-continent's "fantastic potential" for both solar and wind. The World Bank has announced $1bn in loans for Indian solar during 2017, its largest ever support for the technology in any one country.
India One, a 1MW solar thermal power plant in Rajasthan (credit: Brahma Kumaris/Flickr)
Their confidence is echoed by Tim Buckley, a director at the Institute for Energy Economics and Financial Analysis. "Piyush Goyal has put forward an energy plan that is [both] commercially viable and commercially justified without subsidies," he told the Guardian, "so you have big global corporations and utilities committing to it ... India is moving beyond fossil fuels at a pace scarcely imagined only two years ago."
It's a confidence that has spread to the business community, too. Accustomed to needing backup power for an often unreliable grid, Indian companies have always looked to alternative sources. Until recently, that's mainly meant dirty and carbon-intensive diesel generators: now that, too, is changing. "Solar is growing in popularity, especially for places which don't need high-intensive power, such as offices and hotels", says Lamba. And where the mains supply is reliable, some are starting to shift to solar as their primary source, using the grid as backup for times when the sun isn't shining and solar-charged batteries are running low.
IT giant Infosys has installed 6.6MW of PV on its celebrated Hyderabad campus, making it effectively energy independent, and others are making solar strides, too. Tata has joined Infosys in setting an aspirational goal of being 100% renewably powered; as a first step, it's targeting 40% by 2025. Mahindra, too, is investing heavily in solar [see below], as are other Indian corporate leaders such as Godrej and ITC. "Virtually every company you meet is investing in renewables", concludes Phelan.
But if all this makes India's energy future sound distinctly sunny, it's worth pointing out a few clouds on the horizon, says Venkateswaran. "The challenges will increase as the scale increases. Take land. As solar expands, it could find itself struggling to find enough land [for the panels]". Then there's the question of storage. A resource that's only on tap for 12 hours a day can't provide baseload power, and today's battery technology has its limitations. New developments in storage, such as Tesla's Powerwall, promise much, but, concludes Venkateswaran, "until these problems are licked, fossil fuels are still going to play a role." Arunabha Ghosh, CEO of the Council for Energy, Environment and Water, is also cautious. He points to a lack of government support for the debt finance on which solar's rapid surge depends, and to cuts in funding for storage research.
Indian cities are suffering from the increasingly erratic monsoons (credit: Matyas Rehak/Shutterstock Inc)
Water issue neglected
Beyond energy, India's progress to sustainability is far from plain sailing, says Sachin Joshi, director of the Confederation of Indian Industry's Centre for Excellence in Sustainable Development. "In some areas, such as solar, the government has been really on the front foot. But on other issues, one still sometimes wonders what they are up to." He cites monsoon rains as a classic example. "If we captured and harvested and stored all the rain, we'd do quite well. There are pockets of success here and there, but we need to do it pan-India. At the moment, we see cities suffering floods in the monsoon, and then water shortage six months later. This is a manmade problem."
It's exacerbated by the fact that the monsoons themselves – "once so regular you could almost set your watch by them" – are increasingly erratic. "Now we don't know when it will rain, or how much." Such uncertainty plays havoc with agriculture, too. One elderly Gujarati cotton farmer puts it all too starkly: "We need someone to tell us what to plant and when, because the weather doesn't tell us anymore."
Corruption in cities like Mumbai is a growing threat to progress (credit: Mono Tomono/Shutterstock Inc)
Corruption
Corruption and governance issues also continue to loom large. As clean energy entrepreneur Gyanesh Pandey of Husk Power Systems, a rural electrification startup in Bihar, commented: "Whatever the issue, you can be sure India will have some of the best policies, the best laws, in place. But whether and how those polices and laws are actually implemented – well, that's a different matter."
Under Modi, the government is talking a good game, and to some extent acting, too. Frustration at entrenched corruption helped propel his Bharatiya Janata Party (BJP) to power in 2014, when many voters decided to overlook the more controversial elements of its 'Hindutva' (Hindu fundamentalist) agenda. Results have been mixed, but when the government recently staged a snap withdrawal of the common denomination 500 and 1,000 rupee notes (roughly equivalent to £5 and £10) from circulation, it at least sent out a signal of serious intent, as well as causing short-lived but substantial disruption to the economy. Small denomination notes had long been used as a way of doing deals – and making bribes – beyond the gaze of the authorities. So withdrawing them from circulation was one, rather blunt, means of stemming the flow.
Dialling up digital
A more sophisticated approach would be to reduce the need for paper currency altogether. That partly explains Modi's enthusiasm for moving towards a digital economy – one that could both curb corruption and tax evasion, and help government and business streamline their services. With its thriving IT sector, it's hardly surprising that India is a fast adopter of all things digital. Mobile phones are already ubiquitous: there are more SIM cards in India than there are people, and smartphone ownership is predicted to hit 60% by the early 2020s. Digitisation is at the heart of the Smart Cities initiative, which aims to harness frontier technology, including the Internet of Things, to make everything from traffic to waste collection run smoother and more efficiently in 100 of the country's largest conurbations.
Smartphone ownership is predicted to hit 60% by 2020 (credit: Kwyazevfoto/Shutterstock Inc)
This promises much, but it's attracted a degree of scepticism, too. Venkateswaran queries how far it's going to help the huge numbers of unskilled migrants from the countryside who arrive in India's cities each week. "It has to be designed around their needs, not just those of the rich. If you're a migrant labourer, then having a smart city that boasts 100% wifi isn't going to fill your stomach."
Tackling transport
When it comes to challenges like weaning people out of their cars and onto mass transit, it may need a bit of a culture shift, too. India's emerging middle class is tasting the delights of consumerism for the first time, and efforts to instil more frugal, sharing habits could face an uphill struggle. There's an object lesson in the early performance of Tata's no-frills Nano – the "one lakh car" (priced initially at 100,000 rupees, hence the sobriquet) which was aimed at bringing motoring within reach of families who could previously only afford a scooter but failed because its marketing wasn't aspirational enough.
In an interview in 2014, Prodipto Ghosh, distinguished fellow at The Energy and Resources Institute, explained the problem. "When an Indian family moves up from a scooter to a car, they want to show the world that they are now people to contend with. Tata's mistake was pitching this as the cheapest car in the world."
Drought affects more than 300 million Indians (Malcolm Chapman/Shutterstock Inc)
But times are changing. Ahmedabad's bus rapid transit (BRT) network has proved that the middle class can be persuaded onto public transport if it's clean, fast and reliable. And the city of Indore, in the northern state of Madhya Pradesh, is one of six demonstrator cities around the world participating in the WBCSD's Sustainable Mobility Project 2.0, collaborating with a number of companies including Ford, BMW and Fujitsu to create a mobility action plan. The plan aims to integrate a BRT network with taxi routes and a cycle sharing scheme to get the city of 2.4 million people, one of India's fastest growing, moving smoothly and cleanly.
Making such dramatic shifts may be a big ask. But for all its innate conservatism, India can move with surprising swiftness when opportunity beckons. For a possible parallel, take cricket – the country's favourite sport, followed with almost religious zeal by vast numbers of Indians. When the new short-form Twenty 20 version was developed, in England in the early 2000s, India's cricket establishment was sceptical and slow to respond. Fast forward just a few years, and the Indian Premier League – complete with cheerleaders, fireworks and stadium-shaking rock music – is the dominant force in the global game, an epitome of a self-confident modern India standing front and centre on the world stage.
So yes, there may still be elephants in the room, but India has its tigers, too.
solar PV
India
water-energy nexus
waste
development
WBCSD
air pollution
Related Reads
comments powered by

Disqus