on
Coal consumption is on the rise for the first time in three years, but the country is still a renewable energy powerhouse, writes Mark Hillsdon
China is in the midst of a green revolution. The government has committed to spend at least $260 billion on clean energy projects by 2020 as it seeks to wean itself off dirty coal, and, according to the Institute for Energy Economics and Financial Analysis (IEEFA), China is now the world leader in renewable energy investment.
Chinese manufacturers have changed the economics of renewable power, cutting costs so that it can compete with fossils fuels. Five of the world's top six solar companies, and six of the 10 major electric car manufacturers, are Chinese, while Goldwind, United Power and Envision Energy compete with Danish and German wind turbine manufacturers. China also dominates the mining of lithium and cobalt, which are integral to the new generation of batteries. And, as we reported last month, it is China that has taken the lead on trying to address human rights issues in the cobalt supply chain (see Electric car makers in drive to remove human rights stain from cobalt)
An increasingly powerful urban middle class has pushed air pollution closer to the top of the government's agenda
There are several factors behind this green surge. China was quick to move into the space vacated by an American President who sees global warming as "an expensive hoax", with Chinese President Xi Jinping gaining the moral high ground and taking advantage of new opportunities to sell its clean energy solutions around the world.
An increasingly powerful urban middle class has also pushed air pollution closer to the top of the government's agenda, and driven the decision to rein in investment in coal.
Yet coal consumption, which accounts for more than three-quarters of its power supply, is on the rise again, for the first time in three years. Partly this may be due to inconsistencies within the vast bureaucracy that is involved in administering the world's most populous country.
Air pollution kills many thousands of people in China a year. (Credit: Hung Chung Chih/Shutterstock)
So while a city's mayor may face censure for failing to meet air quality targets, elsewhere in the same region a new coal-fired power station could be taking advantage of generous government subsidies.
There are other barriers. Vast wind farms in the sparsely populated north-west stand idle, so distant from major population centres that the cost of connecting them to the grid isn't worthwhile.
Huge amounts of Chinese renewable energy is still wasted too, although curtailment rates – the amount of renewable power that could have been generated and used in China but wasn't – are on a downward trajectory. According to the National Energy Administration (NEA), which has pledged to end curtailment altogether by 2020, in 2016 17.2% of wind power production and 10.3% of solar PV, was wasted, with the figures dropping to 12% and 6% , respectively, in 2017.
China has invested more in renewables than fossil fuel energy over the last few years, so clearly financing is flowing
Still, China remains on course to meet its COP21 targets of peaking C02 emissions and generating 20% of its energy through non-fossil fuels by 2030.
According to official Chinese government data, confirmed by independent analysts The Climate Tracker, by the end of 2017 China had cut CO2 emissions by 46% per unit of economic growth from 2005 levels, against a 2030 target of 60/65% reduction.
Last year renewable energy generation from water, wind and sun accounted for 25% of power generated, up from 15% in 2007.
The country is also enjoying a boom in green finance, with green bonds now worth $90 billion ($37bn annually). While there have been concerns raised that criteria for some the green bonds issued in China allow them to be used to fund clean coal projects, Sean Kidney, chief executive of not-for-profit Climate Bonds Initiative points out that some 30% of proceeds are going to fund renewable projects.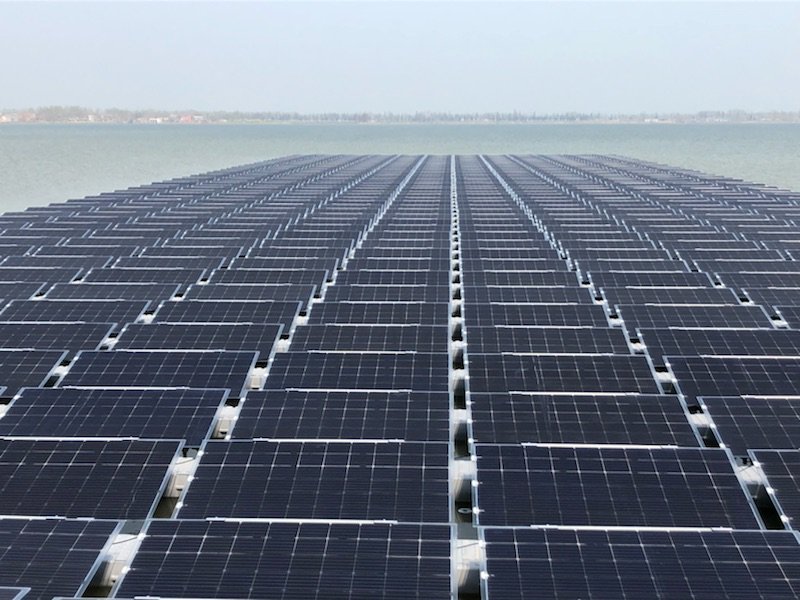 Sungrow's solar farm floats on top of a former coal mine in China's Anhui province. (Credit: Twitter)
"China has invested more in renewables than fossil fuel energy for each of the last few years, so clearly financing is flowing," he says. "The government is providing offtake agreements [which make it easier to get the finance needed to construct facilities] as well as encouraging banks to finance – so much so that some renewable plants are being built so quickly that they're having to wait up to 18 months to get a grid connection."
Last February, China's National Development and Reform Commission announced the launch of a national pilot renewable energy certificates (REC) market, with the first green power trading certifications issued to 20 renewable generation projects in June.
The electrification of bus fleets is far more advanced in China than it is anywhere else in the world
China also developed its first voluntary renewable electricity certificate system last year with the launch of the Green Electricity Consumption Cooperative Organisation (GECCO), supported by nine leading Chinese and international organisations, including the World Resources Institute and The Climate Group, which administers the RE100 initiative (see Chinese companies slow to join RE100)
The Climate Group said GECCO would "work to increase corporate uptake of renewable power in China, supporting the government to reach its ambitious national targets".
One of China's most ambitious green projects is the vast solar farm that now, somewhat prophetically, floats on top of an abandoned coal mine in Anhui province. Developed by Chinese company Sungrow, the 166,000 panel array can generate 40MW, with the water also helping to cool the panels. A second floating farm, also in Anhui, is due to come on line this year. Developed by the China Three Gorges Corporation, it will produce 150 MW.
Despite China's commitments to renewables, coal consumption is on the rise. (Credit: ymgerman/Shutterstock)
Also new is the Solar Expressway in the eastern city of Jinan, a 1080m long stretch of intelligent highway with technology embedded in transparent concrete that charges vehicles as they pass over.
Weaning  the  country  off  imported  coal  is  also  important  for  China's  transport-related  emissions  as  it  pursues  aggressive  government  targets  for  electric  vehicles  to  account  for  at  least  20%  of  Chinese  vehicle  sales  by  2025.  According  to  several  recent  studies  the  amount  of  coal  in  China's  energy  supply  means  internal  combustion  engine  cars  have  a  much  bigger  carbon  footprint  than  EV.
Dominance  of  the  world͛'s  electric  vehicle  market  is  a  key  part  of  the Made  in  China  2025  initiative,  an  attempt  to  move  Chinese  manufacturing  up  the  value  chain,  with  an  emphasis  on  quality  over  quantity,  advanced  precision  engineering  over  toys  and  clothes.  One  example  of  a  company  that  has  ridden  the  wave  is  Shenzhen-based  BYD  (Build  Your  Dreams),  which  sold  14,000  electric  buses  globally  last  year  and  also  opened  the  largest  bus manufacturing  facility  in  the  US,  with  its  California-based  factory  capable  of  building  1500  electric  buses  a  year.
Mark Hillsdon is a Manchester-based freelance writer who writes on business and sustainability for Ethical Corporation, the Guardian, and a range of nature-based titles
including CountryFile and BBC Wildlife.
Main picture credit: ArtisticPhoto/Shutterstock
This article is part of the in-depth briefing China's New Dawn. See also:
China looks offshore for its new renewable frontier
Chinese companies slow to join RE100
Women and children first: how brands are innovating to help China's female workers
IKEA and Audi pulled up for sexist marketing
Global goals: Huawei's strategy to connect the world – and take on Apple
Electronics sector charts new path after 'bloody decade of labour abuse'
The brands going beyond auditing to give China's apparel workers a voice
How QuizRR is taking human rights training to the factory floor
China's toy industry in push to improve conditions for migrant workers
How Mattel's quick move rescued Barbie
China ramps up search for solutions to meet urbanization challenges
renewable energies
fossil fuels
China pollution
Made in China 2025
BYD
Solar Expressway
IEEFA
renewable energy certificates
The Climate Group
The Climate Tracker
Climate Bond Initiative
Related Reads
comments powered by

Disqus