on
The Chinese smartphone giant's latest CSR report hopes to convince western consumers it is serious about sustainability, writes Oliver Balch
As reports go, it was no Panama Papers or "dodgy dossier". Not a single politician was forced to fall on their sword. No night editor had to re-write the next day's leader column.
But then Huawei Technologies' recent report on sustainable development was not written with global scandal in mind. Its ambitions are greater than that. The 69-page document, released quietly last June, is a mark in the sand. It's one of China's largest tech companies saying to the world, in effect, "take note: we're here".
The fact that the report was released in Geneva, not Huawei's global headquarters in Shenzhen, China's high-tech capital, tells you something right off the bat. For much of its early history (the firm was only founded in 1987), Huawei was focused almost exclusively on its domestic market and business-to-business clients.
Huawei is putting itself forward as the 'poster boy for sustainability'
That's all now changed. An ambitious growth strategy based on rapid expansion overseas now sees the company operating in 170 countries around the world – with revenues of nearly $100bn, Huawei currently employs over 170,000 people.
The firm recently surpassed Ericsson to become the largest provider of telecommunications equipment in the world: its products help connect three billion people, the firm likes to boast.
In the smartphone sector, meanwhile, it hopes to knock Apple and Samsung off their perch in the lucrative US and Europe markets with its compelling combination of value and innovation (The Guardian's review of Huawei's newest P20 Pro model called it 'the three-camera iPhone killer").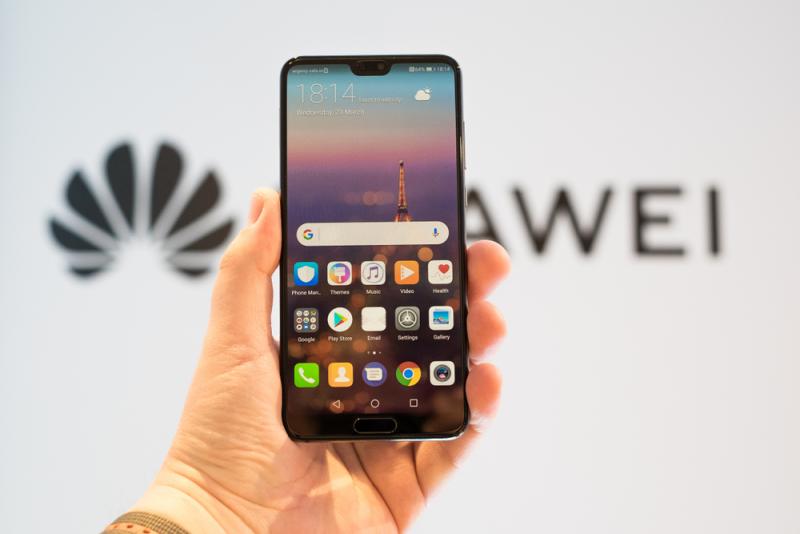 Huawei's new P20 phone has been branded the 'iPhone killer'. (Credit: Karlis Dambrans/Shutterstock)
If the global ambitions of Huawei (pronounced 'WAH-Way') are clear, then the question turns to what kind of global company it aspires to be.
To date, China's globalizing firms have tended to head south, rather than west. Across Africa, Asia and Latin America, Chinese multinationals are known for their quick turnarounds, low costs and efficient delivery – a reputation often assisted by cheap credit from Chinese state banks and bilateral trade deals. They are less famed, it has to be said, for their environmental concerns or care for social rights.
If Huawei's public communications are to be believed, then the world's third-largest smartphone maker is determined to set a different course.
The very title of its recent report says as much: "ICT Sustainable Development Goals Benchmark". Okay, so it hardly trips off the tongue, but the intent is clear. As The South China Morning Post commented, Huawei is putting itself forward as the "poster boy for sustainability".
We saw the SDGs as a framework we could use to maximize the role of technology in addressing the goals
That may sound like over-excited journalese, but it's actually a fairly understated summary of the company's own language. Writing in the forward of the report, Kevin Tao, chairman of the company's corporate sustainable development committee, says the firm is "devoted" to building a "better connected world". "Every day, everywhere", he adds, the company is working to deliver sustainable development.
Such a vision sounds very laudable – and it is. Despite the ever lower price of information and communications technology (ICT) services, four billion people still have no access to the internet, according to the World Economic Forum. In Africa, fewer than one in six households (15.4%) is online (compared with 84% in Europe).
Yang Chaobin, Huawei's 5G President, at the line's launch in Barcelona this year. (Credit: Huawei)
Bridging this so-called digital divide is vital to a host of development goals, from full access to education and health services through to achieving liveable cities and delivering economic opportunity for all.
As a major player in internet connectivity, cloud computing and smartphone manufacturing, Huawei argues that it is ideally set to make a positive contribution in its sustainability strategy, drawn up in 2008.
It's not just rhetoric, either. Huawei has built up an impressive list of social investments over the last decade.
If Huawei is going to take on the likes of Apple and Samsung, it needs to prove that its ethical credentials are spot-on
Among the list is a communications base-station kit that disaster relief agencies can use in emergency situations. The kit takes just 15 minutes to set up and can fit into a standard-sized backpack. Another relates to digital healthcare. The tele-medicine service has so far enabled 200,000 residents in rural Kenya to get access to medical advice and treatment.
Huawei decided to make an explicit link to the SDGs in late 2015, following a day-long "salon" meeting on the theme at its Shenzhen headquarters. The kind of global sustainability pioneers that the Chinese company appears to be modelling itself on – the likes of Coca-Cola, Unilever and BASF – were all invited along.
"We saw that it [the SDGs] was a framework that we could use to reposition our strategy a bit and maximize the role of technology in addressing the goals," says Holy Ranaivozanany, Huawei's head of corporate social responsibility.
Linking the company's brand to the best-known, most widely publicized global development initiative also promises reputational gains.
For Huawei, which is far from a household name outside China, a hefty dose of brand building is timely. If it's going to take on the likes of Apple and Samsung, it needs to convince western consumers that its products aren't just the latest in style and sophistication. It must prove that its ethical credentials and sustainability commitments are spot-on as well.
Nor is it just consumers that need persuading. At a time of growing trade tensions between the US and China, North American regulators are on high alert for anything that hints at unfair (read: lower-cost) competition, or risks to national security.
We operate in 170 countries so we're very open to see what's happening out there within the industry
With respect to the latter, Huawei has made no secret of its ambitions to become a world leader in artificial intelligence automation, an ambition it shares with the Chinese government. This synchronicity may cause some eyebrows to be raised.
Collusion with the communist ruling party is a charge that Huawei has faced before, most notably in an infamous US House Intelligence Committee report back in 2012. And it's one that the Chinese electronics giant has always strenuously denied.
Recent years have seen it sign up to at least half-a-dozen major CSR alliances, from the generic (the UN Global Compact, CSR Europe and Business for Social Responsibility) through to the industry-specific (such as the Global e-Sustainability Initiative and the UN Broadband Commission).
Huawei's Shenzhen HQ – the tech giant employs 170,000 globally. (Credit: Peter Stein/Shutterstock)
For Ranaivozanany, a French citizen who has been with the company for six years, Huawei's global outreach efforts are straight from the CSR textbook: collaborative learning, the sharing of best practices, exploring opportunities for joint action, and so on.
"We operate in 170 countries so we're very open to see what's happening out there within the industry, and even beyond that, to try and understand what would make sense for our business ... and how to go beyond compliance," she says.
But if Huawei really wants to take on the Apples of this world as far as sustainability is concerned, then it can't just content itself with following the herd. It needs a distinctive play, a means of standing apart (and preferably above) the pack.
It's step by step. We want to make sure first that all our suppliers have our policy and ensure full compliance
The company's work on e-waste may allow it to do just that. Huawei currently operates over 700 recycling stations for consumers in 40 countries. It also has sophisticated internal re-use systems to ensure that as many waste materials are recovered during its research and manufacturing stages as possible.
Ranaivozanany also references Huawei's input into the development of circular-economy related standardization procedures by the UN-backed International Telecommunications Union, as well as support for a universal eco-rating scheme for mobile phones.
For several years now, Huawei has also been working with BT as part of the UK telecoms company's Better Future Supplier Forum to develop eco-product innovations. In a similar vein, it agreed a deal that would see it produce hardware for the Dutch telecoms brand KPN with close to 100% reused or recycled materials. The agreement, which excludes mobile phones, has a delivery deadline of 2025.
Holy Ranaivozanany, Huawei's head of CSR: 'We're open to seeing what's out there.'
One area where Chinese firms are not renowned, and where Huawei's aspirations for global sustainability leadership may come unstuck, is around transparency. While Huawei has issued an independently assured CSR report every year for the last decade (stamped with a Global Reporting Initiative compliant symbol), how bright a light the company is willing to shine on its activities remains in question.
With human rights abuses and conflict associated with cobalt and some of the other common metals used in the electronics industry, supply chain transparency has become a critical issue in recent years. Apple has been publishing data on its supply-side risks and audits for 12 years now. Six years ago, it went further and provided information on which specific factories it sourced from.
If Huawei is to make its mark in the sustainability space, it needs to lead and not merely follow
Huawei isn't standing still. In 2016, it audited 938 suppliers for sustainability risks, although only 53 of these audits were on site. The report reveals that two supply contracts were cancelled, but doesn't divulge the reason. But disclosing the names of its suppliers remains a step too far, Ranaivozanany confirms.
"It's step by step. We want to make sure first that all our suppliers have our [sustainable procurement] policy and ensure full compliance," she says.
Renewable energy is another area where Huawei is lagging. Apple has stolen a march by massively investing in clean energy projects around the world.
Apple's new headquarters in Cupertino is powered by 100 percent renewable energy. (Credit: Apple)
The California-based tech giant currently boasts 626 megawatts of zero-carbon generation capacity, enough to power all its facilities around the world. It has another 15 more renewable projects under construction, plus 23 suppliers who have committed to manufacturing Apple goods using only clean electricity.
While Huawei is making steps to improve the energy efficiency of its products and operations, its latest figures show an installed renewable energy capacity (mostly solar) of a mere 19.3 megawatt hours. Ranaivozanany calls these figures "obsolete" and promises updated ones in June, but, bar a revolution behind the scenes, it's unlikely the numbers will change very significantly – or at least not enough to match Apple's carbon neutral claims.
Commercially, Huawei has shown itself to be a determined and ruthless operator. Transferring those same attributes to its sustainability activities would be beneficial for its brand, for Chinese business more generally – and, most importantly of all, for the world at large.
Oliver Balch is a freelance journalist and writer, specializing on the environment, international development and business. He is a regular contributor to Ethical Corporation.
Main picture credit: KODAKovic/Shutterstock
This article is part of the in-depth briefing China's New Dawn. See also:
Green bond market helps China's green revolution overcome headwinds
China looks offshore for its new renewable frontier
Chinese companies slow to join RE100
Women and children first: how brands are innovating to help China's female workers
IKEA and Audi pulled up for sexist marketing
Electronics sector charts new path after 'bloody decade of labour abuse'
The brands going beyond auditing to give China's apparel workers a voice
How QuizRR is taking human rights training to the factory floor
China's toy industry in push to improve conditions for migrant workers
How Mattel's quick move rescued Barbie
China ramps up search for solutions to meet urbanization challenges
Huawei
electronics industry
Human rights
Apple
SDGs
smartphone
BT
UN Global Compact
CSR Europe
BSR
Global e-Sustainability Initiative
UN Broadband Commission
Related Reads
comments powered by

Disqus