on
The appointment of 'France's David Attenborough' Nicolas Hulot as environment minister has turned the Elysee's ambitions to assume global leadership on climate change up a notch. We look at whether promises to go carbon-neutral by 2050 and ban fossil fuel cars will be fulfilled
When philanthropist Michael Bloomberg launched the "We are still in" coalition in May, defying Donald Trump's move to take the US out of the Paris climate accord, he did so during an unannounced visit to the Elysee presidential palace, flanked by its newly elected occupant Emmanuel Macron and Paris mayor Ann Hidalgo.
Ever since those heady days in December 2015, when global leaders joined hands and raised them in victory at achieving the deal to keep the global temperature rise to 2 degrees, France has had a high profile for climate leadership. And Macron seems determined to drive that leadership forward, not only on climate but in other areas of responsible business. 
His rebuke of Trump on Twitter, his appeal to Americans  to work with France to combat climate change and his restating of Europe's commitment to the climate accord, won him huge kudos both at home and abroad. A government agency launched a website wooing cheesed-off US climate scientists. And Macron boasted after Trump's visit to Paris last month that he'd managed to persuade the climate-change denying US president to have second thoughts.
Dr Julia Haake, who heads the Paris office of German sustainability ratings group Oekom Research, says public reaction to Macron's standing up to Trump on climate change was "very positive and super-proud".
Hosting the COP 21 climate talks in France created a momentum among French companies, and she is optimistic that this can be sustained, particularly since the environmental agenda might provide Macron with easier wins than other daunting issues, like labour reform.
Macron's rebuke of Trump on Twitter and restating of Europe's commitment to the climate accord won him huge kudos both at home and abroad (credit: Petr Kovalenkov/Shutterstock Inc.)
In August 2015, in the build up to the climate conference, France passed the Act on Energy Transition for Green Growth. The energy transition act's stated intention was to fight global warming and reduce France's €70bn energy bill, while creating 100,000 jobs and profiting from new technologies. Social aspects include a zero-waste target, preventing fuel poverty and boosting health.
It listed six major targets: cuts of 40% in greenhouse gases and 30% in fossil fuels by 2030; reducing reliance on nuclear power and increasing renewables to 32% of consumption - with landfill waste and energy consumption halved, compared to 2012, by 2050.
The plan calls for France to raise its existing carbon tax on emissions not covered by the EU carbon market to at least €100 per tonne by 2030 (from €14.50/t today) and double the proportion of emissions subject to carbon pricing to 50% from 25%, including the refrigerant HFC.
When Macron assumed the presidency in May he signalled he would lift France's climate ambition even further by appointing the high-profile environmental campaigner Nicolas Hulot as his environment minister – in effect, number three in the new cabinet after prime minister Edouard Philippe.  It's a far more prominent position than in, say, Britain.
It's also significant that Hulot agreed to accept the post.  Now in his 60s, he combines the stature of Sir David Attenborough with the rock star appeal of Professor Brian Cox.  He's been a journalist, TV presenter and documentary maker for three decades.
Hulot has advised both government and industry. In 2012, he bid unsuccessfully to be the Green Party presidential candidate.   However, he has always distanced himself from being described as politically left or right.  He declined posts under Chirac, Sarkozy and Hollande - even though he was closely involved with the Hollande administration both over the ambitious energy transition law and the Paris Accord itself.
Alasdair MacEwen, of the political consultancy Culmer Raphael, says the appointment was both a surprise and a PR coup for Macron and "may be an indication of his willingness to trust those with expertise in particular areas."  He expects Hulot to press for a more radical approach to energy and environmental issues while being a reassuring presence for green minded business.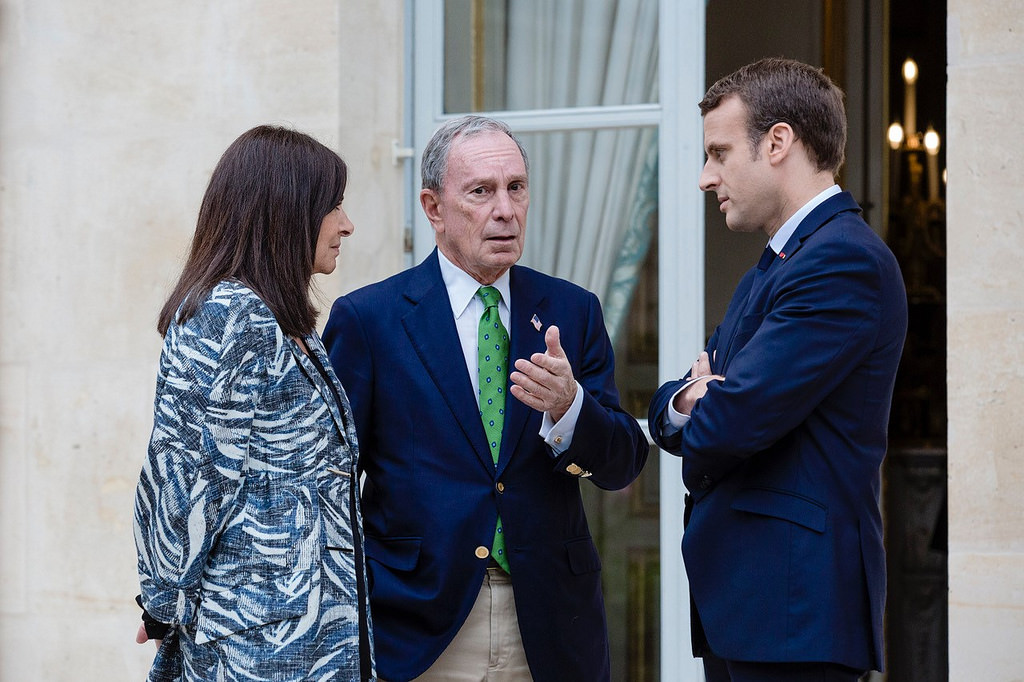 Michael Bloomberg came to Paris to announce the We Are Still In strategy (credit: Flickr)
Environmentalists welcomed the appointment while questioning how much power he'd really have – a concern Hulot shared on Twitter: "I think, although I'm not sure, that the new political situation offers an opportunity for action and I can't ignore that."
Last month Hulot set out his stall, with headline-grabbing promises that France would attain carbon-neutrality by 2050, phase out the sale of fossil-fuel-powered vehicles by 2040 and end coal-produced electricity by 2022.
Hulot also said France would halt "imported deforestation" by banning imports of unsustainably produced palm oil and soy for use in biofuels and animal feed. "We will shut the loophole that has allowed palm oil to be mixed with our diesel and vegetable proteins to be used in our animal feeds," Hulot said.
But can France's climate promises be implemented on the ground? We look at the prospects for success in three different sectors.
Power
France has set itself a huge challenge by committing to decarbonise the power sector, closing its remaining coal plants within five years, at the same time as it seeks to reduce its reliance on zero-carbon nuclear, which provides about three-quarters of France's electricity - the highest by far of any country - to 50%.
Nicolas Hulot said up to 17 reactors could close over eight years.  The initial focus is on France's oldest plant at Fessenheim, in northeastern France.  A source of tension with neighbours Germany and Switzerland, it is now expected to shut by 2020. 
Complicating any closure plans could be the positions taken by the reactors' owners, EDF, and Hulot's cabinet colleagues.  EDF is looking for compensation for losses incurred in closing Fessenheim.  Hulot may also lock horns with prime minister Philippe, a former advocate for a nuclear company, who voted against the 2015 energy act.
To compensate for the closure of nuclear, the new government has a five-year target for doubling France's solar and wind power capacity to meet 32% of its total energy requirements, and is looking to mobilise €30bn in private investment.
Macron appointed the high-profile environmental campaigner Nicolas Hulot as his environment minister (credit: Frederic Legrand - COMEO/Shutterstock Inc.)
But this target will also be challenging to meet on current form. While France is one of the world's solar leaders, with about 7GW installed,  solar still meets just 1.5% of total energy demand and the rate of new installations slowed dramatically in 2016.  
In wind power, targets are also slipping. France has launched three fixed offshore wind energy tenders. The first two total about 3GW and were due for completion by 2022. The European Commission is considering a complaint from a group of municipalities, environmental organisations and fishermen who say they contradict marine environment protection and breach EU law.  
Details aren't public but the renewable energy trade body, SER, is concerned in particular that it could include the question of state aid.  The Commission has a year to respond. Separately, there have been legal challenges to the projects in the first round using the public maritime domain.  As a result, the developers have put further investment decisions on hold.
Wind energy journalist, Lisa Louis says more appeals are possible and none of the projects are clear of challenges.  Hulot wants to simplify the system, with the state securing permits before the tender process.
For onshore turbines, there is a target to increase capacity from 12GW to 15GW in 2018 and almost 22GW by 2023. But this too has been hit by technical and procedural problems.
Transport
Hulot acknowledges that the target of 2040 to ban the sales of polluting cars would stretch French manufacturers. Pure EV vehicles only represented about 1.1% of new car registrations in 2016 – though that was double the EU average of 0.6% . 
But there's news almost daily of new electric models, with battery prices tumbling and production booming. Volvo says from 2019 it will only make electric or hybrid models.  Bloomberg New Energy Finance now forecasts electric vehicles will be as cheap as fossil fuel models by 2025.  Other researchers are revising upwards their prediction for EV.
While some observers see Asian and US  carmakers as having the edge in batteries and electric motors, Peugeot, Citroën, and Renault ranked first, second, and third on a 2016 list of large car manufacturers with the lowest carbon emissions, the European Environment Agency said.
And Renault, which has an alliance with Japan's Nissan, is particularly well-placed. Together the pair have 14.6% of the EU market share for battery-powered vehicles and have built 425,000 of the more than 2 million electric cars sold globally.
Hulot acknowledges that the target of 2040 to ban the sales of polluting cars would stretch French manufacturers (
Credit: Ryan Rodrick Beiler/Shutterstock Inc.)
 BNEF says that into the 2030s, charging infrastructure will remain problematic, capping growth of the electric vehicle market in Europe, China and the US. However, companies like NewMotion of the Netherlands are emerging with cloud-based smart charging solutions. NewMotion announced this month that it had expanded its French network with 2,700 new public charge points, bringing the total to 3,500.
On alternative fuels, Hulot's move to ban imported deforestation from unsustainable palm oil could speed up innovation in more sustainable biofuels. Last month Engie, which supplies renewable energy and alternative fuels, and supermarket giant Carrefour, announced that they were rolling out a pilot project running delivery lorries on biomethane, largely derived from food waste. Nine new natural gas filling stations will see 200 Carrefour lorries running on biomethane by the end of the year, cutting carbon dioxide by 75% and eliminating particulates.  By 2025, Carrefour wants greenhouse gas emissions per pallet delivered cut by 30% on 2010 levels, largely derived from food waste.
Green finance
France became the first country to make it mandatory for companies to report on their impacts on climate change in Article 173 of its 2015 Act on Energy Transition for Green Growth. The new law, described by the European Sustainable Investment Forum as "groundbreaking", builds on legislation passed in 2009 and 2010, the Grenelle Acts, which made the production of an annual report on how companies integrate environmental, social and governance factors mandatory for all large companies with activities in France. 
When Macron assumed the presidency in May he signalled he would lift France's climate ambition even further
 (credit: Hadrian/Shutterstock Inc.)
France also put a rocket under the global green bond market in January when it became the second sovereign state nation to issue a green bond - at €7bn by far the biggest ever.  There was no shortage of interest.  Projects listed included clean transportation, eco-efficient products, pollution prevention, and sustainable management of natural resources. French local regions have been issuing their own green bonds.
Julia Haake says Macron is cleverly trying to pull the financial markets towards green bonds and investment to facilitate the massive investments needed to achieve the Sustainable Development Goals.
According to the Institute for Climate Economics, France has been integrating sustainability into its financial decision making, both public and private, as a result of the Transition Act and it tips France to become a green financial hub.
Carrefour launch its first biomethane station (credit: Carrefour)
When he announced the new target for carbon neutrality by 2050, Hulot said the catalyst had been the US decision to quit the Paris Accord. By setting the target, France would be forced to make the necessary investments.
Christine Gobbet-Milhaud of the French Electricity Union lobby group said the 2050 target was too distant to make an impact.  The UFE is calling for the whole tax system for fossil fuels to be overhauled to guarantee the transition. "We need to be given a precise course to steer," she said.  
While Greenpeace and WWF have welcomed the climate plan as a "meaningful step forward", they too question how the carbon-neutrality goal will be met. WWF director Pascal Canfin said: "Along with the other NGOs we will closely follow the next actions to be sure all commitments are upheld."  
However, France's biggest oil and gas company, Total, the world's fourth-largest publicly listed energy company, has said it is looking beyond oil and gas for its future growth, an indication of willingness of French companies to embrace the carbon-neutral goal.
Patrick Pouyanne, CEO of energy giant Total, told the group's AGM last May that he wanted to have a fifth of its assets invested in low carbon businesses within 20 years, ramping up investment in renewable energy, energy efficiency and energy storage. Among its clean energy investments Total is majority owner of American solar power company SunPower Corporation.
""The energy world is evolving. There are new areas over the next 20 years beyond oil and gas that we think can be profitable," he told the Financial times. "Some of our competitors are defensive [about the changing energy landscape], but we are saying we want to make a business out of it".
This article is part of a series on France. See also:
France steps up war on plastic waste
Danone calls for nutrition revolution to fix 'broken' food system
Investing in the future of the planet
Taking aim at corporate human rights abuse
The companies leading the pack on CSR
 
Michael Bloomberg
#wearstillin
electric vehicles
clean energy
Donald Trump
Oekum Research
Paris Agreement
Palm Oil
zero deforestation
Related Reads
comments powered by

Disqus