on
Angeli Mehta reports on pilot bioenergy projects in North Yorkshire and in Japan, and concerns about whether they offer a climate solution at scale
The Drax power station in North Yorkshire has become the world's first to capture carbon dioxide generated by burning biomass. The bioenergy carbon capture and storage project (BECCS) could enable Drax to become one of the world's first "negative-emissions" power stations. The demonstration project will capture one tonne of CO2 a day, using a novel technology developed by C-Capture, a spin-out from Leeds University.

C-Capture's solvent can be recycled, and its process uses less energy than traditional capture technologies. According to its director of engineering, Caspar Schoolderman, "the challenge now is to get all the information we need to design and build a capture plant 10,000 times bigger. It's only really when we get to those sorts of scales that we can start to have an impact on the climate."
Drax is exploring markets for its CO2, including fizzy drinks and synthetic fuels
Drax can't yet store the CO2 captured, so it is exploring markets for it, including fizzy drinks and synthetic fuels.
In Japan, Toshiba is currently constructing a 500-tonne a day capture unit at the Mikawa power station, on Kyushu. It's expected to be operational next year. The power plant is primarily running on biomass from palm kernel shells, left after extracting palm oil from plantations in Indonesia. Drax is burning pellets made from sawmill residue, and from tree tops, thinnings and residues from established forests mainly in north America, which are being grown for timber. It says responsible, active management of these forests boosts carbon stock.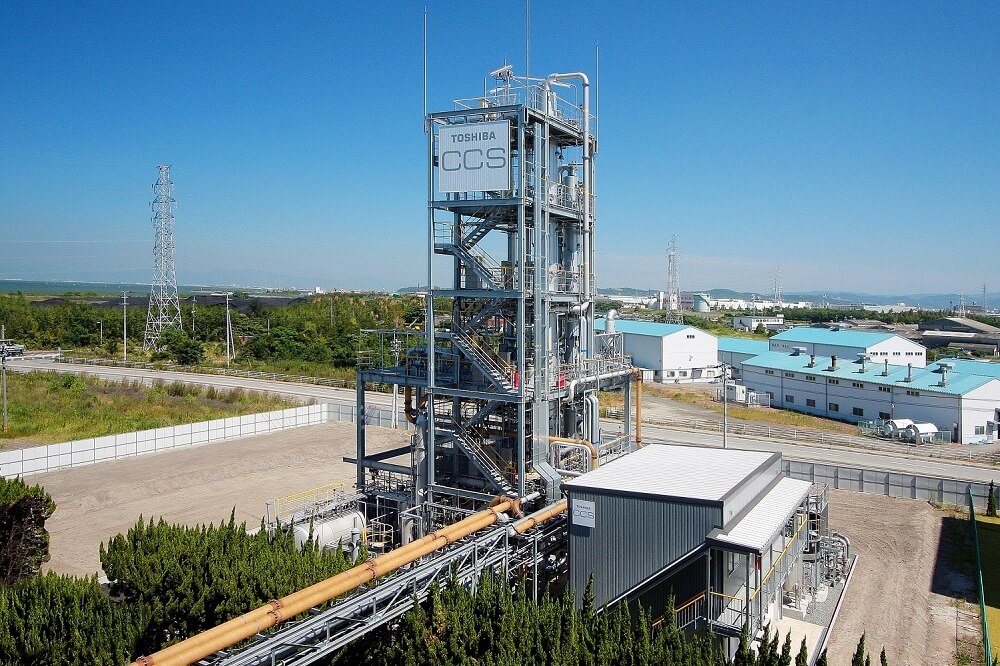 Toshiba's Mikawa carbon capture pilot plant. (Credit: Toshiba)
The biomass will have sequestered carbon dioxide as it grew, and capturing the emissions when burnt means that, in theory, more carbon dioxide is removed from the air than is emitted. The Intergovernmental Panel on Climate Change (IPCC) has highlighted the importance of BECCS in meeting commitments under the Paris Agreement, but this would entail massive land-use change if BECCS is deployed at the scale it envisages.
Environmental groups have voiced concerns about which crops can be deemed to be carbon-neutral, and which will create more pollution than burning fossil fuels.
The UK's Committee on Climate Change wants to see global governance strengthened, and no new subsidies for large-scale biomass to power plants without CCS.
Main picture credit: Drax
Drax
biomass
CCS
BECCS
Toshiba
bioenergy
C-Capture
Related Reads
comments powered by

Disqus