on
On the eve of a tense AGM this week, the Unilever CEO sits down with Ethical Corporation's editor Terry Slavin, and dismisses any idea he is preparing to step down
It says something about Unilever CEO Paul Polman that he had an hour to sit down with Ethical Corporation as he was preparing to face disgruntled fund managers at this week's annual general meeting, some in open revolt over his recently announced plans to abandon Unilever's dual Anglo-Dutch structure and base it solely in the Netherlands.
The proposed move, which could see Unilever fall out of the FTSE 100 index, though it would stay in the London Stock Exchange, has triggered condemnation in the British financial press and the City of London, where some of the biggest fund managers have protested that internal rules precluding non-FTSE investment will force them to sell shares in the consumer goods giant.
Between now and September, when shareholders in London and Rotterdam will vote on the restructuring proposal, Polman faces a big task winning them round to his argument that a simplified structure based in Rotterdam will help the company in acquisitions, and in fighting off hostile predators such as Kraft-Heinz, whose abortive raid on Unilever a year ago has clearly rattled the 63-year-old CEO.
I have a lot of energy in the job because I am mission-driven. What Unilever is doing fits with my values and my purpose
There is a lot riding on the outcome. "A vote against the restructuring would be a huge blow to the company and a sour end to what is expected to be Paul Polman's final year as chief executive after almost a decade at the helm," the Financial Times suggested.
Yet sitting with Polman in a comfortable meeting room in the funky, open-plan interior of Unilever House, high above the Thames, it is difficult to detect any anxiety over the showdown with shareholders.
In fact, the Dutchman bats away any suggestion he has his eye on the door.
Unilever House in London - if the company moves entirely to Rotterdam, it could fall out of the FTSE 100.
"I have a lot of energy in the job because I am mission-driven. What Unilever is doing fits with my values and my purpose. So I feel very happy here. I don't feel I've been here 10 years. I feel like it's my first day in the company and there's a lot to do."
But it is, of course, the board's decision, he says. "It's good for Unilever to have change at some point in time. There will be people who are better than me. From the day I came in here, I worked on my succession. That's my responsibility as a CEO. And we have built an enormous bench-strength of talent internally. But we have to benchmark that externally, which is what the board is doing."
Polman was awarded the Cannes LionHeart Award for building sustainability into the heart of Unilever's operations
Although Polman declines to be drawn, one candidate widely seen as in the frame as successor is Dave Lewis, who before he left Unilever to become CEO of Tesco in 2014 was regarded as Polman's protégé. Tesco's setting of an ambitious 1.5C Science-Based Target last year, and Lewis's personal leadership of the global Champions 12.3 coalition to tackle food waste (See Championing food security: the global battle against food waste), would indicate he is limbering up to step into Polman's shoes on the global stage.
Whoever eventually fills them, Polman's shoes are huge, with a head-spinning list of international credentials garnered from leading the private-sector response to issues from climate change to the sustainable development goals over the past 10 years. Last week, he added another piece of statuary to a crowded mantlepiece, the award of the Cannes LionHeart Award, "in recognition of his commitment to building sustainability into the heart of Unilever's operations".
In 2016, Unilever's 18 Sustainable Living brands grew 50% faster than the rest of the business.
Polman sits on the boards of the UN Global Compact and Consumer Goods Forum (CGF), is former chairman of the World Business Council for Sustainable Development and was the only business leader asked to serve on the UN High Level Panel of Eminent Persons on the Post-2015 Development Agenda, which developed the Sustainable Development Goals. He also served on the International Council of the Global Commission on the Economy and Climate, and most recently became chair of the Food and Land Use Coalition, formed last year at the UN General Assembly to mobilise a broad range of public and private-sector actors to support sustainable land-use and food systems.
Polman, who grew up one of six children in a Catholic family in the small Dutch city of Enschede, had aspired to both the priesthood and medicine before finding his way into business. And he clearly feels the full weight of moral responsibility that comes from being at the helm of one of the world's biggest consumer goods companies.
In an interview with the Financial Times last year, he said his strong sense of purpose sometimes led him to overextend himself. "But when there are so many issues out there that need to be addressed, and when you are in a position to do something about that, I feel that sense of duty."
Unilever can point to impressive achievements, including cutting its environmental footprint with a 47% reduction in CO2
Polman, who moved to Unilever in 2009 from Nestlé, moved quickly to impose his purposeful stamp, scrapping short-term financial targets and announcing the Sustainable Living Plan, with the scarcely believable goals doubling sales while at the same time halving Unilever's environmental footprint by 2020 (later reset to 2030, aligning with the SDGs), helping a billion people improve their health and well-being, and enhancing the livelihoods of hundreds of thousands of employees – later expanded to millions of people in its extended supply chain.  The blueprint is underpinned by nine specific commitments, including a goal to be "net-carbon positive" by 2030.
Unsurprisingly, this exceeding tall order is proving difficult to fill, yet Unilever has been transparent about its progress, issuing a yearly report card, with another due this month. The latest, from 2017, indicates where the greatest challenges lie. In particular, a 9% increase in greenhouse gas impact per customer use is undermining its goal to halve the greenhouse gas impact of its products across the lifecycle by 2030.
Paul Polman has been instrumental in promoting the SDGs. (Credit: Unilever)
But Unilever can also point to impressive achievements, including being 60% towards the health and hygiene goal through its handwashing campaign with Lifebuoy soap, and cutting the environmental footprint of its own operations, with a 47% reduction in CO2 and 98% cut in waste per tonne at its factories, and sustainably sourcing 56% of all its agricultural raw materials.
Polman is also a long way from his goal of doubling sales, but they've climbed a respectable 33% to €54bn during his tenure, while market capitalisation has risen from €47bn to €128bn,  the share price has risen 172%, and shareholder return, including dividends, is up 274% compared to when he first took up the reins at Unilever House.
Most pleasingly for Polman, Unilever's sustainable living brands, those deemed to have a strong environmental or social purpose, such as Ben & Jerry's, Dove, and Hellman's mayonnaise, have been the company's strongest performers. In 2016 the 18 brands grew 50% faster than the rest of the business and delivered more than 60% of its growth.
We think it's best to keep investing so that over the long term we are still here, contributing to a better world
All of this, he says, vindicates his strategy of creating long-term value rather than chasing short-term profits, and helped him gain the support of shareholders to see off the $143bn Kraft-Heinz bid last March.
Although Unilever announced plans to strip out $6bn in costs in the wake of the bid, Polman says it is a "fallacy" that he is now under any greater pressure to cut costs. Two thirds of efficiency gains will be reinvested in the business to accelerate growth, he says. And though "the easiest thing to do" would be to cut investment in its multi-stakeholder model, "we think it's best to keep investing so that over the long term we are still here, contributing to a better world."
Sustainable Living brands have a strong environmental or social purpose.
Asked what is the greatest challenge for the sustainable living brands going forward, he says: "We've been working on the sustainable living brands for seven or eight years now. At first you go for the low-hanging fruit, or the fruit you can reach with a little ladder." The next step, he says, is "transformative impact at scale. That requires others to participate. It requires governments to function etc. So, how do we get faster transformative growth at scale at a time when global governance isn't quite functioning."
The good news now is that financial markets are starting to move faster on exposing the risk of climate change
From when he joined Unilever in 2009, Polman has sought to catalyse transformative change by engaging partners across the globe in a battle against deforestation, where Polman saw that Unilever, as the world's largest buyer of palm oil, had the power and responsibility to act. (See Greenpeace is right to hold our feet to the fire on deforestation, says Unilever chief).
Unilever has also had a key role in helping develop the market for green finance, with Graeme Pitkethly, Unilever's chief financial officer, appointed to co-chair the Financial Stability Board Task Force on Climate-related Financial Disclosures (TCFD). For Polman, the TCFD, which recommends that all companies disclose climate-related financial information alongside their mainstream financial filings, is crucial to the market placing greater value on investments made to reduce those risks.    
"The good news now, and why we don't have to be depressed all the time, is that financial markets are starting to move faster" on exposing the risk of climate change, he says. "Companies are starting to move faster, and it's creating this flywheel effect."
Polman says companies are moving faster on exposing climate change risks. (Credit: Plyaset/Shutterstock)
Listening to him talk about his high-level interventions, it is sometimes difficult to know, when he refers to "we", if he is talking about Unilever, himself, the consumer goods industry, capitalism, or indeed the entire international community.
From watching him share platforms with figures like Al Gore, the Prince of Wales and Bono at one of the innumerable international events that crowd his diary, it would be easy to suspect that Polman's attentions may be focused more on the world stage than in ensuring that his rhetoric is made reality in Unilever's massive supply chain of 10,000 top tier supplies.
Certainly his eye-watering €11.6m salary, which stands to rise even further, one of the bones of contention in the proposed restructuring deal that will come under fire at this week's AGM, would feed into that narrative.
There will always be challenges, but what we don't accept is that we aren't 100% fighting to mitigate or eradicate them
But for one of the biggest multinational corporations, working in countries where there are severe infrastructure and governance challenges, Unilever's copybook is relatively unblemished.
There was the settlement reached in 2016 to end a 15-year dispute over allegations of mercury poisoning at one of Unilever's Indian factories, which occurred long before Polman became CEO.
And one that was on his watch: allegations made in 2011 of widespread sexual harassment against female workers at Unilever's Kericho tea plantation in Kenya.
Unilever has taken action to ensure the safety of its female workers in its Kenya tea plantation. (Credit: Ben Morrison)
In Unilever's Vietnamese factories, meanwhile, a review of labour conditions by Oxfam in 2015 found "unresolved tension between Unilever's responsible sourcing code and the commercial and labour requirements of suppliers".
There have also been some doubts raised about the claims to sustainability of the sustainable living brands, with the New York Times reporting in 2015 that there had been loose criteria and a lack of enforcement of rules for farmers producing the certified sustainable US soy that goes into Hellman's mayonnaise.
Questioned about the most egregious allegations, about women tea workers being sexually abused at Unilever's tea plantation in Kenya, which one human rights expert said Unilever should have addressed before it was raised by Dutch NGO Somo in 2011, Polman responds, rather tetchily, "I don't answer questions of could or should. Only what we are doing to move forward."
He then explains the strenuous efforts Unilever has taken since to safeguard women at the tea plantation, including creating a police force, and retraining a "population that has grown up in a different environment" in a country where  39% of women are exposed to sexual violence. According to the company's Human Rights Progress Report, published last year, Unilever has also taken robust action elsewhere in its supply chain to ensure the safety of its female workers, working with UN Women's ending violence against women programme.
At the end of the day, you can only build trust if you have transparency, and trust is the basis of prosperity"
"There will always be challenges, but what we don't accept is that we aren't 100% fighting to mitigate or eradicate them," he says. "If anyone has a better idea we want them to be part of it, not sit on the sidelines and say what we could or should have done."
In fact Unilever had plans to sell off Kericho, its final tea plantation, when Polman arrived, and one of his first decisions as CEO was to take it off the auction block.
"The reason I didn't want to sell is not the same as now," he admits. "Then I could see that people wanted to know where their food is coming from. ... but then I thought if we as a company, with our philosophy and principles, can't make a tea plantation work and provide decent work for smallholder farmers, then who can?"
One of the farmers in Unilever's smallholder palm oil scheme. (Credit: Unilever)
Last year's human rights progress report, following up on its 2014 commitment to disclose its efforts to implement the UN Guiding Principles on Business and Human Rights, admits baldly that  "human rights issues remain prevalent across our value chain".  Polman says there were fears expressed internally that publishing the report would lead to reputational damage, but he argued that it is only through being transparent about the challenges that the company will attract partners to helpsolve them.
 "We'd like to see more companies publish such extensive human rights reports because at the end of the day, you can only build trust if you have transparency, and trust is the basis of prosperity."
The drive towards transparency has been a theme of Polman's leadership, including the decision to publish its entire palm oil supply chain. And late last year it became clear that the strategy can pay off financially.
Unilever is a case study on how transparency provides a material benefit to corporations
Gabriel Thoumi, director of capital markets research at Washington-based Climate Advisers, who co-writes Chain Reaction Research, describes Unilever as "a case study on how transparency provides a material benefit to corporations".
He says the company's decision to publish palm oil supply chain meant Unilever was now in a better position to be able to identify and mitigate risks, including deforestation and labour rights.
When Chain Reaction provided evidence to Unilever that one of its suppliers, Sawit Sumbermas Sarana, was involved in illegal deforestation and peatland clearance last year, it led to Unilever doing its own investigations and suspending the company.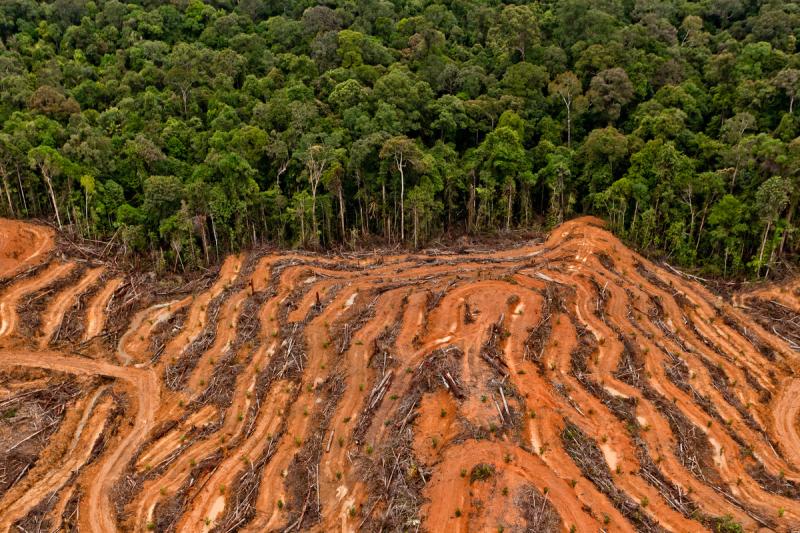 Unilever suspended one of its Indonesian suppliers over illegal deforestation claims.  (Credit: Greenpeace)
Thoumi credits this risk-reduction with allowing Unilever to sell its spreads division, which accounts for 15% of its palm oil supply, for $8bn in December last year, $1bn more than forecast, to private equity firm KKR.
KKR, renowned more for corporate-raiding than CSR activity, pledged to continue to follow Unilever's responsible sourcing policies, including working towards the goal of sourcing 100% sustainable palm oil by 2019.
"This tells me that KKR paid a sustainability premium for [Unilever's supply chain] transparency," Thoumi said.
With the size and scale of Unilever, being in 190 countries, we can do more than governments can
It is a gift that Polman will hope will keep giving: Unilever is using the proceeds of the sale to KKR to start buying back €6bn worth of shares from this month, a major plank in the charm offensive to win back disgruntled shareholders .
Polman says he is convinced that shareholders, 70% of which have been with the company for at least seven years, will continue to back his long-term vision and vote for his proposed restructuring plan.
Certainly ESG investors will be hoping he wins the battle. Because the ability to demonstrate that business can be a force for good and thrive in the long term is clearly what keeps Polman in the CEO's seat Unilever. "Nothing else, to be honest," he says. "With the size and scale of Unilever, being in 190 countries, we can do more than governments can. I find that very motivating."
Main picture credit: Unilever
Unilever
Paul Polman
ESG investors
tesco
business and human rights
Indonesia
deforestation
Greenpeace
Science Based Targets
Carbon Pricing
green finance
TFCD
purpose
CSR
Related Reads
comments powered by

Disqus