on
Elena K Johansson reports on the rise of gender lens investment amid evidence that gender-balanced companies out-perform
It used to be that investors who wanted to adopt a gender lens would look at impact funds supporting microcredit initiatives or female entrepreneurs.
No longer. "For the first time in the past few years, we see that gender lens investing is moving from private to public equity," says Diana van Maasdijk, co-founder and executive director of Equileap, an organization that gathers and analyzes comprehensive data sets on gender equality policies in companies.
The number of investment vehicles that are using its data is rising, she says, citing the involvement of large companies such as State Street and UBS. "We are looking at much bigger assets under management."
The Solactive Equileap Global Gender Equality Index has outperformed the MSCI World Index by 10.7% over the last six years.
In January, UBS launched the Global Gender Equality UCITS ETF tracking Equileap's Global Gender Equality 100 Leaders Index, which is listed on the Swiss stock exchange. The exchange-traded fund reached $80.2m in assets under management after a few months of its launch.
Equileap's research and indices are the basis for two other gender exchange-traded funds that were launched last year. The first fund for companies domiciled in the US and Canada, Evolve's North American Gender Diversity Index, listed on the Toronto Stock Exchange, while Lyxor's Global Gender Equality UCITS was launched on the Paris bourse, and cross-listed on the London Stock Exchange.
Meanwhile, the Solactive Equileap Global Gender Equality Index has outperformed the MSCI World Index by 10.7% over the last six years.
Evolve's North American Gender Diversity Index was launched last year. (Credit: Bloomberg)
Michael Simonetta, chairman at Canadian asset manager Evolve ETFs, says the asset class is growing though still in its nascent stages. "Some people are sticking their toes in the water and others are jumping in," he says.
According to a study by investment firm Veris Wealth Partners, gender lens investing in public investment vehicles oversaw $910m in assets in 2017, up $265m from 2016.
It is being driven by multiple gender diversity initiatives both in the UK and internationally, such as the 30% Club, the Women on Boards Davies review, the American 2020 Women on Boards, as well as by a wider ethical and positive impact investing trend that has been gaining steam.
Observers say recently released research studies by MSCI, McKinsey and the Boston Consulting Group are also helping to drive the trend.
L'Oreal was one among only six 200 companies studied to report that it didn't have a gender pay gap
A 2018 study by the Boston Consulting Group, which surveyed 1,700 companies in eight countries, noted that companies with "enabling factors" like participative leadership and fair employment practices reported nearly 13 percentage points higher revenues from new products and services in the past three years compared with companies where these factors were weak or absent.
In Equileap's 2017 top 20 ranking of its company research report, L'Oreal ranked first out of 3,000 companies, earning 22 out of 35 scores. The company was one among only six of the top 200 companies in the same research to report that it didn't have a gender pay gap.
Equileap recently also launched a new report on the gender pay gap, which is aimed at giving an understanding on gender pay inequality in the workplace and help to address it.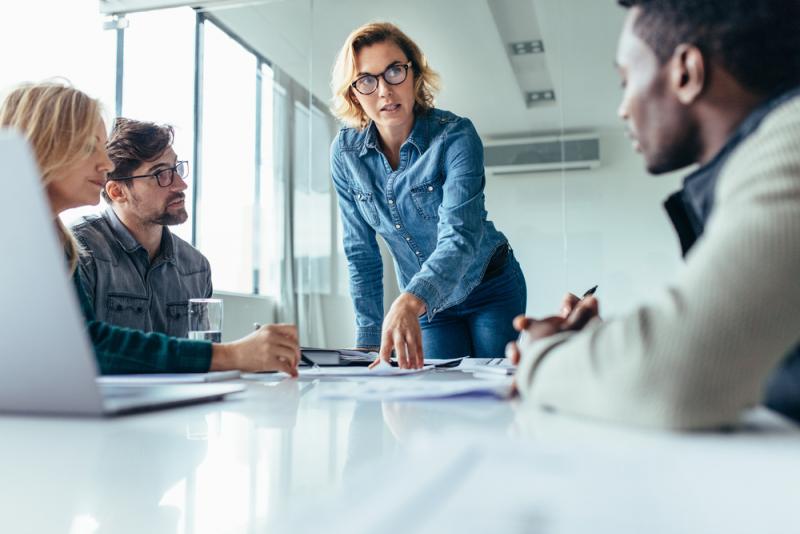 The FTSE is on target to hit 30% female board members by 2020. (Credit: Jacob Lund/Shutterstock)
Clare Payn, head of corporate governance North America at Legal & General Investment Management (LGIM), explains that achieving a gender balance on boards is important to getting the best leadership team. "It's quite simply about bringing different experiences and different perspectives to that table."
The UK's FTSE 100 firms are on track to hit a government target of 30% female board members by 2020, which is deemed to be the critical mass needed to trigger outperformance. FTSE 350 companies are lagging, however, having reached 25.2% in 2018. LGIM will vote against all boards that have less than 25% female representation in 2018.
In the US, board representation of women is even further behind, reaching 22% of S&P 500 boards. Heather Smith, who is vice-president of sustainable investing at Pax World Funds, says the business case for diversity is generally accepted at US companies today. She attributes slower progress to recruitment policies that have been limited to C-Suite candidates, coupled with a slowness to refresh boards.
Board-level representation is certainly important to the progress. But it's just one component
However, things appear indeed to be changing: seven out of nine US companies Pax World filed gender diversity proposals with in the past five years have now recruited women to their boards for the first time.
Prior to Equileap, gender investment products in public equity had largely looked at the number of women in leadership positions.
But looking at gender equality holistically when scoring companies is crucial, says van Maasdijk. In 2017 the organization undertook a comprehensive study that applied 19 criteria to assess gender equality in about 3,000 publicly listed companies in 23 countries.
The economic benefits of gender parity are clear. (Credit: Evolve)
She says equal pay and flexible working hours are important criteria, together with fairness in the workplace, so that companies aren't compromising their ability to get, and keep, the best employees.
"That's really what it is about when we are talking about gender equality: to ensure that the best employees, female and male, are coming to a company, and stay there and don't leave [because of unequal treatment]."
Simonetta of Evolve adds that investors need an in-depth understanding of a company's gender diversity policy. "Board-level representation is certainly important to the progress. But it's just one component in our minds that will lead to stronger gender lens investing over the long term and stronger outcomes in the long term for these companies. They [the companies] have to change their culture as well as their boards."
Main picture credit: Andrey_Popov/Shutterstock
This article is part of the in-depth briefing, Gender and Diversity. See also:
Lise Kingo: 'We have to spark a gender equality revolution'
The US firms opening their doors to greater diversity
Investors turn up pressure on Google over gender and diversity
Why supply chains are key to empowering women and increasing GDP
Coca-Cola's 5by20 recipe to empower 5 million women
Vodaphone makes progress in push to close the mobile gender gap
Equileap
LGIM
Evolve
L'Oreal
Gender-lens investing
Gender Equality Index
McKinsey
Boston Consulting Group
Related Reads
comments powered by

Disqus