on
With the equivalent of a new mega city globally being built a month, tackling the embodied carbon in building materials is critical. Mark Hillsdon reports on moves within construction to switch to greener materials
Over the last 20 years, the building sector has focused on tackling the 28% of global emissions created by the operational phase of a building, the greenhouse gases pumped out by offices and homes as they are cooled and heated.
Far less attention has been paid to embodied carbon, those emissions created during the building's construction and which are effectively locked in as soon as materials like concrete and glass are created.
However, since the Paris Agreement injected an even greater urgency into efforts to fully decarbonise the global economy, policymakers and industry have recognised that the focus can no longer just be on the use phase. 
While operational emissions can decrease over time, embodied carbon emissions are locked in as the material is made and the building constructed
They have also started to look at the carbon emissions buildings are responsible for before use, from the extraction of raw materials, to the manufacture and transportation of building products, and even those emissions created on the construction site itself, which together account for 11% of all annual global C02 emissions. 
According to Edward Mazria, from the non-profit organisation Architecture 2030: "While operational emissions can decrease over time through efficiency gains and switching to carbon-free renewable energy sources, embodied-carbon emissions are locked in as soon as the material is made and the building is constructed."
The issue becomes even more pressing given the world's continued urbanisation, and Mazria believes it's imperative that we start to find solutions to embodied carbon now, rather than blithely continuing to build in the same way and with the same materials.
Increased urbanisation is making tackling embodied emissions crucial. (Johnathan21/Shutterstock)
"We must eliminate all fossil-fuel emissions by 2050 to meet international climate targets, so it is critical that we don't add to the emissions problem over the next three decades," he says.
James Drinkwater, a director at the World Green Building Council (WorldGBC), agrees. "I think one of the reasons why there's an urgency here, globally, is because we are essentially building a new mega city every month," he says. "If you've constructed a high-embodied-carbon building, you can't retrofit that, those emissions are done and dusted, they're up in the air."
Based in New Mexico, Architecture 2030 is on a mission to turn the built environment into part of the solution to climate change, rather than something that's portrayed as part of the problem.
By specifying materials with low or no embodied carbon, architects and builders can transform the market
While manufacturers are reducing the embodied carbon in building products like steel, concrete and glass, the industry also needs to develop materials that are produced with no carbon emissions, and that can even be used to sequester carbon, continues Mazria.
"By specifying materials with low or no embodied carbon, architects and builders can transform the market and drive innovation in materials and technology that have widespread environmental and societal benefits," he says. 
Architecture 2030 has teamed up with experts from the construction industry to develop the Carbon Smart Materials Palette (CSMP), described as a "high-impact pathway to embodied-carbon reductions in the built environment". The CSMP identifies the key attributes that contribute to a material's embodied-carbon impact, and offers guidelines and options for emissions reductions.
(Credit: Architecture 2030)
For example, it lists concrete manufacturers that are using an injection method that captures waste CO2 from industrial processes and permanently sequesters it by adding it to the concrete mix. Other new products include structural-strength biocomposites made from soybeans, which are being developed by the Fiber Science & Apparel Design programme at Cornell University, while global engineering firm Arup is researching their use in building façades and internal partition systems.
Also in the US, MaterialsCAN is an organisation made up of members of the building industry that are looking to raise awareness of embodied carbon across the construction sector. It is providing those who own, lease, design and construct buildings with the tools they need to measure the embodied carbon of specific materials, and better understand the carbon footprint of their projects.
According to Kirsten Ritchie, director of sustainable design at architecture firm Gensler, a member of MaterialsCAN: "We need more ways to easily influence and impact the embodied carbon footprint of our projects.
To move this agenda faster and take it to scale … we need to be smart about how manufacturing and building policy join up
"We recently delivered a project with a 43% reduction in embodied carbon by replacing our typical go-to products with lower carbon footprint options that still met performance and all other project criteria."
Working with Microsoft, leading global engineering company Skanska has created the Embodied Carbon Calculator for Construction (EC3). The tool highlights low-carbon drivers and products, allowing specifiers to search for materials by performance, location and global-warming potential. There are over 17,000 materials in the database, including concrete, steel and gypsum, with their inclusion based around their environmental product declaration (EPD).
But materials, and the companies that manufacture them, are only part of the solution, says Drinkwater. "It's more about ... bringing the whole sector together, both supply and demand, to move this agenda faster and take it to scale … we need to be smart about how manufacturing and building policy join up."
Concrete embodies emissions that can't be retrofitted. (Credit: ESB Professionals/Shutterstock)
Investors have to recognise that only zero-carbon buildings are "Paris-proof", he continues, while developers and procurers have to be proactive and set specific carbon budgets for projects. This will then allow designers to tap into and specify this new generation of low-carbon materials that manufacturers are supplying. 
"Taking action across the whole value chain of our sector will be key to decarbonising the built environment, and creating the right supply and demand dynamics," says Drinkwater.
It also avoids the risk of one part of the chain taking on the full burden and cost of decarbonisation, which would inevitably slow the whole process down.
Europe has led the world in terms of lifecycle thinking, and looking at the before and after use of buildings, alongside the impacts of the in-use phase. In Germany, for instance, the German Sustainable Building Council's certification tool "DGNB" has included lifecycle assessment for over 10 years and the market is now advanced in tackling these wider impacts.
While efforts to address embodied carbon are gaining momentum, legislation remains largely voluntary
"Norway has also been a leader on this for some time," says Drinkwater. "With a grid that gets a lot of renewable energy from hydropower, their building energy use is less of an emissions issue than in many other countries, so they naturally turned their attention to embodied carbon earlier."
In 2016, working with industry, the Norwegian Green Building Council set out a 2050 roadmap for the property sector that committed the country to making the national construction industry carbon neutral by 2050, and covered issues from specifying low-carbon products to fossil-free construction sites.
Finland has also been ahead of the curve. Its Green Building Council has been exploring the best metrics to measure the lifecycle performance of buildings, and the Finnish government is now consulting on new regulations that will make lifecycle carbon footprinting mandatory for new construction from 2025.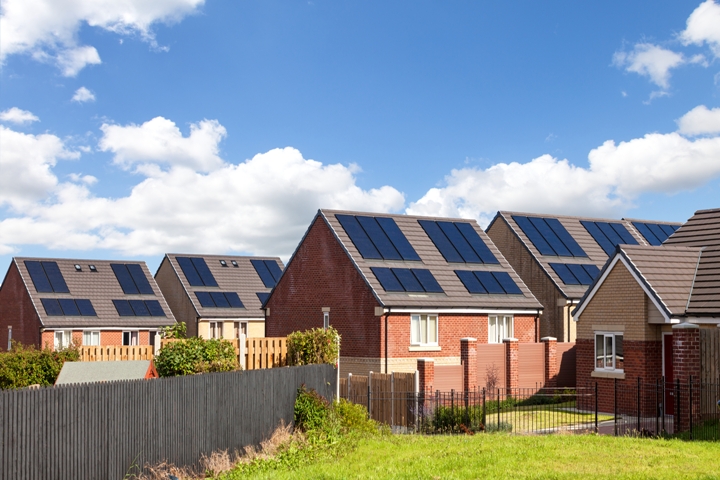 The emissions focus is usually on the operational phase of buildings. (Credit: Ewalina Wachala/Shutterstock)
Building on this work at the national level, the European Commission has teamed up with the Green Building Council network and other stakeholders to release the world's first region-wide framework for assessing the lifecycle performance of buildings. Known as Level(s), the framework looks at a building's overall performance in terms of greenhouse gas emissions through its lifecycle, alongside resource and water use, health, resilience and value.
"This is a really important policy development in terms of shifting the mainstream debate beyond its 'energy use' focus to address wider greenhouse gas emissions and circular economy principles," says Drinkwater.
But while efforts to address embodied carbon are gaining momentum, legislation remains largely voluntary, a fact that Drinkwater puts down to a lack of data on the lifecycle performance of buildings. Yes, the clock is ticking, he concedes, but industry still needs more clarity on how to achieve the best results.
Industry taking action and finding a way forward, that's a critical next step
He does, however, point to the work in Finland, and what he calls the "ambition loop" as a way forward. "A bunch of industries have said we want to move on this, government has felt empowered to set a bold target … and that gives the whole of industry time to learn from the market leaders and figure out how they are going to do it."
Recently, as part of its global Advancing Net Zero programme, the WorldGBC has started working to build a new consensus with industry on how embodied carbon standards can be introduced into national building certification programmes. Later this year, it will also be releasing a new report that is set to act as a call for action, and clarify what governments, industry and non-profits need to do to drive the embodied carbon agenda. (See 22 cities at vanguard of global drive to cut climate impact of buildings)
"Industry taking action and finding a way forward, that's a critical next step," says Drinkwater. He said governments can encourage this by "setting bold targets and giving clear timelines that will galvanise industry: that's the dynamic we need to create."
Mark Hillsdon is a Manchester-based freelance writer who writes on business and sustainability for Ethical Corporation, The Guardian, and a range of nature-based titles including CountryFile and BBC Wildlife.
Main picture credit: Randy Hergenrether/Shutterstock
This article is part the in-depth Built Environment Briefing. See also:
22 cities at vanguard of global drive to cut climate impact of buildings
Why the buildings sector needs a LED light bulb moment
Salesforce thinks big to cut its water impact
Singapore leads way as Asia's developers wake up to climate risk
Getting to the bottom of the green buildings conundrum
Leading companies partner with London in zero-carbon push
Good for the planet, good for the people
The design standard with people at its heart
building emissions
Architecture 2030
embodied emissions
WorldGBC
Related Reads
comments powered by

Disqus