on
Two recent reports point to major failings in schemes such as the Marine Stewardship Council and Roundtable on Sustainable Palm Oil. Angeli Mehta dives deep to assess the claims and counter-claims in seafood certification
Sustainability is big business. More consumers are looking for products they believe to be produced sustainably – and many are willing to pay extra for them. Brands increasingly use sustainability claims to distinguish themselves from others.
So how does a consumer – or indeed a brand – know that a product is sustainably sourced?
In theory, certification should provide the answer. There is a plethora of voluntary certification schemes, covering everything from forests to fisheries. They aim to drive good practice in their sector, often filling the gaps left by a failure to legislate. But do they actually make a difference?
More efforts are needed to ensure that sustainability commitments are honoured and that their reporting is transparent
An analysis published last month by the International Union for the Conservation of Nature (IUCN) into the impact of certified palm oil on biodiversity concluded that certified palm oil has "so far only been proven to have marginally fewer negative impacts" than the crop in general.
However, IUCN points out that the approach is new, and schemes such as the Roundtable on Sustainable Palm Oil "remain ambitious to improve practices of its members". It adds: "More efforts are needed to ensure that sustainability commitments are honoured and that their reporting is transparent, but also that there remains a demand for certified palm oil."
The Changing Markets Foundation is more uncategorical, suggesting in a recent report that voluntary standards and sustainability certification schemes are "standing in the way of genuinely sustainable consumption". Campaigns director Nusa Urbancic says its research found "very little independent information on what [certification] schemes have achieved".
.RSPO certified palm oil has not yet had an impact on biodiversity, IUCN researchers found (Credit:
 think4photop/
Shutterstock)
The report grew out of an investigation into viscose production (See Fashion brands failing to heed warnings on viscose production). Changing Markets says that replies it received from brands to questions about sourcing policies suggested brands thought they'd demonstrated a commitment to sustainability by simply signing up to the Higg Index, developed by the Sustainable Apparel Coalition (SAC). "It's hard to judge," says Urbancic, "if it's just ignorance or being misleading."
The Higg Index is a suite of tools to help brands, retailers and factories measure sustainability performance. Chief executive Jason Kibbey insists brands can't be passive: since 2016 members have had to carry out brand and facilities assessments, although they have up to four years to assess the majority of facilities in their supply chain.
"The supply chain is often on multi-year contracts, so they [brands] can't force assessment on suppliers overnight." However, they will have to demonstrate year-on-year improvements.
The history of a lot of transparency efforts is that the data is not credible
At present, companies and facilities aren't obliged to publish their results, and Urbancic complains that non-members can't access standards to see what they're evaluated upon. The SAC has published a roadmap to full transparency by 2020, starting with facilities. Kibbey says: "The history of a lot of transparency efforts is that the data is not credible – it's not sufficient in scale to be comparable. We want really high-quality data to compare with the rest of industry."
Some of Changing Markets' strongest criticism is reserved for fisheries certifications: asserting that they aren't equipped to screen the operations they oversee. It says the two biggest certifiers, the Marine Stewardship Council (MSC) and Friend of the Sea (FoS), which between them cover almost 30% of wild capture, place too much emphasis on increasing the number of participating fisheries and seafood volumes, rather than quality of outcome.
The two schemes cover issues such as impact on fishing stocks, destructive fishing techniques, and management of bycatch (the accidental capture of marine animals that aren't the target). More than half of FoS-certified products originate from artisanal fisheries and aquaculture producers in developing countries.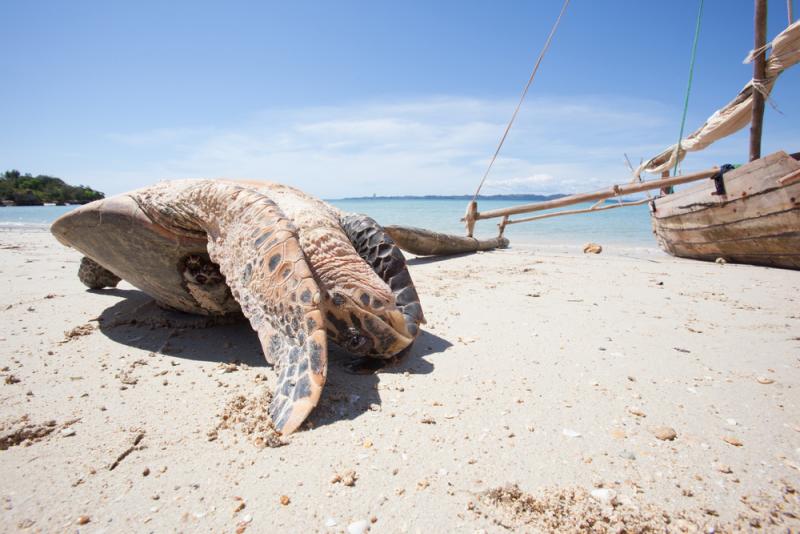 A turtle caught by artisanal fishers in Madagascar. (Credit: Aqua Impact/Shutterstok)
Both MSC and FoS strongly refute Changing Markets' criticisms. A spokesman for the MSC says: "Consumers can be confident the blue label means the fish they buy has been sustainably caught."
Changing Markets, along with an international grouping of NGOs, Make Stewardship Count, make a series of detailed allegations about the conduct of some MSC-certified fisheries, and have asked it to make some critical improvements to the certification process.
One concern is that MSC fisheries don't have to be assessed holistically. This has meant that a vessel can use sustainably certified methods or fishing gear during one part of a trip, and uncertified gear or catch methods during another part of the trip. But following an outcry, which involved retailers, including Tesco, MSC has changed its requirements so the catch will only enter MSC-certified supply chains if all activities on a single trip are certified. Already-certified fisheries will have three years to implement the changes. Precise details of the new regulations are expected next month.
Bodies like MSC are needed more than ever. We don't want to take them down – we want them to improve
Changing Markets asserts that conflicts of interest are inherent in the certification process because third-party certifiers are paid by the very companies they certify, so there's a risk of lenient certifications as bodies compete to earn business.
Friend of the Sea points out that this is the "internationally agreed and accepted way of carrying out and funding certifications"; and that its third-party conformity assessors, which include major professional bodies such as RINA, DNV, and Bureau Veritas, are supervised by the national accreditation bodies in the countries in which they operate. In the UK that body is the UK Accreditation Service (UKAS). All audits reports are published on FoS's website.
MSC says that auditors actually "have an incentive to identify failures, which they can then help you fix before re-testing".
Iris Ziegler of Germany NGO Sharkproject, which is on the steering group of Make Stewardship Count, says that when MSC was set up 20 years ago "it was good about building depleted stocks ... now we have just as big problems with other marine species, as evidenced by the growing IUCN red list".
But she says bodies like MSC are needed more than ever: "We don't want to take them down – we want them to improve."
Changing Markets says third-party certifiers are paid by the companies they certify. 
Credit: Africa Studio/Shutterstock
One of biggest impacts on shark survival are its levels in bycatch. Ziegler points to the Northwest Atlantic swordfish longline fishery, which was re-certified in 2017, and has a bycatch level for blue sharks of around 44%. The MSC says stock assessments demonstrate that the blue shark is not being overfished; and that management measures are in place, including a limit on the number of hooks that can be deployed: "If the fishery was not in the MSC's programme it would not be required to adopt these measures."
Nonetheless, the bycatch would seem to represent an extraordinary waste of marine life.
Bycatch was one of the concerns raised by MSC's co-founder WWF in a statement this spring urging MSC to strengthen its safeguards. It wants to see a strengthening of safeguards, and for MSC to make it mandatory to minimise unwanted bycatch and discards. 
Friend of the Sea mandates an 8% bycatch limit but suggests that because most of its certified fisheries are pelagic or pole and line, the average bycatch level is likely to be less than 5%.
We can't just turn the tap on, we need to invest to help fisheries build up performance
WWF gives MSC great credit for the work its done in contributing to ocean conservation and ensuring the traceability, legality and transparency of many fisheries. "The MSC has made improvements to a number of its systems and to the standard itself, but there is still much more to do if the MSC is to evolve as scientific knowledge and practical experience continue to grow."
Attention, it argues, is required in two main categories: the accuracy and objectivity of the assessment process and the ecological rigour of the standard.
Darian McBain, director of sustainable development at the world's largest producer of canned tuna, Thai Union, sits on the stakeholder council of the MSC: "They have heard the concerns and they are listening. Whether they move fast enough for some critics is another question."
A fishery project can take up to 10 years to get MSC certification. (Credit: Rudmer Zwerver/Shutterstock)
She suggests that while NGOs may see the process as too slow, fisheries have a different perspective. "A fishery improvement project might take five to 10 years to get to MSC certification. If the goal posts keep changing, it makes it harder to reach the end goal."
Thai Union is investing $90m into a programme with WWF to increase the supply of sustainably caught tuna. "We can't do this alone ... We can't just turn the tap on, [we] need to invest to help fisheries build up performance," says McBain.
Its aim is to have all its tuna sourced either from MSC-certified fisheries or Fishery Improvement Projects (FIP), multi-stakeholder initiatives that are geared towards meeting that standard.
We see on-board cameras as very important to both stop illegal fishing and support human rights
McBain observes that one of the biggest challenges in setting up a FIP is getting collaboration between government regulators, fleets, NGOs, and competitors who own the fleets or buy from the same resource, to "get over the tragedy of the commons, sourcing from a resource that nobody controls". Its first two FIPs are focused on tuna caught in the Indian and Eastern Atlantic oceans using a method called purse seine, where the net that encircles the fish is pulled together like a draw-string bag.
Traceability is key. Thai Union wants to be sure no products of illegal, unreported or unregulated fishing enter its supply chain. And it's going beyond MSC standards to address labour and social issues, where McBain observes, currently MSC is quite weak. Technology will aid both efforts.
It's begun trials of on-board cameras to observe both fish capture and human rights – exploiting artificial intelligence (AI) so that what's picked up are unusual events, explains McBain. "We see that as very important to both stop illegal fishing and support human rights."
A Japanese fishing crew catching tuna using the purse seine method. (Credit: Greenpeace)
A trial in Thailand last year used satellite communications developed by specialist Inmarsat to enable catch documentation to be transferred electronically – alongside other parameters, such as vessel location. It also gave the crew – often away for several weeks at a time – an opportunity to keep in touch with families back home.
Thai Union is also planning to start blockchain trials, initially with shrimp destined for the US market. McBain hopes the lessons learned may enable expansion of the technology to its sea fisheries programme.
Putting an electronic observer on fishing vessels may ultimately help address some of the concerns over the assessment of fisheries and give a much clearer indication of the levels of bycatch and discard that are such pressing issues today.
Meanwhile, FoS points to innovation by its certified fisheries: Sri Lanka's main tuna processor, Tropic Sri Lanka, recently launched an innovative conservation project in collabortion with the Sri Lanka government that aims to increase the number of yellowfin tuna in the Indian Ocean by 20 million by 2020 through using assisted reproductive technology. 
Main picture 
Credit: Joost van Uffelen/Shutterstock
MSC
Friend of the Sea
IUCN
RSPO
Thai Union
Sustainable Apparel Coalition
Higg index
Changing Markets
Make Stewardship Count
Sharkproject
Related Reads
comments powered by

Disqus