on
Angeli Mehta looks at technology and policy innovations, including Terracycle's Loop, in the push-back against single-use packaging
Once upon a time, people got their milk delivered in glass bottles, which they returned to be washed and refilled; they paid a deposit on soft drinks containers that they got back on return. Those quaint practices were ditched with the coming of cheap and extremely useful plastic.
It made sense – plastic was strong and light, saving on energy for transport, avoiding breakages and cutting food waste. But it became ubiquitous, and carelessly discarded. We now know our disregard for its destination has done profound damage to our environment, and maybe even to ourselves.
Now the pendulum has swung the other way.
A broad swathe of business has signed up to commitments that will see an end to single-use plastics, and in Europe that will be underpinned by legislation from 2021. A global commitment to eliminate plastics waste by 2025 by ensuring all packaging can be reused, recycled or composted has been signed by 250 organisations.
Efforts so far 'do not truly match the scale of the problem'
In February, France became the second nation (after the UK) to launch a plastics pact and has additionally committed to have an average of 30% recycled plastic in packaging by 2025.
The global commitment is led by the Ellen MacArthur Foundation, which will monitor progress annually. It says that efforts so far "do not truly match the scale of the problem, particularly when it comes to elimination of unnecessary items and innovation towards re-use models." Moving from commitment to action is crucial, the foundation says.
Jim Brisby, commercial director at food producer Cranswick, says his company's view is that the number of polymers should be simplified, and is urging the rest of the food industry to help. "Our job should be making it easier for the next person in the chain. Look at the plastic polymers that are most simple for recyclers to recycle … and for consumers to recycle." Consumers, adds Brisby, also need clear instructions on what packaging they can recycle.
Food producer Cranswick is aiming to simplify packaging to make recycling easier. (Credit: Cranswick)
The UK government's draft waste and resources strategy, now out for consultation, wants to incentivise producers to make better packaging design choices. An approved list of packaging would "provide the basis for clear unambiguous labelling of what packaging can and cannot be recycled."
Jane Bevis, chair of the On-Pack Recycling Label scheme (OPRL), also wants to see packaging labelled either as recyclable or not, "But it's easier said than done," she admits. "For some materials the jury is still out."
OPRL hasn't done a full mapping exercise yet, and wants to see the outputs from members of the UK's Plastics Pact (of which Cranswick is one), that will help drive the market. Already, says Bevis, some supermarkets are using the labelling matrix, which sets out the recyclability of hundreds of combinations of packaging elements – as a guide to which materials to opt for if they could. OPRL is also looking at providing information on what happens to packaging after it's recycled, or whether it ends up being used to produce energy.
Normally we're trying to create competitive advantage, but we need to work together to influence supply chains
A lot of Cranswick's packaging is PET (the stuff drinks bottles are made from): easy for recyclers to identify and sort, and so more valuable. Vacuum packs and shrink-wraps, on the other hand, are made from different layers of polymer. These are key to their functionality, but difficult to recycle. "We're pushing our suppliers … but we don't want food waste," says Brisby.
Cranswick has also committed to halving the weight of its packaging and reusing all its own internal materials: one challenge is to find an alternative to the flimsy plastic aprons, gloves and sleeves used on the production line. Different sites are trialling different solutions, and they'll share the outcomes with other companies: "Normally we're trying to create competitive advantage, but we need to work together to influence supply chains," says Brisby. The company is working "at pace" and Brisby is confident that it will get 70% towards its 2025 goal of having all packaging recyclable within a year.
Since China's ban on the import of waste, the UK has found other takers: Malaysia is one of the biggest, but the country's infrastructure is overwhelmed and dumping and burning are on the increase. Creating a circular economy must surely mean taking responsibility for our waste at home – something the environment secretary, Michael Gove, has acknowledged. The Energy Transitions Commission recommends that carbon taxes at least as high as landfill taxes should be imposed on plastics incineration to drive recycling.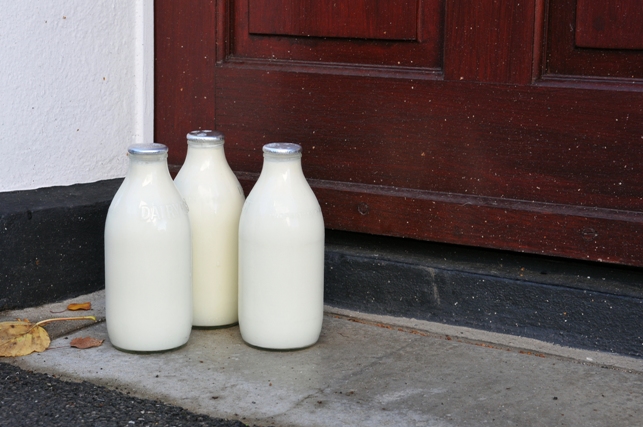 Caption: The pendulum is swinging back to the days of refillable bottles. (Credit: 1000 words/Shutterstock)
Polypropylene is found in everything from food packaging and kitchen utensils to medical equipment and cars, but little is recycled – and even then only into low-value items. Next year, a recycling plant in Ohio will start producing recycled polypropylene with colour, odour and contaminants removed. It has claimed near-identical performance to the virgin material, thanks to an innovation by one of Procter & Gamble's scientists, John Layman. Such is demand that the plant, being built by PureCycle Technologies, already has its total production booked for the next 20 years.
Earlier this year, Dutch company Ioniqa Technologies announced it had raised the capital to build its first 10,000-tonne plant, which will recycle PET waste into the raw materials needed to make food-grade PET. Its technology means the PET can be recycled infinitely. Takers for the output are again guaranteed.
Earlier this year, some of the world's biggest brands and retailers – including P&G and Unilever – announced that they will be piloting a new waste-free platform, Loop, developed by New Jersey recycling company TerraCycle. Hundreds of products, from deodorants to ice cream, will be delivered to customers in reusable and recyclable packaging, for which they'll pay a small deposit. Interestingly, many products won't be wrapped in plastic, but glass, stainless steel and aluminium. In some cases, the refilling revolution has led to new product innovations that will cut water use.
This is totally new. In terms of the supply chain, it's moving from linear to circular; cleaning and filling, we have never done before
Virginie Helias, vice president, global sustainability at Procter & Gamble, told Ethical Corporation that early studies suggest the Loop system is more sustainable than single-use packaging after five cycles of refilling. "We hope there will be more, but that's what we need to reach." Consumers also need to order a minimum of three items, to make the service viable.
"We need to make sure we have a functional business model – I mean this is totally new. In terms of [the] supply chain, it's moving from linear to circular; cleaning and filling, we have never done before. We have a lot to learn."
Unilever is putting several deodorants into the scheme, in a stainless steel container with an expected lifespan of eight years, and the potential to avoid up to 100 packs being thrown away.
Loop is working in partnership with brands to produce packaging that can be refilled. (Credit: Loop)
All the brands will be able to test out their usage assumptions when online pilots get under way later this year in New York and Paris. They will then be trialled at supermarkets in the UK, the US and France.
Other companies are innovating with refill systems: Los Angeles firm Replenish, for example, has developed a reusable bottle for cleaning products. On the premise that about 90% of the products we buy are made of water, consumers can add this at home and all that's needed is a refillable "pod" of concentrate, so packaging volumes and transport emissions are cut.
Will consumers adopt the Loop approach fast enough to scale it? Helias says P&G has had more registrations in both Paris and New York than it expected. The company is playing to consumer desires: "One of the strategies at P&G is to make responsible consumption irresistible, so even the people who are not green just want the beautiful stainless steel bottle."
Sharing items amongst peers maximises the useful life of a product; the RAC estimates the average car is in use just 4% of the time
Loop users won't ever own the container – and that concept is getting traction across a range of industries, from furniture and cars to jeans and music.
The concept of "power by the hour" was pioneered by Rolls-Royce in 1962, offering its corporate customers "a complete engine and accessory replacement service on a fixed-cost-per-flying-hour basis", a model that continues today; Dutch lighting manufacturer Philips offers "light as a service": its customers don't own the light bulbs, and they're promised efficiency savings.
HP says its Instant Ink service – whereby customers automatically get a refill sent when supplies are running low – has decreased the carbon footprint of ink purchase and disposal by 84% though that assumes customers would have driven to collect the replacement cartridge.
HP recycles the plastic from its cartridges, as well as recycled bottles and hangers so that 80% of its ink cartridges now contain 45-70% post-consumer content. Indeed, using recycled PET plastic rather than virgin plastic has cut water use by 38%, total energy use by 63%, and carbon footprint by an average of 42%. However, it's not clear why HP doesn't refill the cartridges, which would presumably allow it to tread far more lightly. But it does mean the company is using less materials and has taken on the costs of recycling its products.
The average power drill is estimated to be used for 13 minutes of its life. (Credit: Zeveca Kirkez/Shutterstock)
Through HP's "device as a service" offering for business customers, analytics monitor device health, so potential problems are detected in advance and "HP manages all hardware and software migration and decommissioning, which includes refurbishing, parts re-use, and responsible recycling, ultimately driving circularity," according to UK managing director George Brasher.
Sharing items amongst peers maximises the useful life of a product. According to the Edinburgh Tool Library, the average power drill gets used for 13 minutes during its life, while the RAC estimates that the average car is in use just 4% of the time.
So it makes sense for car-makers like Renault and Volkswagen to launch electric-car sharing schemes in densely populated cities like Berlin, Paris and Madrid. Renault already leases its electric vehicle batteries to its customers: these can be reused in renewable energy distribution networks as well as in offices and industry, and eventually Renault says all the material components are recycled.
The concept of circularity is quite complex. But there are common things around ownership and desire and a common concern about not being wasteful
IKEA has pledged its business will be circular by 2030, with all products made from renewable and recycled materials; using renewable energy across its operations. It believes it can decouple growth from materials use. To get to circular, the company has developed a set of design principles to make sure products will be reused, repaired and recycled. Its designers will have to think about durability, how materials are combined so as to enable recycling, and in order to minimise waste of materials, water, energy and chemicals.
"The concept of circularity is quite complex and distant to people. But there are common things around ownership and desire … and a common concern about not being wasteful," suggests Lisa Henriksson, business designer, Circular IKEA, at the Ingka Group, which owns most IKEA stores.
At its new London store in Greenwich, IKEA is trying to engage its customers by offering workshops in upcycling and repairing products, cutting waste and even growing food.
IKEA is offering workshops in upcycling and repair at its new London store. (Credit: Ikea)
However, in terms of designing a service for customers, "It's early days and very complex to design for circularity," says Henriksson. In February, IKEA said it was exploring leasing out office furniture. Further testing on product lines will take place this year in the Netherlands, Sweden, Poland and Switzerland before trials in all its markets next year. "We need a solution that is desirable, feasible and viable. We'll work iteratively and start small. We won't know [the] conditions we will get things back in, it's new territory," says Henriksson. The tests will provide valuable feedback to IKEA's designers.
IKEA might also be able to learn from New York-based Rent Pronto, which has been leasing out IKEA furniture for the past four years.
It was IKEA's former sustainability director Steve Howard who in 2016 suggested the industrialised world had hit "peak stuff".
We may have tired of owning stuff that has no value, but what we don't know is whether the "stuff-as-a-service" model will mean we consume less energy. How soon can we start to close the circularity gap?
---
High school friends who devised a way to recycle thin plastics
Miranda Wang and Jeanny Yao, founders of BioCellection.(Credit: BioCellection)
A lot of plastic that could be recycled isn't because it is lightweight and difficult to sort. The flexible plastics that go into food wrap, bubble wrap, and grocery bags are often contaminated with food, and of such low value they can't find a market.  Cue landfill or energy recovery, both of which produce greenhouse gas emissions, or ocean and river pollution.  
A trip to the municipal waste dump in the city of San Jose in California inspired (then) high school students Miranda Wang and Jeanny Yao to tackle this seemingly intractable problem.  
Their original idea was to break down flexible plastics with bacteria. But they found this to be expensive, and difficult to scale.  
Now graduates and fully fledged entrepreneurs, the pair have garnered numerous awards and recognition by the UN Environment Agency for developing a novel chemical system to recycle two types of polyethylene flexible plastics.  
By last year, BioCellection was able to treat 1-2kg of plastic film every three hours
The strength and durability of plastic comes from its long chains of carbon atoms bonded together. BioCellection's process breaks down these chains – not into just any old chunks of atoms, but into valuable chemical intermediaries used to make medicines, electrical components, lubricants and cosmetics. These are molecules that themselves would usually be derived from fossil fuels.  
By last year, BioCellection was able to treat 1-2kg of plastic film every three hours, using no more energy than a tv screen, they say. This year, they're beginning a pilot programme to convert 100 tonnes of waste into the valuable molecules. Together with Green Waste and the City of San José, they want to develop the technology so it can be easily integrated into existing sold waste management systems.
By 2021, BioCellection wants to be at scale, processing over 36,000 tonnes of waste in partnership with city governments.
Angeli Mehta is a former BBC current affairs producer, with a research PhD. She now writes about science, and has a particular interest in the environment and sustainability.  @AngeliMehta.
Ellen Macarthur Foundation
Cranswick
Loop
P&G
BioCellection
closed-loop recycling
Related Reads
comments powered by

Disqus