on
The problems with food production range from food security, food waste and pollution. How much will new technologies help us reach sustainability?
There's a robot that knows how to make lobster bisque, and in a decade or less, that technological wonder, being developed by Tech-No-Logic of Worcester, Massachusetts, and others may roll into our kitchens to cook our meals.
Lobster bisque will only be on that future menu, however, if there are lobsters left. For the globe is facing well-known and daunting challenges – an expanding population and degraded or diminished resources that must feed the 10 billion people expected to inhabit Earth by 2060. If Malthus were around he'd shake his head in knowing despair, for he knew what we are now constantly revisiting – population grows exponentially while food production grows incrementally.
Societally we've already racked up extensive damage from our current agricultural practices. We have a food waste crisis, with 133bn pounds of food thrown away annually; a food pollution crisis, with food packaging choking the oceans and landfills; and emissions from food growing. We have fresh water concerns, and degraded soils.
Food packaging is piling up in landfills
Yet simultaneously, we are seeing a golden period of innovation in food production. Not only are large companies in the food realm taking great leaps in improving the sustainability of food production practices in their supply chains, as evidenced for example by Walmart's efforts to foster soil improvement on millions of acres of US farms. But corporations also seem bullish on the challenges – companies from huge agri-business conglomerate Cargill to cereals maker Kellogg's are "optimistic", as Cargill puts it, in talking about its sustainable agriculture strategy to use the "tremendous tools" technology is providing. 
Companies such as Kellogg's seem to understand the need to use technology such as GPS and even aerial drones to help farmers – and agricultural systems – adapt to changing conditions. In late 2015, Kellogg's joined a Walmart-initiated programme to start training farmers in the latest sustainability measures. Kellogg's said in its year-end report on sustainability milestones that it hopes to facilitate the training of 20-70 farmers by the end of 2016.
There is also a strong trend of small company innovation within the food realm. From the mainstreaming of bug cultivation for human consumption to commercial aquaponics, entrepreneurs are out to change the way we grow and eat our food.
From fake to future food
Ethical and ecological concerns have made the creation of a popular substitute for steaks and chops a quest for scientists and visionaries. Call it fake meat, test-tube meat or even shmeat, the victimless burger has driven many projects around the globe. As with many other market quests, this one's fuelled by frightening statistics: the United Nations Food and Agricultural Organization (FAO) says meat production needs to double from 1999's 229m tonnes to 465m tonnes in 2050, with egregious environmental results.
Meat production needs to double
At New Wave Foods in San Francisco, three women have tried to develop a nutritious lab-based shrimp substitute made from algae; in Manhattan Beach, California, Ethan Brown has introduced a range of Beyond Meat branded products that are made from pea and soy protein and promise a similar "mouth feel" to meat; and – the most famous effort – Mark Post of Maastricht University in the Netherlands has cut the price of a stem-cell-based lab-grown hamburger from $300,000 per burger to about $11. Massa Meat, the company readying this "tissue engineered" meat for mass production, hopes to avoid the food and water inputs and the carbon emissions associated with raising beef cows. (Oxford scientists have estimated GHG emissions would be 96% lower for lab meat than the real thing.)
In the oceans, fisheries mismanagement, over-harvesting and devastating bycatch have led to the WWF rating 85% of the world's fish stocks as on the brink of being overfished, and a recent report showing that 30% of global fish catches may be unreported only makes the gravity of the problem more dire. Many populations globally depend on the sea for a protein component in their diets. The Marine Stewardship Council (MSC) has in its 20 years of operations managed to get only about 10% of global wild-caught seafood under sustainable management plans.
Only 10% of seafood is MSC managed
"We are the yardstick for fisheries to measure against," says MSC spokesman Jon Corsiglia. Innovation is helping here: in the Alaska Pollock fishery ships, for example, managers constantly tweak positioning of nets and have add-on net chutes to reduce bycatch (most specifically, of salmon). Every ship in the fishery's co-op gets electronic updates on areas where the danger of "incidental catch" is high.
Ultimately it is the newer "catch shares" management scheme, which gets all of a fishery's stakeholders involved in establishing the ultimate number of fish to be caught, that is the true low-tech innovation in fisheries management. Jim Gilmore, director of public affairs for the At-sea Processors Association, the co-op that manages the Alaska Pollock fishery, says catch shares diminishes the rush to fish as fast as possible – fishing is at a slower, optimal pace, with onboard processing and a motivation to use every possible part of the fish caught – known as the "recovery" rate.
"The main innovation we've brought to this fishery is to maximise value by being more adaptive and making more food out of every pound of fish," Gilmore says. He adds that the catch shares system is not popular when it is being negotiated because every fisherman is worried about getting a fair share, yet it moves a fishery into more sustainable territory. "There's a big debate, but fishermen are pretty smart – eventually they see the value in the initial unhappiness and concentrate on maximising the recovery rate of every single fish from their allocation," he says. MSC is also working to roll out an important electronic traceability tool in the next two years that should bring more accountability to seafood supply chain transactions, globally.
Growing up
Back on land, one of the most popular areas for innovation in farming seems to be in the area of vertical farming – with a regular flow of new ideas and companies. Grow Up Urban Farms, based in London, is just one in a growing list of commercial aquaponics and vertical farming startups. Grow Up uses shipping containers and warehouses in a system where fish wastewater fertilises the aquaponic production of salads and herbs whose growth purifies the water going back to the fish tanks – 4,000kg of fish and 20,000kg of greens are produced each year on 6,000 square feet of growing space and using 90% less water than traditional farms.
Vertical farming uses 90% less water
While Grow Up is a small social enterprise that has sustainability close to its heart, the idea of vertical agriculture is gaining: the UK's BW Greenhouse, for example, has partnered with Ambient Water of Spokane, Washington, to perfect systems for vertical farming that capture humidity from the air as a renewable water source. The vertical farming market is expected to reach nearly $4bn over the next four years. 
But as vertical farming is energy intensive, the fast evolution of LED lighting must help vertical farming be a truly sustainable future food source. Vertical farming also has the problem of scale – it is an investment-based agricultural system that will need lots of money to take off. Urban Produce, a company in Irvine, California, with a productive demonstration vertical farm that grows 16 acres of organic produce using just one-eighth of an acre of land and only 7% of the water of a convention farm with similar yields, is planning to build just five similar farms in the next five years. On the plus side, vertical farming has become popular with investors and has helped open new fundraising doors: overall the ag-tech sector saw roughly $4bn in investment in 2015, according to AgFunderNews of Salt Lake City, Utah.
Big ag, big data, little sensors
The use of vast quantities of data to improve the sustainability of farm operations is becoming fruitful. The shift, according to investment company Kleiner Perkins Caufield, is disruptive as farmers in wide geographic regions seek better tools for productivity. Luckily both small and big farms have access to applications that make farming more efficient.
"An area of much promise for sustainable agriculture is precision agriculture," says Helen Munday, lead technologist for sustainable agriculture and food at Innovate UK. Innovate has built Agrimetrics, a new "big data centre of excellence" for the food system, and Munday says the leveraging of lots of data for sustainability is not just for farmers. "[It] will support a revolution in the use of data science in the agri-food industry," she says. "While much of the focus will be on helping farmers to better manage and grow their businesses, Big Data will also facilitate the sharing and integration of data through the supply chain like never before."
Precision agriculture depends on Big Data to very closely manage water and all other farm inputs and to protect soil as much as possible. And while large farms have benefited more because of their ability to invest more, products such as Agsquared (located in New York state) are trying to provide low-cost digital management software for smaller operations.
In the US, precision agriculture is already thought to be at an advanced stage. The next stage of innovation is being heralded with drones and sensors, says Chantal Bonggay, public relations manager at Toronto-based PrecisionHawk, which makes unmanned aerial devices and remote sensing technology.
Drones can measure soil moisture
"Historically farmers used traditional methods like satellites and manned aviation to collect data, but always run into issues like high cost and poor resolution, not to mention the inability to collect data on demand," Bonggay says. With PrecisionHawk's small, plane-shaped drone, with its wingspan of five feet and a weight of just 5lb, farmers can get data and use the company's apps to measure soil moisture, crop health and height, predominance of weeds, and on and on. The Environmental Defense Fund says it expects drones to be a major benefit to farmers in becoming more sustainable, and estimates that 80% of the fast-developing drone market may be in the service of agriculture.
Drones may still represent the high-end for agriculture, yet simple and smart sensors combined with mobile and desktop applications are becoming available for all sizes of farms and at a fairly low price. That's a necessity if mainstream agriculture is going to reduce its carbon and water footprints and improve its soil health.
Jenny Ahlen, manager of supply chain corporate partnerships at EDF, who is based in Bentonville, Alabama, has worked with Walmart on its ambitious effort to cut GHG emissions and optimise fertiliser use on 14 million acres of US farmland by 2020. Walmart's pledge, made in 2013, was part of a goal to move sustainability through its supply chain. Walmart's clout led other food companies and agribusiness companies – such as Kellogg's – to hop on board the effort, and now the goal has been enlarged to 23m acres by the same deadline.
Again, it is tiny sensors that will really help fulfil this ambition, at least from a technology standpoint. About half of the fertiliser applied to US farms is wasted, leading to unnecessary air and water pollution and higher costs for farmers. Optical sensors have a big role to play in pinpointing exact timing for fertiliser applications.
Ahlen say influencing farmers to do something different is not easy. "A lot of farmers might think there's little room for improvement," she says. That's why she's pleased that so many companies have piggybacked onto Walmart's goal – especially United Suppliers, a co-op of 560 agricultural suppliers with 2,500 retail stores. "That's a way for farmers and growers to get info, tools, and technology through an already trusted resource," she says. "It's pretty exciting when you've got a company like Walmart talking about soil health and fertiliser optimisation, focusing attention on issues like this that are really important to sustainable agriculture."
Waste not, want not
While in some ways it may seem surprising for Walmart to make a fertiliser optimisation commitment, it is this type of up-and-down-the-supply-chain partnerships that sustainable agriculture needs.
In January, the non-profit Rockefeller Foundation, the World Resources Institute (WRI) and a group of companies including Coca-Cola, Tesco and IDG, announced they were tackling food waste – a global problem in which an estimated 133bn pounds of food isn't eaten and instead clogs landfills and creates methane. Rockefeller alone plans to spend $130m, much of it in sub-Saharan Africa, to combat this type of waste in what it calls the YieldWise campaign, as part of the coalition's bigger goal of cutting food waste in half by 2030.
In addition, all kinds of new, low-cost and/or low-tech devices are part of this plan to reduce waste – from hermetically sealed storage bags for crops to retard spoilage, to on-farm solar cooling pavilions, to flash processing methods that help farmers get more of what they produce to market.
Sam Kass, a former While House chef working with the YieldWise project, said recently in an interview for Hub Culture that big food businesses have a leading role to play in reducing waste, in part by providing contracts for the food that farmers are actually growing. "This is a supply chain issue for [businesses]," Kass said. "In the end, they're just leaving a lot of money on the table."
Bug bisque
In any discussion of the future of food and sustainable agriculture, changing cultural eating habits is one realm where progress can seem quixotically slow. But climate change may deliver sudden surprises to our habitual global food choices – if oceans grow too acidic, for example, shrimp and lobsters may be unable to form their tough shells. If soils are too degraded to fend off pathogens, favourites like the Cavendish banana – the most widely eaten banana family – can suffer sudden extinction.
That's why part of the innovation in food comes in stretching the boundaries of our global eating habits. And that means bugs, lots of bugs. Of course, some populations have traditionally eaten bugs (the scientific term for bug eating is entomophagy), but in the western world there's something of an aversion to the practice.
Entrepreneurs have rushed in, because raising crickets for flour, for example, as Portland, Oregon-based Poda Foods does, or for chocolate-flavoured protein powder, as Bugeater of Lincoln, Nebraska, is doing, or even to put toasted cricket essence into Critter Bitters for cocktail flavourings, as Julia Plevin and Lucy Knops are doing in Brooklyn, New York, has less impact than other forms of animal farming. "Insects are very sustainable to produce," says Julianne Kopf, head of Bugeater's research and development. "And their consumption is growing."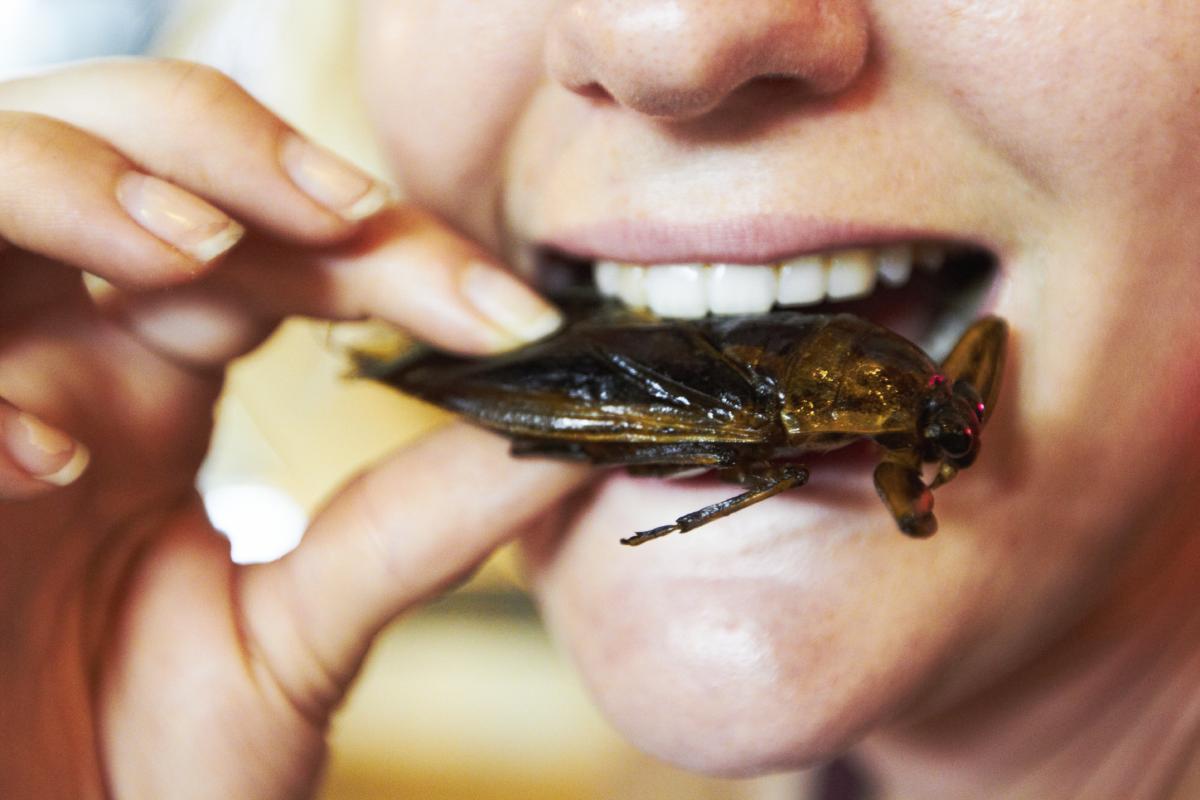 Insect consumption is growing
Whether or not bugs make their way into the mainstream, it's clear that food production doesn't lack for eager innovators. The quest will still be to come up with products and practices that become so widespread they are the new norm. Josette Lewis, associate director of the World Food Center at the University of California at Davis, sees that happening.
"The marketplace is the biggest way to get innovations quickly to scale," Lewis says. She believes the technologies such as sensors, Big Data, and smart apps will truly be available to help small farms and large ones. With pressing issues such as water scarcity, though, Lewis says the promise for change lies not just in the innovations around atmospheric water generation or desalination but also in the partnerships that an ag school such as UC Davis can produce. "Water, for example, is a critical issue on the minds of everyone," she says. "We have the credibility to get the right players to get to the table."

food production
innovation
sustainability
resources
agriculture
pollution
emission
US
technology
aquaponics
FAO
environmental
supply chain
drones
Rockefeller Foundation
While House
Related Reads
comments powered by

Disqus