on
It was an inspiring start to Ethical Corporation's sixth Responsible Business Summit in New York yesterday, where the focus is on how companies can drive transformational change. Here are eight of the tastiest morsels from the first day:
1: Ethical Corporation's managing director Liam Dowd gave a sneak preview of findings from the Responsible Business Trends 2018 report, which found that 69% of respondents globally are integrating the SDGs into their business strategies.
Drilling down a little deeper, the area of greatest engagement is SDG 13 on climate action (64% in North America, 69% in Europe, and 64% in Asia). In North America, SDG12 on responsible consumption and production and SDG3 (good health and well-being) get equal attention at 59%. In both Europe and Asia SDG8 (decent work and economic growth) came in second place, followed by SDG12.
But Dowd said companies risked leaving themselves open to accusations of of SDG-washing if they simply put an SDG badge on action they are already taking, rather than setting stretch goals to make a meaningful contribution to the SDGs.
2 Thomas Brostrøm, president of Ørsted North America, revealed how the nascent US offshore wind market is important to the Danish company's global strategy to move from "brown" to "green" energy after divesting its upstream oil and gas business last year.  Ørsted is working with marine biologists on siting to ensure there is no impact on wildlife.
3 Per-Olof Loof, CEO of Kemet Corporation, said that as a leading maker of components for green technologies such as electric cars, wind turbines and solar panels, Kemet has a responsibility to ensure that its own operations are as green as possible. Having set up a supply chain for tantalum in the Democratic Republic of Congo that is certified conflict-free, it has recently set a goal to be CO2-neutral by 2025.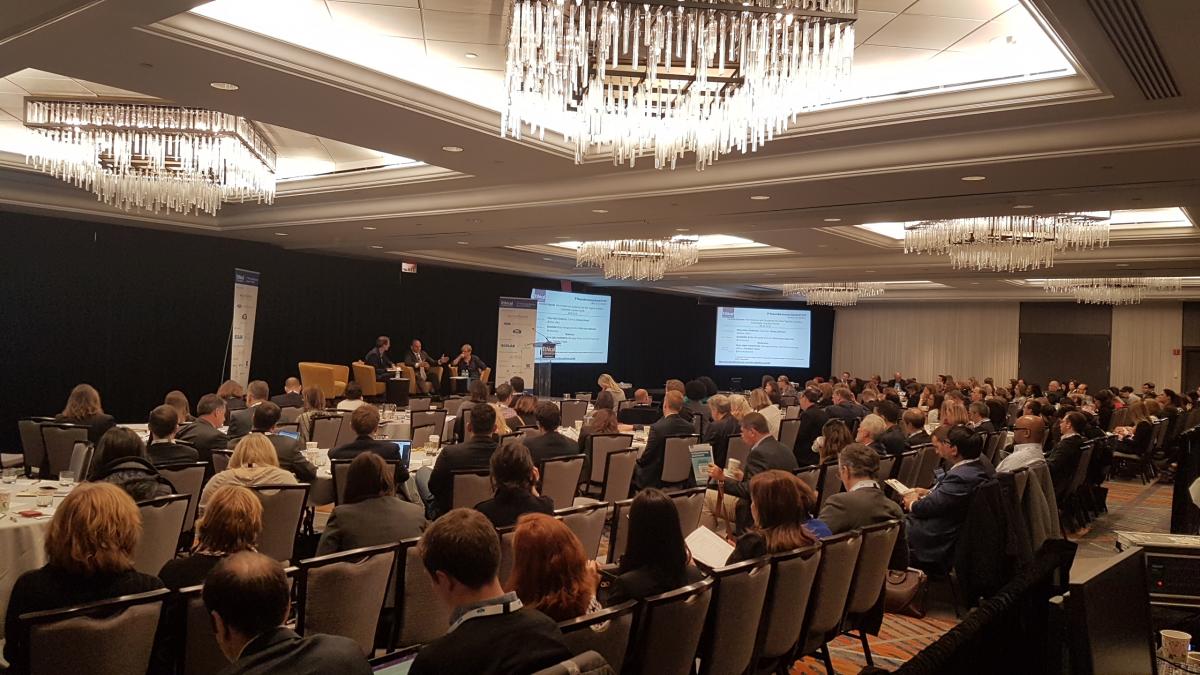 4 Paul Zeitz, co-founder of SDG Compacts, Global Development Incubator, was one of several speakers who stressed the need for urgent action to tackle the myriad social and environmental problems humanity now faces. "We are in the ICU.  Our species is under threat and I'm not sure we are going to make it."
Companies should be tackling the SDGs not just at the level of the 17 goals, but through the 169 subsidiary targets the UN has set to achieve them.  And since 70% of the targets have to be implemented at the city level, that is where the greatest opportunities lie for companies.
"There are literally trillions of dollars looking for [investment] pathways that are aligned around the SDGs," Zeitz said.
5 Richard Ellis, group head of CSR at Walgreen Boots Alliance talked about its award-winning "Get a shot, give a shot campaign", where for every immunisation administered in Walgreens locations in the US, a polio or measles vaccine is given to a child in the developing world. "We aren't doing this because we are good chaps," said Ellis. "Ultimately it's good for the business. It builds trust in the brand and it's good for reputation."
6 Allen Love, chair of the US diversity leadership team at TD Bank, told the afternoon's plenary session on diversity that ensuring that his company's employees and leadership are as diverse as possible "just makes sense. How are you going to attract the best talent unless you have a diverse culture?"  He said greater diversity allows the company to understand the markets it serves and develop new services for them.
 But it is not easy to ensure that a commitment to diversity is followed up with meaningful action. "One thing I've seen is it's all about dialogue. You have to be comfortable with being uncomfortable. … One of the struggles we've had is getting our people to have open and honest discusssions, to be able to point out situations where words aren't [followed up] with action."
7 Sue Allchurch, chief of participant relations at the UN Global Compact, told a session on business action to tackle climate change that US companies should not be held back by the Trump Administration's attitude to climate change. "It's really simple. Just sign up to Science-Based Targets, put an internal price on carbon, sign up to 100% renewable energy."
She said both consumers and investors are demanding that companies reduce their environmental impact, particularly now that renewable energy prices are competitive to many fossil fuel sources. "Businesses have a lot more power [to act] than is being unleashed."
8 Ronald den Elzen, president and CEO, Heineken USA, said companies needed to be prepared to work to long time horizons to bring about radical change, and work within coalitions such as The Recycling Partnership, where even arch-competitors such as Pepsi and Coca-Cola are collaborating to help improve recycling infrastructure in the US.
"Time horizons of 20-25 years are what you need for transformation. You can solve anything with enough time and money. …  There's only one planet and we have to work together."
Responsible Business
CSR
US
climate action
America's Pledge
SDGs
renewable energy
Related Reads
comments powered by

Disqus