on
Terry Slavin reports on the second day of this week's conference, with the assistant secretary-general of UN Environment warning that companies must go far beyond adhering to the Paris Agreement
The urgent need for decarbonisation was a theme that ran through day two of Responsible Business Summit New York.
In his opening keynote address Satya Tripathi, assistant secretary-general of UN Environment, congratulated companies like Cisco, Apple and Google and those represented at the conference. "You are all pursuing sustainability in one way or another, or you wouldn't be here, part of this conversation. So more power to you."
But he poured cold water on the Paris Agreement on climate change, which many companies have aligned their climate action with, warning that it has "lulled us into a false sense of comfort that the world will change course and we'll all be fine. We will not be fine."
Even if all signatories followed up on their promises, the world would be on track for 3.2C of global warming by the end of the century, according to UNEP's latest annual Emissions Gap report. This is far in excess of the 1.5C that last year's IPCC report identified as the threshold for dangerous warming.
The balance that has been achieved over billions of years, we are tinkering with it beyond understanding
"Everything we love, whether it's the environment, air, water, everything we know and allow is about to disappear and we don't realise it," Tripathi said in his emotional address.
"Martin Luther King used to say 'I have a dream.' He didn't say 'I have a nightmare'. He lived that nightmare, but he didn't say it, because no one would listen to him," Tripathi said.
 "We really need to take a hard look at ourselves and how we live our lives. …. The balance that has been achieved over billions of years, which led to the appearance of life forms, we are tinkering beyond understanding."
UNEP's Satya Tripathi: 'Paris has lulled us into a false sense of comfort.'
He added that the time of investing billions in adaptation and mitigation of climate change is over. "It needs intervention at the trillions scale."
He said public finance should be used to leverage private finance, as UNEP has done with the Tropical Landscapes Finance Facility in Indonesia, in partnership with BNP Paribas, which the conference heard from the previous day, Hong Kong-based ADM Capital, and the World Agroforestry Centre. Within a year the facility has generated a $5bn pipeline of projects to protect forests, including the world's largest sustainable rubber plantation. 
The same partners have also launched a similar facility, the Sustainable India Finance Facility, investing $2.5bn in a project in Andhra Pradesh to convert 6 million farmers to 100% chemical-free agriculture by 2021, and have already converted 550,000 farmers. "Even on current numbers it is the world's largest and most transformative project anywhere," he said. And the model works because the $1bn the state government saves in fertiliser subsidies will be more than enough to pay off the interest on the loan within five years' time.
"Everything is possible. In this room each of you can be a champion. Step out of your comfort zone and think big and with all the creativity at your command."
We have to rethink single-use carbon and we should only put carbon where we absolutely have to put it
Jennifer Holmgren, CEO of LanzaTech, which has created a breakthrough substitute for jet fuel from industrial waste gases, pointed out that CO2 emissions rose 3% last year, while the IPCC report says we have to reduce global emissions by 50% by 2030 to keep temperature rises to 1.5C. "We really have to think about our carbon economy, we have to rethink single-use carbon and we should only put carbon where we absolutely have to put it," she said.
Although LanzaTech's technology can be converted into aviation fuel, and fuelled a Virgin Atlantic flight from Orlando to London last year, it may not be the most efficient use in a carbon-constrained future.  Better to use the technology, which creates ethanol by recycling waste gases from industries such as steel, to replace petroleum as feedstock for a suite of different chemicals, which are used to create plastics, tires and carpet fibre.
Jennifer Holmgren of LanzaTech called for carbon recycling and a 'truly circular economy'. Credit Twitter
After 15 years of research and development, the company last May opened its first production facility, a 16m gallon-per-year ethanol production plant in China. "I invite you to see a future where a steel plant doesn't only make steel to make a plane, but its gases can be fermented to make a gasoline substitute for the fuel that powers that plane. That's truly a circular economy, using every last bit of carbon, which is what we have to do."
But she said it had required 80,000 hours of demonstration and four pilot plants before LanzaTech's first commercial facility was opened last year.  "What it takes is money, time, and a lot of patience," she said.
It also requires partnerships with governments willing to help "on the pilot scale, on the demo scale and on the first commercial scale … China wanted to do something in the [steel] sector, and was willing to risk new technology introduction."
Mayors these days have to think about climate change, they have to think about international trade, they have to think about pollution
The spotlight was then on the role of cities in driving decarbonisation as leaders in Hoboken, New Bedford and Chicago explained what they are doing to help the energy transition.
Moderator Stephanie Kersten-Johnston, New York organiser of the Circular Economy Club, pointed out that carbon-reduction action by US cities alone could potentially account for 6% of the necessary emissions reductions to keep to the 1.5C warming scenario.
Jon Mitchell, mayor of New Bedford, Massachusetts, who is also chair of the United States Conference of Mayors' energy committee, said the current generation of mayors have a great deal more on their plate than their predecessors, particularly in the US, where the Trump administration has been unwilling to tackle the big issues that face the country. "Mayors these days have to think about climate change, they have to think about international trade, they have to think about pollution."
Mayors Jon Mitchell, Ravi Bhalla and Kurt Summers with moderator Stephanie Kersten-Johnston. Credit Twitter.
He added: "The role of the private sector is indispensable," he said, "Because cities can't do it alone."
Kurt Summers, treasurer of the City of Chicago, emphasised the critical role of cities in addressing climate change both as investors and buyers of goods and services. He pointed out that in the US there are $12trn sitting in city, county and state coffers, both treasury and retirement assets. "This is real capital, equal to the annual GDP of the UK."
Chicago has used that leverage by putting ESG requirements for the entire $8.5bn portfolio it manages, stipulating a minimum ESG score along with a minimum credit score. It's also committed to have a carbon-neutral portfolio by 2020.
Nature is not just nice to have. Our industries, our economies are powered by nature, humans and businesses depend on it
He said it took two years of hard work to bring about this change, educating the public and city council, and fighting lobbyists for Big Oil and within the trade union. "We were ultimately successful, but it was a tough fight."
But 2018, the first full year under the new investment policy, was the best year ever for the portfolio, with returns three times as high as when he entered office four years ago. "It has led to a flight to quality in our portfolio, and we believe other institutional investors and municipal investors are beginning to follow suit."
In procurement, Chicago has used its leverage to advance its social as well as environmental objectives. While implementing the largest project in North America to retrofit street lights with LED, the city started in the poorest neighbourhoods, with the highest crime and violence. "We used that opportunity not only to show investment in those communities, but as a job-creation and skills programme. Thousands of people have found new trades and gained employment because we made an investment in energy efficiency."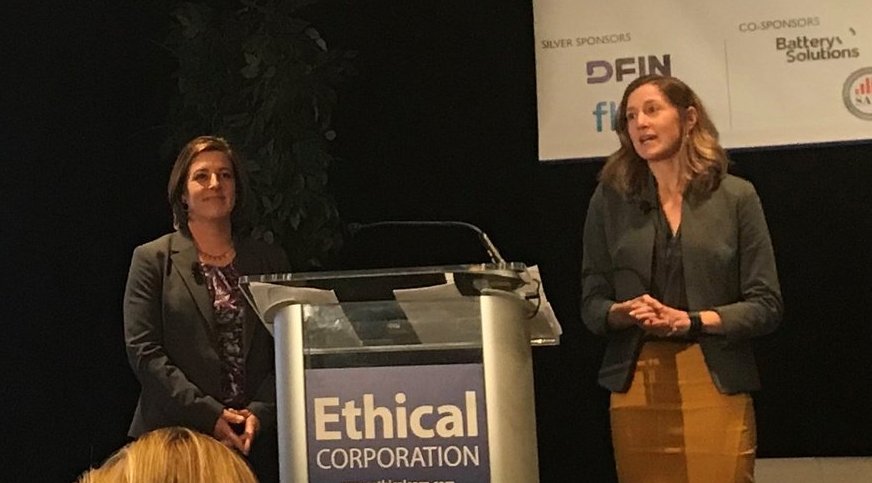 Kerry Cesareo of WWF and Sophie Beckham of International Paper speaking at their joint keynote. Credit Twitter
The importance of boosting the role of forests in fighting climate change was highlighted in the afternoon keynote, given jointly by Sophie Beckham, senior manager of natural capital stewardship for International Paper company, and Kerry Cesareo, vice president of forests at WWF US.
Cesareo said WWF's Living Planet report last year raised the alarm on the 60% decrease in wildlife populations over the past 40 years, and the loss of 18m acres of forest every year.
 "This matters because nature is not just nice to have. Our industries, our economies are powered by nature, humans and businesses depend on nature. We need nature to thrive if we are to thrive."
We vote for the future multiple times a day with what we buy. If we stop taking the cheese in the single wrap, they'll stop making it
She said just as the world has responded to the climate threat with the Paris agreement, WWF and others are calling for a new agreement on nature and people.
"To reverse these trends we believe companies and stakeholders need to come together to create a forest-positive future,"  focused on doing more good rather than less bad.
Beckham said her company, the biggest user of wood fibre in the world, "relies entirely on the sustainability of forests … Our size and scale means we have a tremendous opportunity for positive impact."
Wildlife populations have decreased by 60% in the last 40 years. (Credit: Anatoliy Alekseev/Shutterstock)
The company decided a year ago to work with WWF on developing the world's first science-based target for forests, which will establish what target the company should set for itself in 2030 to ensure it stays within the equivalent of 1.5C for forests, in other words the tipping points that cannot be transgressed if forests are to sustain life on Earth. 
Beckham said the targets that would emerge from the work would help inform "comprehensive action that companies, governments and NGOs could take to ensure forests thrive."
The need to minimise human impact on the planet was also emphasised by TerraCycle CEO Tom Szaky in the closing keynote. The recycling entrepreneur, who has partnered with the world's biggest brands to introduce durable packaging through the Loop platform, said: "We are in a world today where all assumptions are open for grabs," because of the threat of climate change and the realisation, for the first time in history, that our children will not have better lives than us because of social and environmental degradation.
"There is only one thing causing it all, and it is over-consumption, and that ties to the act of buying," he said. "We take the act of voting so seriously, but we vote for the future multiple times a day with what we buy," Szaky said. "If we stop taking the cheese in the single wrap, they'll stop making it."
See Terry Slavin's report on Day 1 of #RBSNY: 'Why are board still pale, male and stale? Shouldn't we have solved this years ago?
Main picture credit: Taiga/Shutterstock
#RBSNY
WWF
UNEP
Satya Tripathi
LanzaTech
United States Conference of Mayors
Related Reads
comments powered by

Disqus