on
Even mainstream business is trying to put a value on natural assets. Angeli Mehta reports on efforts to now take it to the heart of decision-making
This month, many companies will report on their end of year finances, and we'll be able to see clearly who made a loss or a profit.

Alongside those accounts, companies might also disclose their carbon emissions, how much energy they saved, and whether they're using less, or more, water.
But in their financials very few of those companies will have taken any account of the natural capital that enables their business to prosper. Natural capital is everything nature provides for life: air, water, and land. We derive essential services from renewable resources such as forests, which sequester carbon, prevent soil erosion and minimise flooding. Likewise, we benefit from non-renewable stocks such as oil and gas.
The idea of natural capital now is mainstream. What is required is the win-win for business to become more apparent
The latest attempt to put a value on global ecosystem services was made by Australian and European researchers: $125trn a year in 2011. It's sobering to realise that in the same year global GDP was $75.2trn. The authors estimate that due to changes in land use between 1997 (when they made their first calculations), and 2011, global loss of ecosystem services was somewhere between $4.3trn and $20.2trn a year.
"We need to move from CSR," says Mark Reed, professor of socio-technical innovation at Newcastle University. "The idea of natural capital now is mainstream. Companies appreciate that there are benefits for business, but what is required is the magnitude of the win-win for business to become more apparent." Reed is leading a major UK project to try to do just that, with food giant Nestlé.
Lack of access to robust data on natural capital is a barrier to business. (Credit: Vintage Tone)
At last November's World Forum on Natural Capital, held in Edinburgh, the word "data" was on everyone's lips: where to find the data; its quality; and how to interpret it. That is because without measurement, good decisions often can't be made.
Jessica Fries, executive chairman of Accounting for Sustainability (A4S), points out that work is evolving around how to measure natural capital, but "innovation is needed to improve measurement and manage natural capital so that it's at the heart of every decision made".
Companies were coming at it from different directions ... we needed a generally accepted logical process
Luxury fashion house Kering pioneered environmental profit and loss accounting (see Sustainability no longer a luxury for premium brands), and has made its methodology open source. Michaël Beutler, director of sustainability operations at the French company, suggests: "We need a level playing field in terms of data ... a forum where [players] can compare data to stimulate action."
One tool to help companies is the Natural Capital Protocol. Launched 18 months ago, it was piloted by more than 30 companies. The protocol is designed to provide a standardised framework to help companies take account of natural capital in their decision-making.
"Companies were coming at it from different directions ... we needed a generally accepted logical process to make it less intimidating and more accessible," explains Hannah Pitts, relationships director at the National Capital Coalition.
"The primary objective was for internal decision-making, to make a business case for more sustainable choices on raw materials and processes etc."
The protocol is designed to be applicable to any business sector, and complementary to approaches that companies might already be using to examine their impacts.
From its ongoing work in the private sector, the coalition found that a lack of ready access to robust data for decision-making was proving to be a barrier for businesses.
It's working to develop a data kit that will provide a catalogue of existing data sets, and their limitations; a "lexicon" to help achieve standard definitions; and examples of how decisions can be made despite data gaps and uncertainty.
Valuing natural capital is a challenge for governments, too. A report for the multi-stakeholder Green Economy Coalition says that natural capital should be reflected in national wealth accounts, as it is a better guide to economic progress than gross domestic product.
The report suggests that all natural capital, whether renewable or not, "could support greater prosperity if it were more appropriately valued and hence more efficiently used," and says governments and scientific institutions have important roles to play in data management and economic valuation.
If I'm an investor, I want to know what will your business look like in a two-degree world?
The UK does publish estimates of the quantity and value of the country's natural assets. These are not complete because the underpinning methodologies are still being developed, and many ecosystem services have not yet been valued. (see graph below)
The UK's 25-year environment plan, published in January, mentions "natural capital" more than 100 times. It says government intends to use a natural capital approach as a tool to "help us make key choices and long-term decisions" but is short on the detail of how, save to say it will use incentives and regulation where needed.
Estimation of the value of UK natural capital (£bn, 2015 prices). (Sources: ONS, MENE, and Natural England)
Peter White, chief operating officer at the World Business Council for Sustainable Development (WBCSD) told the World Forum on Natural Capital last autumn that the UK government should align its policy on natural capital with the recommendations of the industry-led Task Force on Climate-related Financial Disclosures (TCFD). These call for organisations to publicly reveal how they manage climate risk, and who is responsible for the governance process of those disclosures.
"If I'm an investor, I want to know the climate risk or opportunity of a company ... what will your business look like in a two-degree world?"
If government policy was aligned with the TCFD recommendations that would drive reporting and investment in natural capital, says White.
Everything is interconnected, so concentrating on one criteria, such as CO2 emissions, may distort the bigger picture
Earlier this month, the EU said it would revise guidelines on non-financial disclosures to bring them more into line with the TCFD recommendations. Its strategy for sustainable financing also proposes to clarify the duty of asset managers and institutional investors to take sustainability into account in the investment process and enhance disclosure requirements.
Next month the Natural Capital Coalition will launch a guide to raise awareness of natural capital and help financial institutions make decisions. It will provide guidance on taking account of natural capital impacts in their lending, investment and insurance practices.
Developed with the Natural Capital Finance Alliance and the Dutch Association of Investors for Sustainable Development (VDBO), it will build on the framework of the Natural Capital Protocol.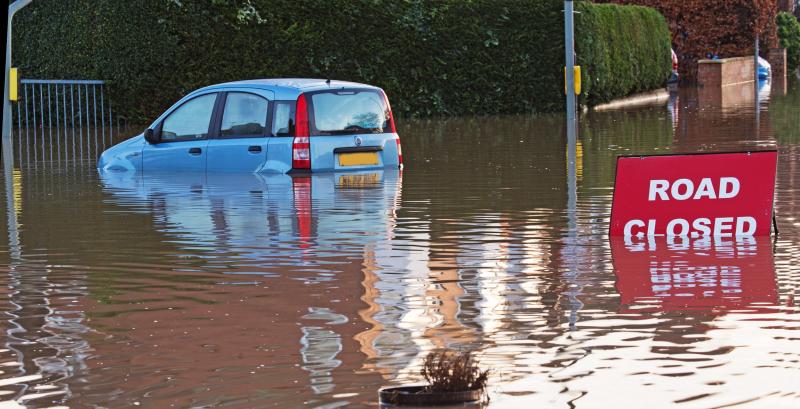 Investing in increasing forest cover can help avert flooding. (AC Rider/Shutterstock)
Independent financial services company Kepler Cheuvreux has shown that there is enough information out there for investors to get an overview of which sectors and companies they should be concerned about, and what liabilities they might incur in future. But it cautions that everything is interconnected, so concentrating on one criteria (eg CO2 emissions), may distort the bigger picture and have unintended consequences elsewhere. For example, while companies might report water consumption, very few provide the context of water scarcity.
Kepler Cheuvreux's analysts looked across 700 European companies in a variety of sectors and found that their use of resources and their polluting emissions affect more than 2,500 species each year – much of the impact coming from the value chain. The companies are responsible for €2000bn of impacts.
Moreover, 45% of the companies (in sectors such as food, forestry and packaging) wouldn't be profitable if they had to pay for their use of the ecosystem services they depend upon.
Companies shouldn't be dissuaded from using natural capital in their decision-making just because the data on valuing it isn't perfect
There are caveats, but using company-level data can refine the results. Kepler Cheuvreux worked with UK-based natural capital accounting firm eftec to apply environmental accounting tools to publicly available information on a Swedish forest company, SCA.
Its analysis showed that while the company reported profits of €234m in 2016, the impact of its operations – through air pollution and water use, for example – caused a net deterioration in natural capital of €190m, which is not reflected in its financial balance sheet. However, its assets of forest (valued at €3.25bn) also provide benefits to society such as carbon sequestration and recreation, valued at €7.3bn. Again this value doesn't appear in its financial reports.

Pitts of the Natural Capital Coalition says that companies shouldn't be dissuaded from using natural capital in their decision-making just because the data on valuing it isn't perfect. "You can still make decisions on the basis of what you've got."
Angeli Mehta is a former BBC current affairs producer, with a research PhD. She now writes about science, and has a particular interest in the environment and sustainability. @AngeliMehta
Main picture credit: Karen Grigoryan/Shutterstock
This article is part of the in-depth briefing Natural Capital: See also:
Birmingham's approach to creating a liveable city
Earth Genome using big data to zero in on water scarcity
Yorkshire Water's plan to plant 1m trees for flood protection
Kering gets to the bottom of its supply chain with EP&L
AkzoNobel puts a price on its impact across four capitals
How Nestlé is collaborating in building a business case
The restoration economy: why trees are the next growth opportunity
Natural Capital Protocol
Kering
A4S
Newcastle University
Nestlé
Green Economy Coalition
25-year environment plan
TCFD
natural capital finance alliance
VDBO
Kepler Cheuvreux
Related Reads
comments powered by

Disqus