Offshore wind leaders call for shift in risk approach to stabilize growth
Dec 6, 2017
Following rapid price falls, offshore wind companies must tackle growing merchant risks to ensure future projects remain competitive and supply facilities remain profitable, leading industry executives said.
Related Articles
Growing installation experience, technology advancements and economies of scale have driven down offshore wind prices, helping the industry cement its future in competitive markets. This thrust towards lower prices, accelerated by the introduction of competitive auctions, has pressured supply chain margins.
Going forward, project partners must collaborate more than ever to reduce cost risks and maximize competitiveness, Thomas Karst, Chief Sales Officer and Senior Vice President, MHI Vestas, told the Offshore Wind Europe 2017 conference on November 14.
"We have to turn [over] every stone between us...That means de-risking the projects, understanding the risk, dividing the risk between us in a sensible way…meaning having the lowest cost to any kind of risk," Karst said.
    European offshore LCOE by commissioning date
                                (Click image to enlarge)
Source: BVG Associates (2017).
As the industry matures, developers will have to take into account a growing emphasis on commercial risk over technology risk, Sven Utermohlen, Chief Operating Officer at E.ON Climate & Renewables, said.
Growing engineering expertise and a proven track record offshore projects has moved the offshore wind industry into a more "industrial phase," while competitive bidding is seeing developers factor in merchant risk into their projects, Utermohlen said.
"If you bid today for a 15 or 20 year tariff in an auction, you can't win the auction if you completely disregard the merchant tail after that tariff period…That is the commercial risk that is being introduced now," he said.
The offshore wind industry will need to find the right risk return balance for this commercial risk, Utermohlen said.
"Even if we go to corporate PPAs... Somebody else will have to live with that merchant exposure," he said.
Larger turbines
A key driver of falling wind costs has been rising turbine capacities. Larger, more efficient units have had a dramatic impact on installation and operations costs, lowering the levelized cost of energy (LCOE).
Average turbine capacities rose 15.4% in 2016 to 4.8 MW and earlier this year Orsted (previously named Dong Energy) was the first developer to install 8 MW turbines on its Burbo Bank Extension wind farm off the coast of Liverpool.
The commissioning dates for offshore wind projects are set several years in the future, allowing developers to factor in far higher turbine capacities than currently available.
For example, Orsted has predicted turbines of capacity 13 to 15 MW will be on the market by 2024.
These assumptions of rising turbine capacities will impact risk-return profiles, Utermohlen told the conference.
In addition to the technology risk of next-generation turbines, developers assuming larger units in project bids are taking on the significant "commercial" risk of these models never appearing, he said.
Willem van der Ven, Vice President of Power Operations at Enbridge, agreed companies will have to look for a "new balance" between risk and returns.
"I don't think we will see the same amount of returns in the offshore wind energy business as we have seen in the past," van der Ven said.
Volume needed
Europe's annual installed offshore wind capacity has swung between 1.5 GW and 3 GW in recent years and Karst said project pipelines will need to grow to ensure the industry can compete without subsidies.
Turbine suppliers in Europe might each require an annual production output of 2 GW per year to ensure a stable long-term business, Karst said.
"It has to be two continuous gigwatts year-on-year. No one can afford a boom and bust cycle in this industry...running these places is costly," he said.
                         Europe offshore wind capacity forecast
                                                      (Click image to enlarge)
Source: BVG Associates for WindEurope (2017).
Crucially, offshore wind is becoming competitive with conventional energy, and this should spur higher volumes in the coming years, Karst said.
"If we get up to 6, 8, 10 GW per year [total], it's a going business, it can live on its own…I think the volume will come," he said.
The dramatic falls in UK offshore prices highlight the rapid efficiency gains achieved by developers and suppliers. In September, the UK government awarded 15-year contracts for difference (CFDs) to three offshore projects at prices as low as 57.50 pounds/MWh, half the price of contracts awarded in the last UK offshore wind tender in February 2015. The projects represent 3 GW of new capacity, online by 2022-23.
If these price levels can be maintained, the UK could see 10 GW of offshore wind power bid into its third CFD auction planned for spring 2019, Karst said.
Market consolidation
Intense price competition has spurred consolidation in the wind turbine market and this is set to continue in the coming years, the industry panel said.
This consolidation could result in just two or three turbine suppliers to the European offshore market, the experts said.
                                      Offshore wind market share: turbine suppliers
                                                                    (Cumulative, end of 2016)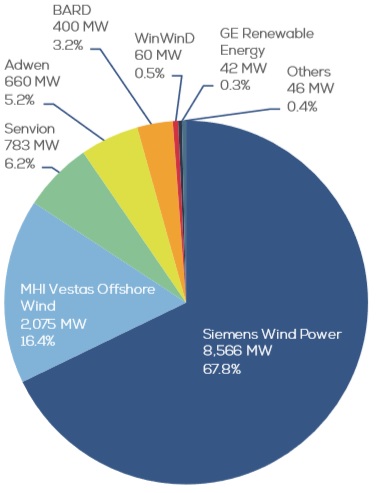 Source: WindEurope
The mergers of Siemens and Gamesa in 2017 and Nordex and Acciona in 2016 demonstrate the thirst for scale in response to price pressures.
"It's larger, fewer, stronger suppliers," Karst said.
"So that tells us a bit about where things are going-costs are under pressure, prices are under pressure, competition is hard, but it is also a growing market and that requires this size of company," he said.
"I think the same goes on the development side," Karst noted.
"We will see fewer and larger developers capable of handling that merchant risk that is now evident in the offshore wind industry," he said.
                                      Offshore wind market share: owners
                                                           (Click image to enlarge)
Developers with larger project portfolios will be better-equipped to absorb the merchant risk of individual projects, Karst said.
"In particular, the more diverse they are, in energy production, the more capable they are of compensating at low-cost for the intermittency that offshore has, and the merchant risk," he said.
Future value
Further forward, offshore wind companies will need to further increase the value of projects, by maximizing output during different wind strengths and optimizing production within wholesale markets, Karst told attendees.
"We have to run these offshore wind farms in a way where we start closing the intermittency gap," he said.
"It's about grid, it's smart consumption, it's storage and then being able to produce enough power when the wind is low or medium," Karst said.
"That's the way we are going...an interesting future for offshore wind," he said.
New Energy Update