New contract metrics, industry clusters set to cut UK decommissioning costs
Feb 21, 2018
Output-based decommissioning procurement will drive the UK towards 20% cost reductions by 2030 but tenders must remove barriers to smaller companies to aid supply chain growth, industry sources told Nuclear Energy Insider.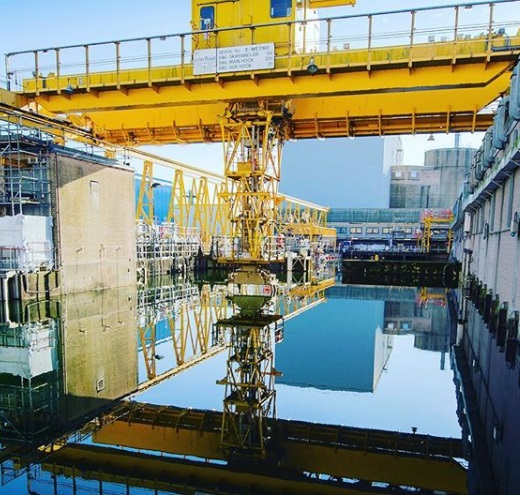 Related Articles
In December, the Nuclear Industry Council (NIC) published its Nuclear Sector Deal proposals, recommending industry and government collaborate to improve cost-efficiency in five areas, including New Build, Decommissioning & Waste Management and Future Technology & Innovation.
Developed in response to a UK Industrial Strategy White Paper, the NIC's report urged the implementation of more commercially-driven decommissioning procurement in order to "narrow the range of uncertainty" on work scope and inject much-needed confidence in cost estimates.
Last year, the UK government announced the UK Nuclear Decommissioning Authority (NDA) would terminate its contract with Cavendish Fluor Partnership (CFP) for the management and decommissioning of 12 reactor sites. The government said the scope of the contract, allocated to CFP subsidiary Magnox in a 6.1 billion-pound ($8.6-billion) tender, did not cover the full work required.
The re-allocation of the NDA contract provides an opportunity to introduce more cost-effective decommissioning contracts that build on a growing pool of industry experience.
According to NIC, improved contracting practice could yield cost savings of up to 20% by 2030 across the NDA's 17-site program, a saving of 3 to 4 billion pounds over the next ten years.
The current efficiency drive follows an upward trend of NDA spending and continuing uncertainty over long-term costs. Undiscounted Nuclear Provision currently stands at 119 billion pounds, but technological and political uncertainties mean the final figure could be between 95 and 218 billion pounds, according to the NDA.
Cost trends do differ within the overall decommissioning program. While projected costs at Sellafield have risen in recent years, cost projections for the non-Sellafield program have fallen. As one of Europe's largest industrial complexes and the host of the UK's largest and oldest nuclear waste stores, Sellafield continues to spearhead UK decommissioning work and confront new challenges.
                       NDA spend by SLC or activity since 2005
                                                     (Click image to enlarge)
Source: NDA Annual Reports & Accounts 2016-17
Market incentives
In its latest proposals, the NIC urged the government to accelerate the current shift towards output-based procurement contracts. Historically, contracts have set out prescriptive specifications which limit contractor input and knowledge sharing in the pre-tendering period.
"The industry is learning from other sectors in implementing contracting structures which focus on outcomes, and the behaviours and culture which are needed to make these work effectively," the NIC said.
Key benefits of output-based or "functionally-specified" procurement:
• Enables the supply chain to bring cost effective innovative solutions to problems.
• Allows equipment to be designed for manufacture and thus facilitates cost reduction.
• Reduces clients' design and specification costs and allows these activities to be carried out where the product-specific knowledge lies: in the supply chain.
• Shortens procurement schedules and therefore accelerates delivery.
• Allows the supply chain to manage the trade-offs between product design and through life repair and maintenance costs.
• Develops a program-wide planning approach to allow delivery of repeatable cost-effective solutions.
• Enables the supply chain to develop intellectual property (IP) with export potential.
Source: Nuclear Industry Council's Nuclear Sector Deal report
The benefits of output-based incentives have already been felt at Sellafield, according to Wood group, which acquired Amec Foster Wheeler in October 2017. The company has several decommissioning service contracts in place with Sellafield Ltd., including a 10-year deal to waste assessment contract and a 160-pound million four-year joint asset care and maintenance contract, with Interserve.
A Design Services Alliance (DSA) framework at Sellafield formalizes collaboration between supply chain companies. Around 80% of the work contracted through the DSA is done on a scoped and incentivized basis, Andy White, vice president for Decommissioning at Wood's nuclear business told Nuclear Energy Insider.
"This has shaved tens of millions of pounds off project costs because teams are encouraged to challenge and redefine project scope, make sure designs are fit-for-purpose and use commercial-off-the-shelf equipment wherever possible," White said.
The DSA achieved cashable savings at Sellafield of more than 6.7 million pounds in 2016/17, enabling longer-term savings of over 15 million pounds and shortening high-risk and hazard reduction schedules by 160 months, according to Wood.
According to the NIC, there are greater potential savings in the non-Sellafield part of the UK program due to greater certainty around project tasks and costs. Standardization gains are expected by sharing waste storage facilities and through multi-facility supply contracts, for example.
                           NDA forecast undiscounted expenditure
                                                          (Click image to enlarge)
Source: UK Department for Business, Energy and Industrial Strategy (BEIS) annual report and accounts 2016 to 2017.
Competition challenges
The limited size of the UK decommissioning supply chain remains a challenge and there are some concerns that output-based contracts could restrict the involvement of small and medium-sized enterprises (SMEs) that are unable to absorb performance risk and liabilities passed on from the SLC.
A lack of competition would hamper cost reduction efforts. The NDA-PBO/SLC contractor model implemented in 2005 was intended to increase competition, but at Douneray, for example, only two Tier 1 consortia tendered, according to a report commissioned by the UK government in 2012.
Lack of competition has hindered the establishment of a dedicated decommissioning supply-chain. According to a 2012 research paper by the University of Sussex, the UK decommissioning supply chain "at a national level remains largely a sub-set of supply chains serving other industries."
The annual reinvestment potential of NDA spend into the supply chain has been estimated at 1.7 billion pounds but currently only a third of this goes to highly innovative SMEs, according to NDA's Annual Report & Accounts 2016-17.
A new commercial procurement framework would need to find a balance between inclusiveness and administrative efficiency.
A more inclusive procurement framework could introduce administrative delays and prove cost-prohibitive to SLC's, J. Michael Devine, Senior Program Manager at Project Time & Cost (PT&C), told Nuclear Energy Insider. PT&C advised the NDA on cost modelling at the Magnox sites.
"Imagine the tendering process for a multifaceted project with the requirement to go through the bidding and contract award process for 100 contracts for every facility or decommissioning effort," Devine said.
Commercial openings
The UK should look to draw from international procurement learnings to create a commercial framework that suits the UK supply chain.
Industry alliances such as Britain's Energy Coast Business Cluster (BECBC) could provide a framework for smaller Tier 2s and SMEs to 'piggyback' on the tendering capabilities of larger companies, Devine said.
"It is hoped that through grassroots efforts like the BECBC more SMEs and Tier 2 contractors will have access to opportunity with the larger companies that have the resources and money to put together a large tender," he said.
According to Brandon Bier, Senior Cost Engineer at PT&C, the UK could apply certain areas of the U.S. procurement model to improve efficiency.
The Design-Bid-Build/Destruct model used by the U.S. Department of Energy (DOE) reduces scope and risk uncertainties within decommissioning contracts, Bier said.
"The Design-Bid-Build/Destruct contracting model only proceeds to procurement once 90% of design is complete ensuring procurement costs are more accurate because project requirements and risks are more clearly defined," he said.
The NIC expects to agree a Nuclear Sector Deal framework with the government this year and the benefits of improved commercial arrangements could be felt deeply in the years to come.
The industry's proposals will support more cost-effective decommissioning of EDF's 7-site AGR fleet which is set to commence in 2023 at a projected cost of 19.5 billion pounds, NIC noted in its report.
"As more nuclear reactors come offline worldwide, the global decommissioning market is estimated to be worth 100 billion pounds to 2035, potentially representing a significant export opportunity for the UK supply chain," NIC said.
By Kerry Chamberlain