on
Interface with its Climate Take Back strategy and PayPal's mission to provide financial services to the underserved show how companies can prosper by putting social purpose at the heart of their brand propositions
It is easy to dismiss social impact as the latest CSR fashion: valuable in marketing to socially aware millennials and in staff recruitment, certainly, but difficult to adopt into a business in any material way.
But news earlier in the summer from Atlanta-based Interface, the world's largest modular carpet company, that it has developed a prototype for a carpet tile, called Proof Positive, that actually removes more CO2 from the atmosphere than it generates shows what companies can do if they make social impact a central part of their brand proposition.
It is the first tangible evidence that Interface's breathtakingly ambitious new Climate Take Back mission, to play a role in reversing global warming, is beginning to bear fruit only a year after it was announced.
At Ethical Corporation's Fifth Responsible Business Summit in New York in March, Erin Meezan, Interface's chief sustainability officer, spoke about what led to the company, which was nearing its Mission Zero goal of achieving carbon neutrality by 2020, to take the next step, and how it is following through on its new commitment. 
Meezan said the Climate Take back strategy was the result of a 1.5 year-long process of getting the company's leadership, along with all stakeholders outside and inside the company, behind a new strategy that would move the company from doing no harm in Mission Zero to doing something positive for the planet.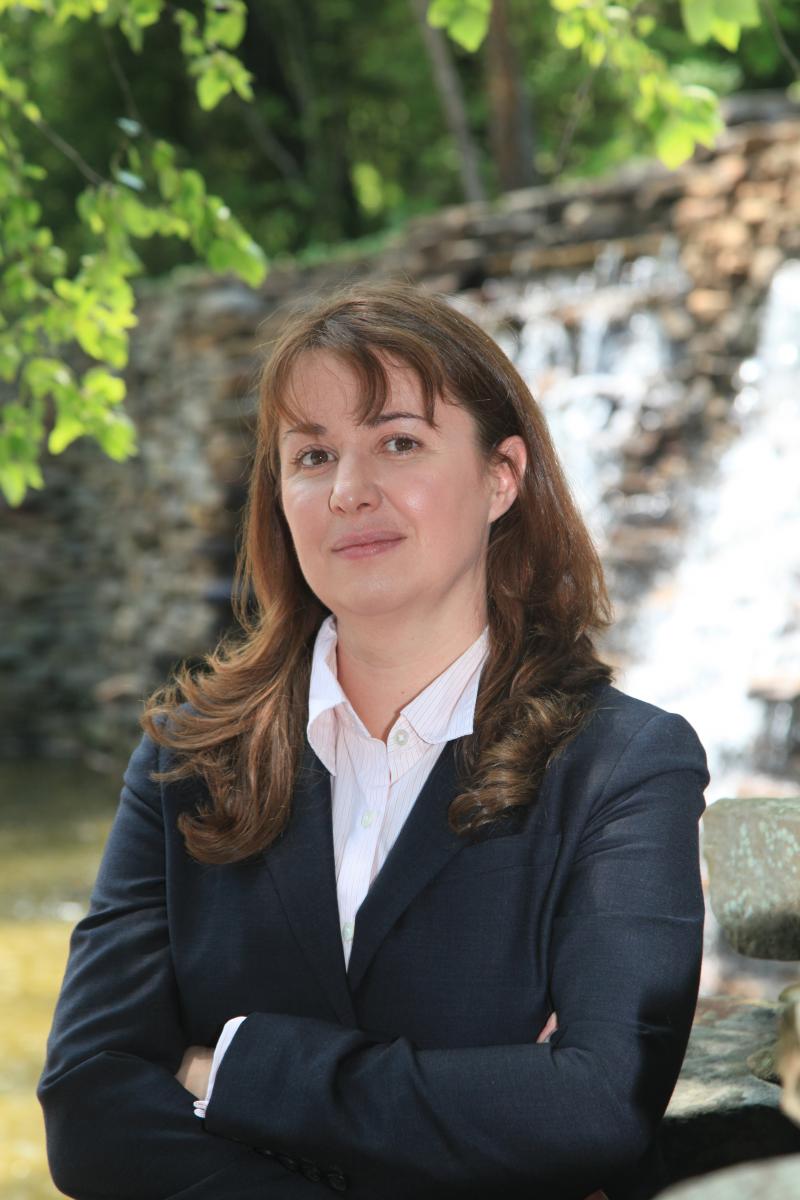 Erin Meezan, chief sustainability officer of Interface
As chief sustainability officer, Meezan knew she had to think very big indeed. "And you can't imagine a bigger challenge than climate change." Interface, a $1bn company with 5,000 employees, is known for its pioneering leadership on the environment, dating from when its founder Ray Anderson had an epiphany in the mid 1990s, realising that business had to abandon the take-make-waste model and adopt circularity. 
He set a vision of "harvesting yester-year's carpets and other petrochemically derived products, and recycling them into new materials; and converting sunlight into energy; with zero scrap going to the landfill and zero emissions into the ecosystem." 
Meezan described Anderson, who died in 2011, as "our original chief sustainability officer. He was an engineer who built a business and he intuitively understood that a great vision could only be achieved if it worked on the factory floor. He set a great standard for me as a chief sustainability officer to build that strategic thinking into the business, and create a map that our employees could follow."
After her team came up with an initial framework for addressing climate change, they consulted Interface's 5,000 employees, then reassembled the company's Dream Team, a group of leading sustainability thinkers, including Jonathon Porritt, chair of the Sustainable Development Commission, Amory and L Hunter Lovins, co-founders of the Rocky Mountain Institute, Paul Hawken and Janine Benyus, who had been advising the company since the 1990s. Meezan says the Dream Team "gave us feedback and shared their insights on how we might address climate change, but more than that they gave us the courage to dream really big in setting the next mission."
Asked whether she had had to convince the company's current leadership team of the merits of the even more radical Climate Take back strategy, Meezan admitted that new CEO, Jay Gould, was initially sceptical that Interface could play a role in reversing global warming. 
What convinced him, she said, was the meeting with the Dream Team in August 2015. "The conversation has been so doom and gloom, so hearing these experts share their optimism about how we could actually reverse global warming, and having them share some of the breakthrough innovation they were seeing, gave him a totally different perspective and convinced him not only that we should address this but that it should be the centre of our new mission." It also dovetailed to some of the comments Interface was hearing from its employees.
After launching Climate Take Back a year ago, Meezan gave the company's innovation team a 12-month challenge to create a carpet tile that sequesters carbon by using it as a building material.  The team consulted outside innovators, and quickly came up with a list of 40 or more materials, commercially available today, that stored CO2.
"It really struck us that these were materials we hadn't looked at when our ambition was just to reduce our CO2 footprint of products, but once we adopted a bolder vision, a whole new list of possibilities emerged."
The new Proof Positive carpet tile prototype stores 2kg CO2 per square metre, compared to an average Interface carpet tile, which emits 7kg of CO2 per sq metre. While its performance was validated using a lifecycle assessment and third-party verification, Meezan hastens to say that Proof Positive will need further development to make it into a commercial product that meets industry flooring specifications – a step it is not sure it will take at this point. "The most interesting thing about this experiment is seen in the name: its showing us what's possible, what sort of materials that trap or store carbon and how they can be used."
But the new mission is about more just making products capable of sequestering carbon. It is also about ensuring that Interface's own factories manifest the vison.  Interface has long been interested in biomimicry, an approach to design and innovation that emulates the efficient and regenerative functioning of natural systems, and has taken some of its customers on retreats with the Biomimicry Institute. The Climate Takeback mission was an opportunity to make biomimicry integral to its own processes.
 "A year ago we embarked on a Factory as a Forest project with the Biomimicry Institute. The idea was to build a framework for our factories where the metrics and goals they are to achieve are the exact same metrics and services that a high-performing ecosystem functions."
Instead of measuring the factories, as currently, on their use of renewable energy, energy efficiency, and zero waste, "now we are going to be measuring them on the services a forest can provide: how much carbon can they sequester, how much water can they filter, how much biodiversity can they host, what are they doing about soil enhancement. It's simply about setting a different framework."
With the leadership on board and a framework in place, the next task was to get employees to buy in to the ambitious new mission.  "The first thing we needed to do was to impart a sense of belief that it was possible," Meezan said. This meant mapping out the needed changes to products, factories and supply chains.  
One way to communicate the message through the entire organisation was a one-page diagram mapping out the strategy. It starts with the global context of how mankind is impacting the planet, then shows how Interface has done its bit by cutting its CO2 emissions in half since 1996. Next it shows the new framework and pilot projects the company has embarked on to achieve Climate Takeback. The final box, entitle "your role" is left blank, for employees to fill in themselves.
Meezan said she joined Interface 13 years ago after seeing Ray Anderson speak at a conference. "I could see he was implementing a vision that I buy into. A company making fuzzy squares of carpet wasn't too exciting to me as an environmental lawyer, but the willingness to hold that ambition was huge. And why we've been successful is we've been able to build those frameworks directly into the business strategy." 
PayPal
Credit: I AM NIKOM
But Interface doesn't own the patent on social purpose. The New York conference also heard from PayPal, which has a mission of extending financial services to the millions of people who are underserved.
 Franz Paasche, senior vice president of corporate affairs and communications at PayPal, said that one of its products, the PayPal Working Capital product, extends loans of between $10,000-$100,000 to small businesses, with approval times in some cases of less than a minute. "If they are existing PayPal merchants, we know them and we understand their business," Paasche said, adding that the product had flexible terms, with the loans paid back out of revenues.
PayPal has extended $2bn in loans of the past two years through this product, and analysis of the first $1bn showed that 25% went to American areas that have lost 10 or more retail banks in recent years. "We can see how these loans are flowing into places of high need. They are going into banking deserts," Paasche said.
PayPal has also been able to slash the cost of sending remittances, the billions of dollars that flow from foreign workers to their home countries, through its digital money transfer product Xoom, which costs half the price of many competitors, he said, meaning that billions of dollars more are going to families in need.
Paasche said corporate values such as inclusion, and the goal of democratising of financial services have driven PayPal's social purpose. "Every company has core competencies. We were built for this. We are good at digital payments. If we can align that with the public interest, it's a motivating and mobilising force for our employees, and it enables us to engage with governments and regulators and other companies, because we know that we can't do this alone."
Those values were put to the test early this year, when the state of North Carolina brought in a law that limits legal protections for LGBT individuals. PayPal was planning to open a new operations centre in Charlotte, the state capital, that would have provided hundreds of jobs, but decided to locate it elsewhere.
"Some people said that was activism, but for us it was fulfilling the mission, vision and values that we, as the PayPal community, had decided we would stand for."
Ford
Even companies where social purpose is less core to their business are increasingly finding value in the concept. Jim Vella, president of the Ford Motor Company Fund, which funds Ford's community activities, told the New York conference: "It's become obvious to the leadership [of Ford] that this [fund] is not just about being a good corporate citizen but about doing good business, for three reasons.  The research we have done has shown that our customers expect us to do this, our employees expect us to do this, and our dealer partners want us to do this because it's a differentiator in the marketplace. We know that part of our mission to build strong communities and improve people's lives is to drive purchase considerations. People may think that isn't philanthropic but it we want to have a seat at the table we have to show we add value like any other part of the company."
Interface
Ford
Paypal
Biomimicry Institute
Climate Take Back
CO2
digital payments
Related Reads
comments powered by

Disqus