on
Reducing plastic waste in oceans was a key focus of innovation in in 2016 as a slew of big companies joined the global resource efficiency drive
There's no question that the circular economy is big business. Four out of 10 of the world's most valuable brands (Apple, Coca-Cola, Google and IBM) have signed up to the Ellen MacArthur Foundation Circular Economy 100 to accelerate this transition through global collaboration. In 2016, more big names jumped on-board: Nike, eBay, Dow, ING, C&A, Heineken Mexico, Tetra Pak and SCA.
Many of these companies are investing in product innovation, which they are starting to take to market. Plastics was a big theme this year, particularly solutions targeting ocean waste. In January, EMF published the New Plastics Economy report as part of its Project MainStream work. It warned that by 2050, oceans could contain more plastics than fish by weight but said applying circular principles to global plastic packaging flows could help reverse this scenario.
Adidas is ahead of the curve with its From Threat into Thread campaign, creating high performance sportswear such as trainers and football tops from upcycled marine plastics. While the launch products are limited editions, there are plans to scale up production. Adidas' goal is to manufacture one million pairs of ocean plastic shoes by the end of 2017, and ultimately to eliminate virgin plastics from its supply chain.
Swimwear made from discarded fishing nets is also catching on. Volcom's ocean-friendly swimwear collection, made from repurposed yarn, was another key launch, building on a similar initiative announced by Speedo USA last year. Ecover's ocean plastic bottle project, which has quadrupled in size since 2014, continues to gather momentum. This year the company teamed up with Plastic Whale to source plastic more strategically, including from Amsterdam canals preventing it reaching the North Sea.
One notable smaller-scale innovation is Saltwater Brewery's edible beer pack rings. They also attracted global media coverage and caught the attention of beer brands including Carlsberg, a company that is open to collaboration as it works on its own circular packaging solutions. On a wider level, Dow pledged $2.8m to advance collective solutions to tackle ocean waste, tying in with its internal 2025 circular economy commitment. In Greenland, a scheme to explore the economic opportunities of repurposing discarded marine plastic was launched by the EU-funded Circular Ocean project.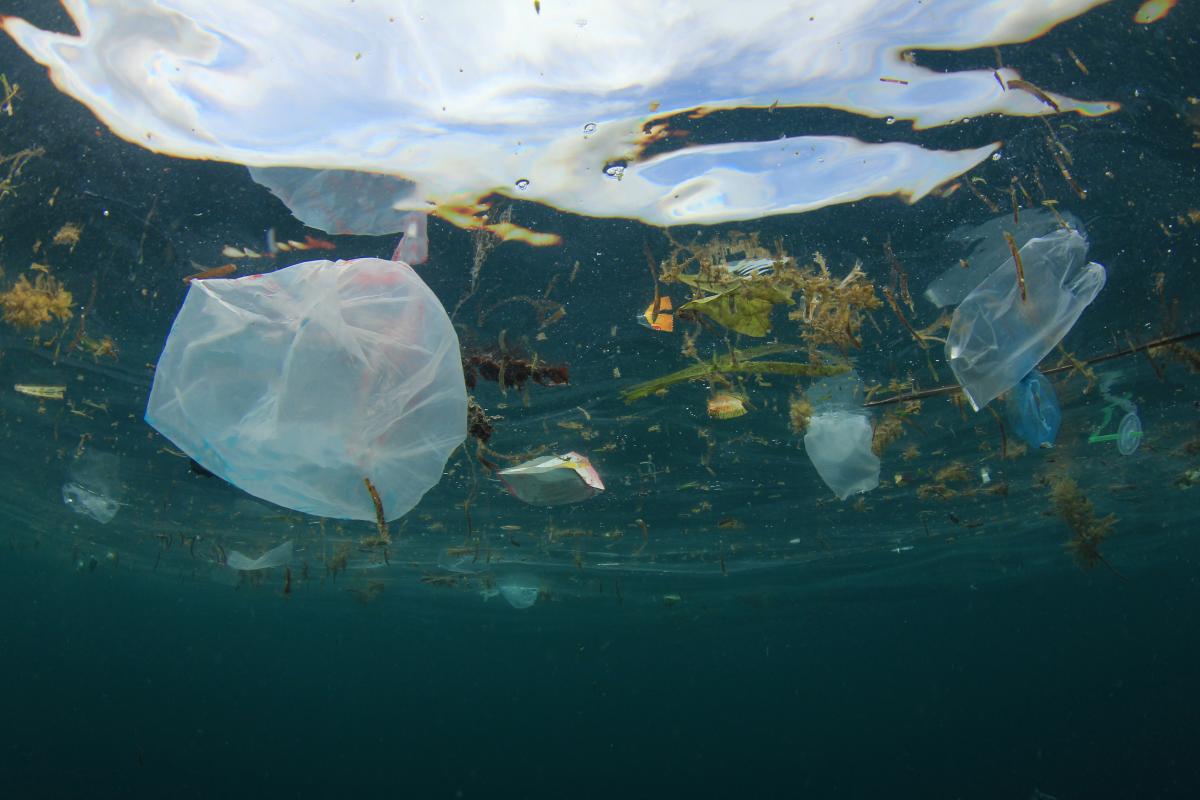 Companies are investing in product innovation to target ocean waste (credit: Rich Carey)
Tetra Pak
This month Tetra Pak announced that it will replace half the polymers in a new range of aseptic cartons with a sugar-based bioplastic, a move that could eventually prove a significant boon to the bioplastics industry, as the packaging giant makes 184 billion aseptic cartons a year.
But the move was more to cut Tetra Pak's carbon footprint than to improve the cartons' recyclability. Unlike some bioplastics, the polymers aren't degradable or compostable. They will behave just like any other plastic. Tetra Pak says this means its customers won't have to invest in new packaging equipment. But one UK based circular economy specialist commented that while it is good for Tetra Pak to move away from fossil-fuel based plastics, "Changing the source without designing for the fate can easily lead to solutions which claim to be renewable and have a low carbon footprint, but just create a waste problem."
Looking ahead into 2017, expect more collaboration with the prospect of a global plastics protocol that businesses and governments can adopt. EMF's New Plastics Economy Initiative is a three-year project bringing together more than 40 companies, including Coca-Cola, DuPont, L'Oréal and Unilever, together with cities like London and Copenhagen. The initiative will drive collaborative demonstration projects, initially targeting plastics packaging.
Legislation on plastics packaging is likely to become more stringent in coming years. The European Commission's Circular Economy Package has set a prospective 55% plastics recycling and reuse target for 2025 for EU member-states. This is challenging, considering the current target (for 2008) sits at 22.5%.
Value is being placed on reusing old smartphones, rather than faster upgrades (credit: tongcom photographer)
Regulatory pressures
Meanwhile, European countries are starting to introduce national laws that could address market barriers. In September, Sweden announced proposals to introduce tax breaks on repairs for bicycles, clothes, shoes, and consumer white goods. In the same month, reports emerged that France had passed a law making it the first country to ban disposable plastic cups, plates and cutlery from 2020, as part of its Energy Transition for Green Growth Act. Earlier this year, France also passed a food waste law banning supermarkets from throwing away unsold food.
Questions remain as to what the UK's role will be in relation to the EU Circular Economy Package in light of Brexit, but given that waste policy is devolved across the UK, this is a more pressing issue for England. Both Scotland and Wales are legislating for zero waste. Scotland in particular is looking to demonstrate circular leadership through its remanufacturing focus and modelling work on national deposit return schemes.
Remanufacturing is touted as a big economic opportunity. One study suggests the European remanufacturing market is nearing €30bn a year, and could treble by 2030. Jaguar Land Rover is exploring opportunities in this field as it looks to build on recent successes with its REALCAR project. During 2015/16 the car maker fed more than 50,000 tonnes of aluminium scrap back into its own production process through a closed loop supply chain.
Meanwhile, AkzoNobel opened its second UK community paint remanufacturing hub. It is also looking to take back some of this paint into its supply chain and launch a remanufactured paint under its own brand name in the near future. In a significant move, Apple unveiled its recycling robot, Liam, which can disassemble used iPhones in a matter of seconds. Whether Apple will remanufacture used iPhones remains to be seen, but its new upgrade programme, encouraging direct lease and return, would suggest it's an avenue being explored.
On the smartphone front, O2 is championing circular action. The company was part of a report suggesting that future growth will be built not on pushing faster upgrade cycles, but on capturing the value that exists in older devices through resale. However, moves towards designing phones with interchangeable parts suffered a setback, as reports emerged of Google pulling the plug on Project Ara, its modular smartphone.
Sweden announces tax breaks on repairs for bicycles (credit: Amy Johansson)
Digital transformation ahead
Looking forward, digital transformation will play an increasingly influential role in building circular value chains through real-time asset tracking, as we reported in July . Examples include H&M and The North Face, which have teamed up with Stuffstr to make it easier for consumers to repurpose unwanted clothing through an app, and Arup's circular building, whcih utilises digital tags to aid disassembly and reuse. EMF's Intelligent Assets report gives a useful overview of how greater connectivity and big data can help extend product use cycles and optimise performance contracts in terms of predictive maintenance and upgrade.
As companies start to integrate circular thinking into core business strategy, the need for measurement, reporting, toolkits, frameworks and certification is likely to increase. Next year, look out for a new BSI circular economy standard and more open sharing of circular tools, such as the business model toolkit developed by Forum for the Future and Unilever. While businesses have yet to tap into the social value potential of the circular economy, some NGOs like Tearfund are investigating how the approach can lift people out of poverty, especially in emerging economies.
There are clear signs that the circular economy is now gaining traction outside of the UK and Europe, most notably in the US. EMF has launched CE100 USA, a dedicated programme for US-based organisations, providing a national pre-competitive innovation platform. First to sign up include Wal-Mart Stores, Tarkett and SunPower. The US Chamber of Commerce Foundation also published a notable report outlining the business value of monetising waste streams for American companies. New York City is already putting in infrastructure that could enable it to become a circular city with its NYC Link project, transforming old street payphones into free, superfast WiFi hubs.
This is issue 4 of our top 10 issues that shaped sustainability in 2016. To see the full list, click here. 
 
Maxine Perella
circular economy
ocean waste
resource efficiency
recylcing
Related Reads
comments powered by

Disqus