Developers forge China supply chain links in quest for competitive edge
Jul 13, 2016
Increasing confidence in China's Feed in Tariff plans has supported a wave of new project proposals from international firms looking to optimize supply chain opportunities.
China has become a magnet for international developers ever since it committed to introduce a CSP Feed-in-Tariff (FiT) and deploy 10 GW of CSP by 2020 as part of its 13th Five-Year Plan (2016-2020).
China's predicted CSP growth would triple global installed CSP capacity to 15 GW and help to drive down global generation costs.
Over the last year, U.S. developers SolarReserve, BrightSource Energy, and 247Solar, as well as Sweden's Cleanergy, Germany's FRENELL, and Israel's Ener-T, have all announced they will participate in China's CSP program.
China's National Energy Administration has already preselected more than 20 CSP project proposals for a total capacity of 1 GW in the first bidding round of the program.
The FiT for the first round is expected to be "around 1.1 RMB/kWh" (16 cents/kWh), Eric Frazier, vice president of business development at U.S. developer Skyfuel, told CSP Today.
Bruce Anderson, chief executive of CSP technology developer 247Solar, expects a similar outcome.
"They've been talking about the FiT for two years. The good news is that for those two years, the discussion has always been in the 18-21 cents [/kWh] range. So I think there's a high level of confidence given the fact that the price has consistently been in that range," Anderson told CSP Today.
China's annual Direct Normal Irradiance (DNI) varies from levels of around 2,500 kWh per square metre in the west of the country, including parts of Qinghai, Gansu, Inner Mongolia, Xinjiang and Tibet, to below 700 kWh per square metre in the southeast.
While not all of China's regions present ideal DNI levels, many areas are uninhabited and benefits can be gained from optimizing Chinese manufacturing capacity.
Competitive costs
In April, 247Solar announced it had formed a joint venture with Shenzhen Enesoon Science and Technology which will aim to build 1,000 MW of projects in China by 2021.
The joint venture has obtained a license to be the exclusive manufacturer of 247Solar modules, allowing it to build power plants as well as sell components to other developers in the country.
"From the very beginning we looked at the approach wind and PV have taken, and the way they brought their costs down was through factory production. So we took the approach of mass production," Anderson said.
"We believe that by building 1,000 MW of CSP plants in China, we should realistically be in the 6 to 8 U.S. cents/kWh range by 2021," he said.
Germany's Frenell also plans to introduce its Direct Molten Salt technology to China and capitalize on the country's manufacturing capabilities.
Frenell, established by founders of Novatec Solar, estimates its modular CSP system can deliver electricity at 0.4 to 0.8 RMB/kWh (6 –12 cents/kWh) in Chinese irradiation conditions.
Manufacturing hub
Frenell expects China's existing mass production capacity for vacuum absorber tubes to support the manufacture of the company's automated technology for primary reflector elements.
This existing capacity should help ensure that all solar field components can be mass-produced in China, Max Mertins, chief technology officer of Frenell, told CSP Today.
BrightSource also plans to use locally manufactured equipment in its planned CSP projects.
"We're hopeful that with our partner Shanghai Electric, we'll be constructing a project that uses BrightSource's technology as well as Chinese technology under the 1 GW pilot program," Joseph Desmond, Brightsource's senior vice president of marketing and government affairs, said.
China General Nuclear Power Group's 50 MW Delingha plant is also using a large share of local content. The plant is under construction and will be China's first commercial CSP plant when it comes online in 2017.
Dongfang Electric supplied the turbine for Delingha, Harbin Turbine is to supply the steam generator and Shandong Sunway Petrochemical Engineering has been contracted as the EPC company for the heat transfer fluid and thermal energy storage system.
For SkyFuel, localization is crucial for long-term success in China.
"By localizing you're able to easily reduce shipping costs and import fees. But what's really important in the Chinese market is that there are many incentives available for developing manufacturing," Frazier said.
These incentives include free land, grants, tax rebates, and preferred product status within a region.
"We need to identify and utilize these incentives in order to dramatically reduce the costs of building a manufacturing facility in China," Frazier said.
       Joint ventures between foreign CSP developers and Chinese firms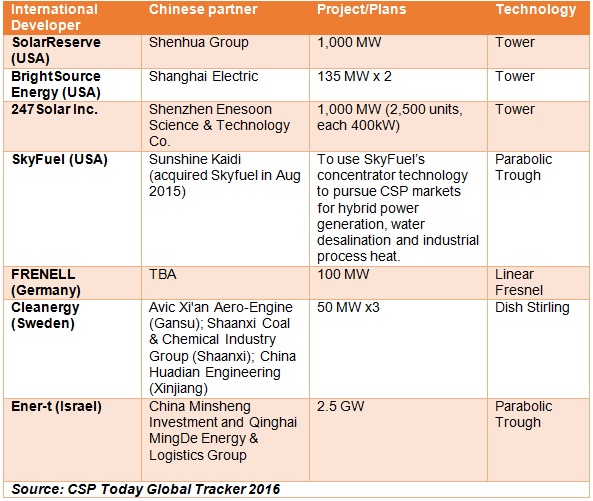 Export potential
Cleanergy, a Swedish Stirling CSP system supplier, sees China as a potential export hub for local and international markets.
The company applied for three 50 MW projects in China's latest bidding round and plans to maximize local manufacturing capacity where possible, Bjorn Odenbro, Cleanergy's senior vice president for Greater China, said.
According to Odenbro, the company will start by domestically-sourcing the cooling system for the engine, followed by the engineering and construction, dish mirrors, structures, electrical control systems, and cabling.
"For much of this we're already in discussions with potential Chinese partners and we expect to manufacture the dishes for the first 50 MW project in China," Odenbro said.
"We foresee that we may also source these parts from China for projects outside of the country", he said.
By Heba Hashem