on
With the IEA predicting that global CO2 emissions will fall 8% this year, Angeli Mehta weighs the early evidence of whether the pandemic will speed the energy transition
As we survey the wreckage from the Covid-19 pandemic, will we find that 2019 turned out to be the year that greenhouse gas emissions peaked?
Certainly 2020 emissions are on course to fall. China's emissions look to have been temporarily slashed by 25% in the first four weeks after the Chinese new year, compared with the same time last year. According to the IEA's newly published global energy report emissions, which had been forecast to grow 1% in 2020, will likely be down almost 8% this year.
With only renewables holding up in the unprecedented slump in electricity use, low-carbon sources are set to reach 40% of global electricity generation this year. French economist Christian de Perthuis, suggests emissions won't rebound as they did after the financial crash of 2008 because the industries most affected by the pandemic – like tourism and transport – will be unable to catch up while the energy transition, slow as it is, has begun in many parts of the world.
What might be a disruption is an enormous opportunity to rethink the future
But government stimulus packages will determine whether the downward trajectory is maintained. The projected fall in emissions this year only underlines the scale of the task: emissions need to be cut 7.6% each year for the next 10 years for there to be any hope of staying within a 1.5 degree warming limit.
For now, planes are grounded. United Airlines told its staff that passenger numbers plummeted by 97% from 6 million in the first two weeks of April in 2019, to less than 200,000 this year. With millions working from home, the roads deserted and industrial output down, sharp falls in pollution and noise levels are being recorded. Will some behaviours become habit and will we prefer less polluted air?
An analysis by investment bank UBS suggests the shift from planes to high-speed rail in Europe and China will accelerate; so much so that there will be no growth in air traffic within Europe from 2018-2028. However, it anticipates that global air traffic will continue to grow, albeit it at a slower rate.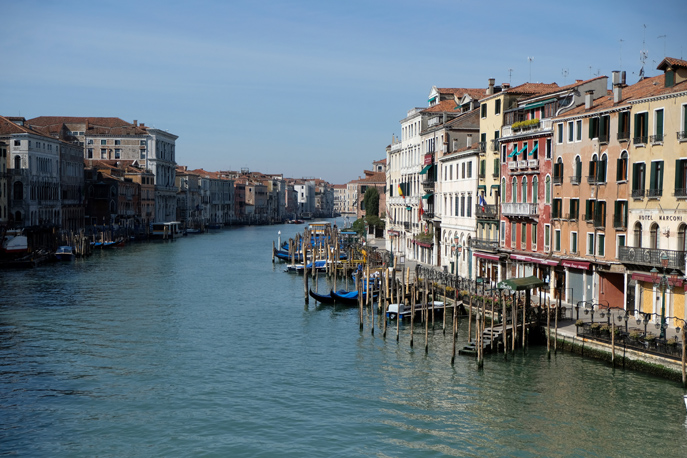 The Covid-19 lockdown has resulted in clearer skies and waters for Venice. (Credit: Manuel Silvestri/Reuters)
A virtual meeting of thought leaders in March to try to shape a vision of how good could come from the pandemic heard calls for a redesign of economic, social and healthcare systems.
Paul Polman, former Unilever chief executive said: "What might be a disruption is an enormous opportunity to rethink the future... to tell governments to cut out fossil fuel subsidies, and the moment to put a price on carbon."
He said creative thinking was needed to ensure government interventions are linked to climate mitigation, and the greening of supply chains, and set out the same thinking in an interview with Ethical Corporation's editor, Terry Slavin.
Coronavirus is teaching us all the value of prudent planning for global shocks
This year was to have been a major year for climate action, with intense diplomatic efforts to secure greater ambition at COP26 in Glasgow – now postponed for a year. The UK's Committee on Climate Change said it will refocus its work so that an annual progress report on UK emissions cuts, which is due in June, will now include advice on supporting a resilient recovery. Its chief executive, Chris Stark, said that while responding to the pandemic is rightly the priority now, thoughts will ultimately turn to the need to rebuild after coronavirus, and climate priorities can help shape these efforts. "Coronavirus is teaching us all the value of prudent planning for global shocks," he said.
That thinking is reflected elsewhere in Europe, where there are calls to use the EU Green Deal as the framework for recovery. Speaking at the Petersberg Climate Dialogue of 30 environment ministers from around the world (held virtually at the end of April) Kristalina Georgieva, managing director of the IMF, called on governments to use public support wisely, by mandating commitments to reduce carbon emissions as part any bailouts for energy-intensive businesses. She also urged them to promote green finance and put "the right price on carbon".
Maria Mendiluce, interim CEO of the We Mean Business coalition, said stimulus packages should be directed to electric vehicles, grid infrastructure, energy storage and renewable energy. Business and governments, she added, need to work together to support a just recovery, and enhance decarbonisation.
The travel and tourism industries have been particularly affected by the pandemic. (Credit: Lucy Nicholson/Reuters)
Earlier in the month, MEPs, alongside chief executives of companies including the Inter IKEA Group, E.On, Danone and Covestro, business associations, NGOs and thinktanks, pledged to support stimulus transformation plans that act as "accelerators of the transition towards climate neutrality and healthy ecosystems". They pointed out that huge technological progress has been made in the past 10 years that will reduce the cost of transition. Big investors, meanwhile, have warned companies not to go back on their climate commitments as they tackle the fallout from Covid-19.
Much depends on the US and China. The enforcement of environmental legislation has already been suspended in the US, alongside intense lobbying for reductions or delays in taxes due from the fossil fuel sector. In early March, China approved more coal-fired capacity than it did in the whole of 2019. Combined with signals that the Beijing government will relax rules on coal power investment, the financial thinktank Carbon Tracker is concerned China may continue to build more coal plants, despite the fact that almost 60% of its existing coal fleet is running at a loss, and almost half is under-utilised.
European car manufacturing lobby groups have asked for a relaxation of tougher CO2 emissions targets; and the airline trade association IATA wants the International Civil Aviation Organization (ICAO) to change the baseline calculation used for the emissions offsetting scheme Corsia, from an average of 2019 and 2020 emissions to 2019 emissions alone. The collapse in aviation this year will mean a much lower baseline from which airlines will have to offset any growth in emissions from 2021. Environment groups have urged the EU and ICAO to stand firm. Indeed, the European Commission wants to tax aviation fuel as part of its Green Deal, and is consulting on measures such as a blending mandate to increase the uptake of sustainable aviation fuels.
Climate change has moved a long way up the political agenda
The International Energy Agency is concerned that the steep drop in oil prices could mean a reduced impetus for energy efficiency measures, when evidence suggests that investment in energy efficiency produces twice as many jobs as in the fossil fuel sector. Its executive director, Fatih Birol, says low oil prices are an opportunity to rethink subsidies for fossil fuel consumption. These amount to $400bn, and more than 40% of them are used to make oil products cheaper, which often only encourages consumers to waste energy.
And according to the IMF, globally the carbon price is $2 per tonne, but needs to be $75 to keep warming below 2C. 
"There's a real opportunity to grasp the nettle," says Andrew Grant, head of oil, gas and mining at Carbon Tracker. "Climate change has moved a long way up the political agenda... and it's clear there's much more broad-based support for actions on climate, more support for renewables."
When prices are low as now, it's a good opportunity for politicians to revisit the strategy of pricing in the real cost of using fossils fuels, he says. "The consumer still gets a cheaper tank of petrol... even if government is applying a higher price to the impact of using that carbon," says Grant.
In the US, more than 100,000 workers in the clean energy sector have lost their jobs. (Credit: Mike Blake/Reuters)
He points out that the money raised "can be used by government to support those adversely affected, at the same time as driving good outcomes." The same holds for removal of subsidies that keep the price of fossil fuels artificially low. "The money not spent on subsidies can be used in a beneficial way."
While the sharp drop in oil price makes returns from renewables just as attractive as oil and gas (even before emissions are priced in), clean energy has not been immune from the economic downturn caused by measures to deal with Covid-19.
In the US more than 100,000 workers in the clean energy sector lost their jobs in March alone, according to analysis of unemployment data. Energy efficiency bore the brunt, with workers unable to enter homes or offices.
In the US, 50% of rooftop solar installations have been postponed and 10% cancelled
Rooftop solar has been particularly affected, says Jenny Chase, head of solar at BloombergNEF. In the US, 50% of installations have been postponed and 10% cancelled. "We don't know much will come back. We think those people will return, but the question is when." BloombergNEF has cut its global forecast for solar by 8% this year.
However, it anticipates 2020 will still be a record year for wind installations, despite the sector taking a hit. Precisely how big a hit depends on how quickly China's suppliers are back in full production. There may be knock-ons in the US, where there are tight installation schedules to meet subsidy deadlines. The limited availability of cranes could have an impact: "If you missed the slot, you might have to wait." says Chase.
Philippe Kavafyan, chief executive of wind turbine company MHI Vestas, is upbeat. During a recent webinar, he suggested that even if the UK's auction for projects to be installed in 2025-27 were to be delayed, his company already has a pipeline of offshore wind projects for the next three to four years. But it could do more, he said. "In some cases [projects] will depend on grid connections – and that could be accelerated with a stimulus package; sometimes on permitting, which government can also influence."
Sales of electric vehicles are forecast to drop by 43% this year. (Credit: Chris Helgren/Reuters)
Wood Mackenzie's analysts suggest that the low oil price, combined with the pandemic, means global sales of electric vehicle sales will drop by 43% this year. The big question is how averse consumers will be to adopting new technologies – or indeed buying cars, full stop. However, several European governments have made commitments to phase out petrol and diesel-powered cars, and companies like Daimler, Volvo and Volkswagen have also pledged electrification of their fleets.
"The shift towards sustainability is the driving force behind the electrification of transport. Uncertainty caused by the oil price war and global catastrophes will only serve to strengthen that resolve, not deter it," says Wood Mackenzie principal analyst, Ram Chandrasekaran.
The big question is whose voices will be heard as governments think through the steps needed to boost economies once lockdowns are relaxed. Whatever is decided will set the trajectory on emissions for the next 10 years and reveal whether the curve of climate change can be flattened as effectively as for Covid-19.
Angeli Mehta is a former BBC current affairs producer, with a research PhD. She now writes about science, and has a particular interest in the environment and sustainability. @AngeliMehta.
Main picture credit: Essam Al-Sudani/Reuters
This article is part of our in-depth briefing Building back better after Covid-19. See also:
'We can't just talk about Science-Based Targets' in wake of Covid-19, say business groups
To prevent future pandemics 'no company should source from recently deforested land'
From 'E' to 'S' and 'G' as investors take stock post-pandemic
Access to water now 'matter of life or death' for millions amid growing pandemic
Coronavirus
IEA
GHG emissions
Air quality
pollution
aviation industry
high-speed rail
Paul Polman
UK Committee on Climate Change
EU Green Deal
IMF
We Mean Business
Carbon Tracker
ICAO
CORSIA
renewable energy
rooftop solar
MHI Vistas
electric vehicles
Related Reads
comments powered by

Disqus