on
With voter support building for a Green New Deal, even the climate-change denying US Chamber of Commerce is starting to see the value of carbon pricing as an alternative to regulation. Diana Rojas reports
The Trump administration has tried to wreck US environmental rules and responsibilities, but with climate change now an important issue among voters, American business has responded by taking front and centre in calls for federal action on finally setting the price of carbon.
"We see a price on carbon globally as an inevitability," said Hugh Welsh president and general counsel of DSM North America, who in May was among 75 business leaders lobbying Congress on this issue. Getting in front of legislation is "absolutely" a way to get a say in how carbon pricing materialises in the US, he said, noting that he views lowering emissions as a way of future-proofing companies.
Recent polling found that more voters – and customers – care about climate change and want to see action. A Washington Post-ABC News poll found that 81% of Democrats said climate change was "very important", with 56% of Independents and 26% of Republicans concurring. In another survey, by the Republican polling group Luntz Global, 75% of voters want the government to limit carbon emissions, including 55% of Republicans. By a margin of eight to one, more Americans are worried about climate change now than one year ago, the survey found.
That support for emissions controls has evolved to lobbying Congress is not in small part to global investors' demands to curtail climate risk
When the US pulled out of the Paris Agreement in 2016, corporate America rallied in support of the pact, often making in-house renewable energy commitments. That support for emissions controls has evolved to lobbying Congress is not in small part to global investors' demands to curtail climate risk. In recent examples, four automakers revealed that secret negotiations with California had led to a compromise to produce more fuel-efficient cars than the Trump administration is calling for.
And, giving into member demands, the historically climate-change denying US Chamber of Commerce now decries inaction on the issue and unveiled a new environmental campaign that commits to lowering emissions.
No less than three pieces of legislation setting a carbon tax and dividend scheme were introduced this summer. And the Climate Leadership Council's Baker-Shultz Carbon Dividend Plan, named after two former Republican Secretaries of State and backed by both corporates and NGOs, is still making the rounds since its introduction in 2017 and enjoying support among the fossil fuel industry.
75% of US voters want the government to limit carbon emissions. (Credit: Sundry Photography/Shutterstock)
Although experts point to a desire for certainty across states as a motivating factor for corporate-backed calls for a federal carbon price, they say investor activism and nervousness is more of a driver. The popularity among liberals of ideas like the Green New Deal – a proposed stimulus plan that, among other things, vows to switch the US to 100% renewable energy in 10 years – has spooked business. And all of the major Democratic candidates for president have proposed mandatory CO2 and climate risk disclosure rules for American businesses, echoing current demands by investors, banks and insurance companies. (Last spring, through an executive order, the Trump administration ordered the Labor Department to determine whether climate actions and demands by shareholders run afoul of laws to promote economic growth).
Welsh of DSM says those threats have been a driving force for corporate activism on the issue. As a member of the US Chamber of Commerce's Global Energy Institute, he helped draft the American Energy: Cleaner Stronger proposal this year to counter the Green New Deal. The plan favours innovation and private-sector investment over regulation, and was derided by many as pandering to the fossil fuel industry, a huge component of its membership.
Welsh admitted that the plan may be "baby steps" to the outside world, but "tectonic" within the organisation. He believes that working from within to convince the chamber and other business leaders that a carbon price is pro-business will stave off what he calls a proxy war on capitalism, which he says is the biggest existential threat against American business. The message is starting to take, he said.
It's corporate Darwinism: if you don't future-proof, you're not going to exist
"You can think that climate change is a great Chinese hoax or that it's nothing because it snows in winter … but you can see it already with things like the Green New Deal: there are folks on the left who will use climate change as a proxy war on capitalism," he said. "It's corporate Darwinism: if you don't future-proof, you're not going to exist."
Welsh has been with DSM for the past 15 years. Ironically standing for Dutch State Mines ("Maybe it's our original sin that makes us so evangelical now," said Welsh) DSM is a business-to-business multinational that sells health, nutrition and other materials, including a lower-methane emitting powder that can be added to cow feed.
The company set its own carbon price in-house, pegged at €50 per ton, and tied executive bonuses to sustainability targets several years ago, and aims to derive half its power worldwide from renewables by 2025.
Senator Bernie Sanders has called for mandatory climate risk disclosure rules. (Credit: Rachael Warriner/Shutterstock)
As in Europe, he said, more US banks and insurance companies are now viewing greenhouse gas emissions rates as indicators of long-term financial risk. (Indeed, over the summer Chubb became the first US insurance company to limit coal-related underwriting and investing. Coal is predicted to be only 11% of the US power supply by 2030, according to a Moody's report).
"If it [a carbon price] doesn't come by legislation, it's going to come by operations," he said, including in the form of more disclosure demands from banks, insurers and investors.
Cameron Prell is a founding partner of the Coefficient Group, a Washington DC-based consulting firm. He notes that the current political discussions are helping to build C-suite muscle, which lack expertise on the issues. For example: the automaker negotiations in California were a belated realisation that they could get an economic advantage via innovation, not bigger SUVs. Energy companies are next in line for a similar "aha" moment, he believes.
Climate is as much a cultural and economic issue as a qualitative environmental issue
Both the Green New Deal and the Republican discussions about "innovation" are equally vague constructs that are going to have to meet somewhere in the middle with a solution that engineers the transition economy by ratifying and enabling it rather than proscribing it, said Prell.
"Climate is as much a cultural and economic issue as a qualitative environmental issue," said Prell, who believes that the market is going to be more ambitious than politicians and voters. "Market-driven means you can be carbon intensive if you want to, but the market is just going to short you."
Although you still have companies that view climate issues as separate from their business, Prell said the national discussion over the past 20 years has had to evolve to the point where the issue is viewed as not only an environmental issue, but also as a ubiquitous economic issue.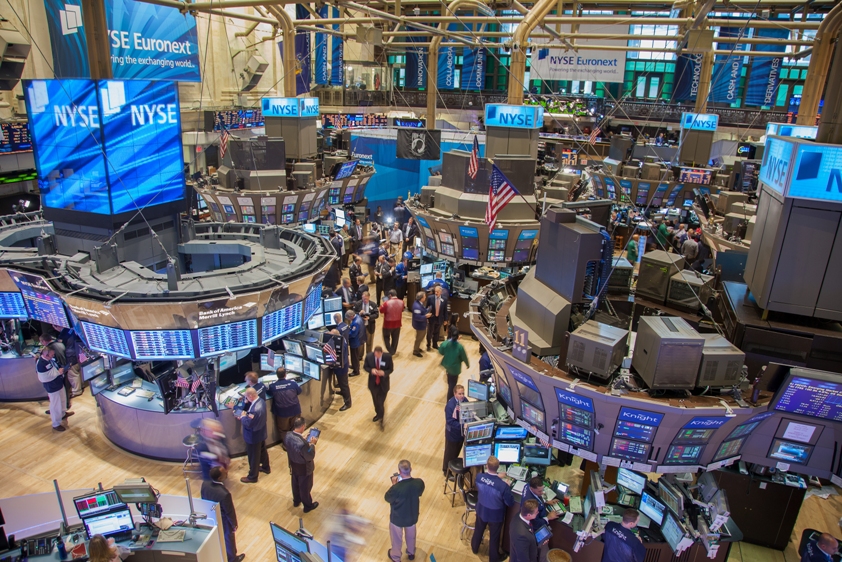 Convincing US business that a carbon price is pro-business will drive innovation. (Credit: Bart Sadowski/Shutterstock)
In 2009, the American Clean Energy and Security Act (informally known as the Waxman-Markey bill) sought to establish a national cap-and-trade system. It squeaked by in the House, but ultimately died before reaching the Senate floor. Since then, California has established its own cap-and-trade system, and the Regional Greenhouse Gas Initiative (RGGI), a co-operative cap-and-trade programme of 10 north-east states, has been in continuous operation since 2009. Two regional cap-and-trade legislative proposals, in Washington and Oregon, failed earlier this year.
Ivan Frishberg, vice-president and director of impact policy at New York-based Amalgamated Bank, said that while a desire to replace patchwork, state-level efforts with a national price on carbon could make business dealings easier, he cautions against a "one size fits all" solution, because Congress will set the bar too low.
"It's hard to characterise the current situation as anything but failure. We are failing on climate change. Massively," said Frishberg. "Given the natural anxiety of what we're facing, it's very appealing to feel that a policy idea that has some bi-partisan support and some corporate kind words behind it could be a salvation. But that takes a pretty big leap of faith."
There's a whole set of places where the corporate sector is doing really meaningful work in the absence of legislation
Amalgamated Bank this spring became the first US bank to endorse the United Nation's Principles for Responsible Banking, which includes aligning business strategy to the Paris Climate Agreement. The bank ended its financing of fossil fuel projects (although it never had a huge portfolio of those, said Frishberg) and has been leading a group of banks to create a carbon accounting model that tracks climate impacts of lending.
"There's a whole set of places where the corporate sector is doing really meaningful work in the absence of legislation. But the biggest thing that shapes the private sector is the rules that govern it," he said. Nevertheless, he said the political situation can change quickly and that backing for renewable energy by corporates and city and state governments can change the conversation in Congress about energy policy.
"We're in a lot of trouble and people should be clear about that," he said. "Everyone should stop fooling themselves that we're going to hit all the right targets we set … but that doesn't mean you should stop doing what you're doing."
State-backing for renewable energy can change the conversation in Congress. (Credit: welcomia/Shutterstock)
Justin Guay, strategy advisor for ClimateWorks Foundation in San Francisco, doubts that the recent carbon tax bills will actually pass but believes they mark an attempt by both moderate Democrats and Republicans to stake out the climate ground. He says they also open up "a new period of time in which climate legislation of some sort is now possible", most likely after the 2020 election.
It may not be the "man on the moon approach" that climate needs, he said, but it can be built on by local and state efforts.
As public opinion shifts in favour of climate change mitigation, big business, and in particular fossil fuel companies, want to be seen as proactive, he said. And importantly, he noted, "they are scared to death about climate lawsuit liability and want to exchange full immunity for a very weak carbon price."
There is a reason the oil companies are coming to the table. We need to keep all arrows in our quivers to force their hands
Indeed, the Big Oil-backed carbon dividend plan by the Climate Leadership Council would indemnify businesses, something that the bills in Congress do not. Guay warns against trading this legal liability away in a desperation to get something – anything – done, calling the CLC plan "a Faustian bargain".
"There is a reason the oil companies are coming to the table," he said. "We need to keep all arrows in our quivers to force their hands."
Unlike coal, which is in final decline, oil consumption is not affected, even at high prices. What that means is that rushing to pass bills that indemnify oil would delay action on getting rid of oil, he said, noting that the automakers that negotiated with California behind the Trump administration's back are the same companies that asked the administration to back down on efficiency standards, only to face uncertainty once it did.
US automakers bypassed the Trump administration to negotiate with California. (Credit: welcomia/Shutterstock)
Indemnification, he said, "could mean decades of delay. And one thing we don't have is time."
But Prell of the Coefficient Group calls the political focus on indemnification counterproductive to decarbonisation because it takes focus away from the positive aspects of the green transition. Indemnification, he said, is just the tip of the iceberg.
"If you just reveal another 40% of that iceberg and let the market expose that risk, the carbon-intensive industries will respond because it will affect their bottom line," said Prell, noting that there is a business recognition that carbon-intensive products are not going to have the same market share in the future as today. "The issue now is to formulate climate policy such that it doesn't harm their flip of the switch but that it pays their flip of the switch…. It's not an 'us vs them', it's an 'us vs us'."
Diana Rojas is a freelance writer based in Washington, DC and a regular contributor to the Ethical Corporation, focusing on environmental policy and sustainability issues. Diana is fluent in Spanish and Portuguese.
Main picture credit: Mark Geistweite/Shutterstock
DSM North America
Climate Leadership Council
Green New Deal
Coefficient Group
Amalgamated Bank
Principles for Responsible Banking
ClimateWorks Foundation
Related Reads
comments powered by

Disqus