on
The US outerwear giant wants to use Timberland X Thread, made from Haiti rubbish, in all products that use recycled PET
Many circular products have yet to add a strong social dimension to a brand's value, but Timberland's recent X Thread collection launch clearly shows how it can deliver "good with every fibre".
In 2014, Timberland teamed up with Thread, a Certified B Corporation that specialises in repurposing waste plastic bottles from the streets and canals of Haiti into new fabric. Timberland was already working in Haiti at the time, establishing tree nurseries on the Caribbean island as part of an agro-forestry programme when Thread's work came to its attention.
Timberland's director of strategic partnerships Margaret Morey-Reuner says she was attracted by the transparency Timberland X Thread could offer at every stage.
"The potential ability for Timberland to be able to trace the provenance of the material all the way back to the point of the actual item that was being recycled was a really attractive proposition for us," she says.
Timberland was keen to ensure that the material provider could supply the level of demand needed beyond a limited edition launch, something that isn't always possible with start-up suppliers, Morey-Reuner explains.
"What would happen is these products would be successful and we'd want to increase our order tenfold, but often the material suppliers weren't in a position to create that kind of scale. So we had a hard time establishing long-term relationships with those partners."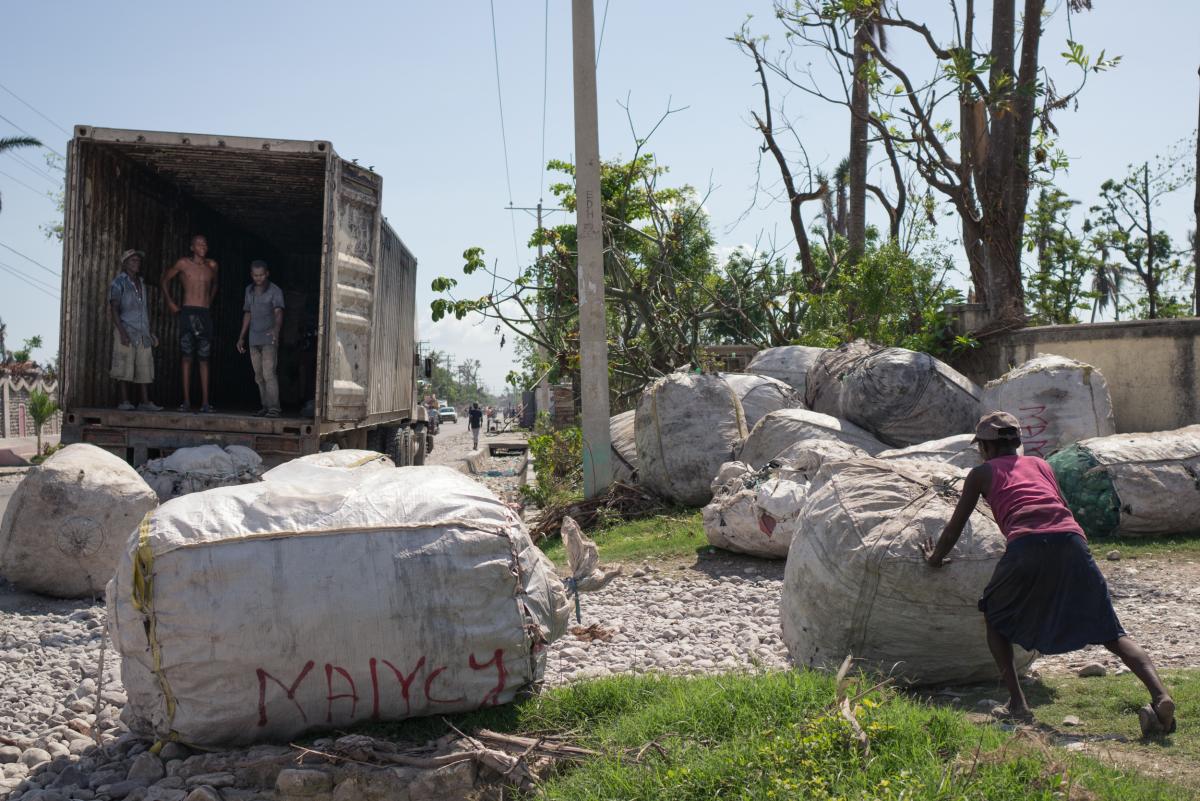 Rose moves super sack of plastic at Nancy's collection centre (credit: Timberland)
Timberland decided to take a different approach with Timberland X Thread and brought in a multifaceted team including developers, designers, material experts and marketers. In late 2014 it sat down with the supplier to discuss how the partnership could evolve going forward.
"The goal is to scale up, without a doubt," says Morey-Reuner. "Ideally we'd like to get to a point where Timberland X Thread is able to supply the majority of our need for fabric that includes recycled PET, whether it's a 50% blend with cotton canvas, or it's 100% recycled PET.
"We use a lot of recycled PET in our liners for both bags and boots, and also outerwear, and so there's an opportunity to evolve Timberland X Thread as a supplier and a partner to help support a lot of our liners."
Timberland X Thread founder Ian Rosenberger says meeting the high specifications demanded by Timberland's design philosophy SPG (style, performance and green) has helped his company innovate.
"For example, making sure [the fabric] could sit on a boot and in a bag, and not wear out. That's an aggressive bar [to set] when you are making things out of bottles. We are now able to start making performance materials, stuff that is lighter and thinner."
The level of transparency Timberland X Thread can offer has enabled Timberland to apply better impact metrics for products containing recycled content. For the first X Thread line, Timberland purchased 76,528 yards of Timberland X Thread fabric, for which 765,280 bottles were recycled.
Compared against products made with 100% conventional cotton, this saved 30,521,203 gallons of water and avoided 15,305 pounds of pesticide use. It also generated 77 new income opportunities in Haiti.
"Prior to Timberland X Thread, most of our partners that supplied us with recycled PET, I couldn't safely say for sure where those bottles came from," says Morey-Reuner.
"Now we're working with a partner who has the ability to take it all the way back to when that bottle was picked out of the ditch. Not only does that enable us to know the provenance of the bottle, it's also allows us exposure into the types of jobs and the social impact that it's created. What Thread offers us that nobody else can is a storytelling capability that can connect with the consumer." 
Timberland is also exploring ways to ensure the legacy of its Timberland X Thread collection doesn't end at the consumer point of purchase. "A leasing model, or other creative type of product lifecycle and chain of custody model, are things we are looking at on a daily basis," says Morey-Reuner. "It's exciting to think about the proposition."
This is part of our circular economy briefing. See also:
Cities push collaboration to close the loop
Toyota and Jaguar show their metal by closing the loop
Main image credit: Timberland
circular economy
B Corporation
PET
supply chains
social impact
Related Reads
comments powered by

Disqus