on
DPDHL, ThyssenKrupp, Bayer and Daimler are among 187 companies that have responded to Angela Merkel's call to industry to help integrate the flood of Syrian refugees
How do you integrate a million or more refugees – many without the language skills to immediately slot in? It's a challenge being faced by governments across Europe. In 2015, the German government called on industry to support the refugees from Syria flooding into the country. It hoped they might in part address skills shortages, and help rebalance its aging demographic. Some firms responded immediately.
By February 2016 corporates in Germany were signing up to a national initiative to help integrate refugees: Wir Zusammen, translated as "we together". It was the brainchild of Ralph Dommermuth, the founder and chief executive of Germany's largest internet service provider, United Internet. 
What began with 36 companies, including DeutschePost DHL, and Deutsche Bank, now encompasses 187. They've provided 3,600 internships, 750 trainees, more than 1,000 permanent jobs and 18,000 mentors.  Those numbers look small compared to the to 1.2 million refugees and migrants who entered the country during 2015 and 2016, but getting this far has been challenging.  Companies are all the while learning how best to develop skills in what could be a hugely motivated workforce.
While work is seen as key to integration, volunteers from many of these companies have also been trying to bridge the cultural divide by doing everything from kicking footballs to form-filling. United Internet itself set up an entry-level programme to give refugees a feel for office work and potential IT careers, leading to an internship programme. It's also provided mobile classrooms and free internet access to enable e-learning initiatives for the German language.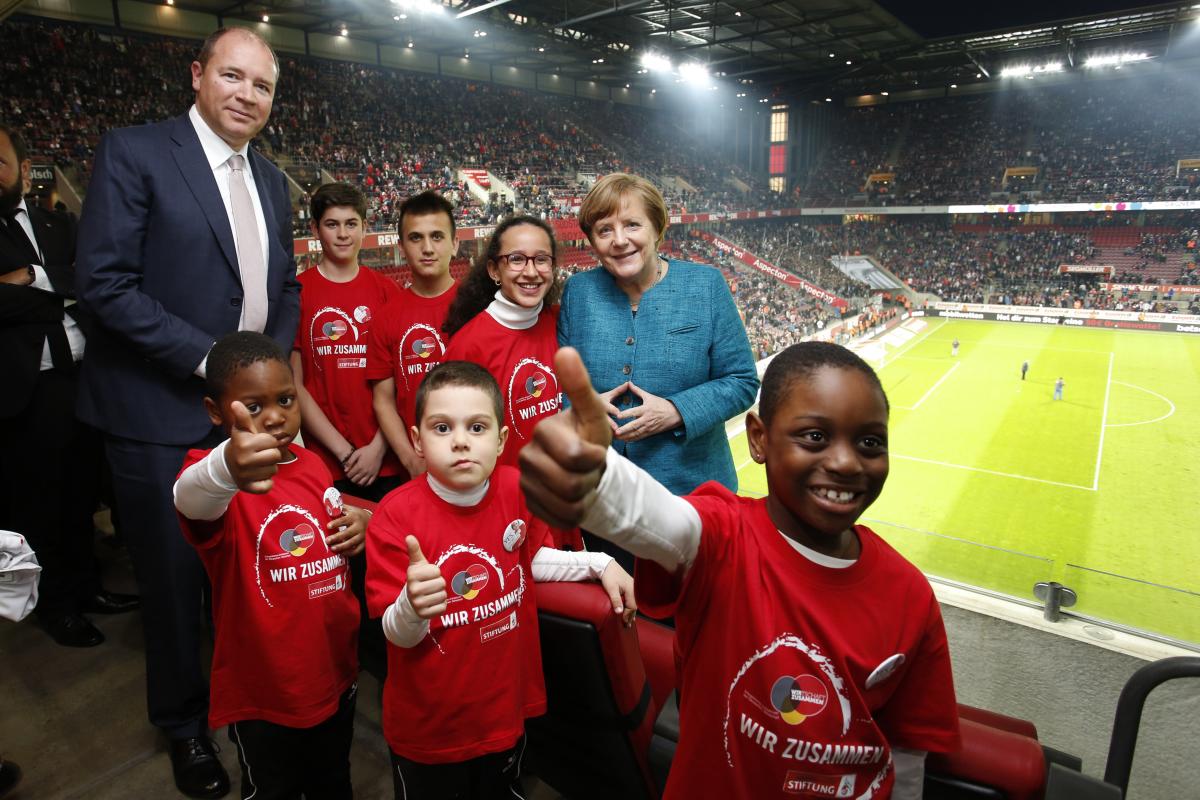 Ralph Dommermuth of United Internet and Angela Merkel (Credit: Wir Zussamen)
Back in the summer of 2015, when refugees began pouring into Germany, DPDHL says it felt it had to respond immediately. It couldn't house refugees but had buildings that could be adapted for temporary shelter. It put in showers and toilets, and funded its employees to get involved in language education, bicycle maintenance workshops, sports provision and the training necessary to help refugees navigate bureaucracy.
The initial budget was €1m. "We're not a charity. We made a business case .... and we build up goodwill," explains Christoph Selig, who heads up DPDHL's global education programme. It's a testimony to its employees' commitment that more than 15,000 of them are involved on a regular basis.
Gurdrun Meis de Benites works in DPDHL's e-commerce division. She had an idea for a central clothing warehouse and convinced the company to provide the space. Other firms offered shelving and boxes, and the City of Bonn agreed to cover ancillary costs. In the beginning, 40 cars packed with donations were arriving each day, and 1,500 items were going out each week. Even DPDHL, with its logistics expertise, had to learn how to make it run smoothly. The warehouse has been running for over 15 months now, with refugees themselves working alongside company staff. Collette Manneman, Integration Commissioner for the city of Bonn, explains a wider purpose: school pupils come to gain experience; and people who have been given community sentences for a crime, also contribute. Neither do the clothes and household goods go solely to refugees: "We wanted to distribute more widely so as not to drive a wedge between them and the poorer people of Bonn," she explains.
Gurdrun Meis de Benites in DHDPL's warehouse for refugees (credit: Angeli Mehta)
DPDHL has been more successful than some in translating its efforts into meaningful employment. Refugee workers in its delivery or sorting offices don't need highly technical skills: many jobs are manual and workers with some reading skills can sort letters. "Development is so much faster when you're integrated into a workplace," observes a company spokeswoman. So far, 540 people have completed internships; 320 have contracts, including 150 who came through the internship scheme and were spotted as having potential. It's not just language they're learning, but cultural expectations, like reliability. "If a parcel has to be delivered at 7 you don't arrive at 7.05." 
But, as Heinrich Heisinger, chief executive of steelmaker ThyssenKrupp said when the previous German president, Joachim Gauck, came to praise the efforts of companies signed up to Wir Zusammen: "Employing refugees is not a solution to the shortage of skilled workers, but it is an extremely important contribution to successful integration ... Training is key to this as the commitment needs to be worthwhile for both sides in the long-term. That's why it's important to train the people who come to us to the standard we need as a company. That takes time and we should allow ourselves this time."
Bayer
Few will understand that sentiment better than life sciences group Bayer, which found that the language skills and science education it requires are lacking, no matter how enthusiastic the young refugees. Bayer began offering intensive language courses and two- to four-week internships to give them an idea of what a job with Bayer might entail. But of 120 people, only one had enough education in science and maths to start a vocational training course for the role of chemical laboratory assistant. Another six pursued vocational training in other companies.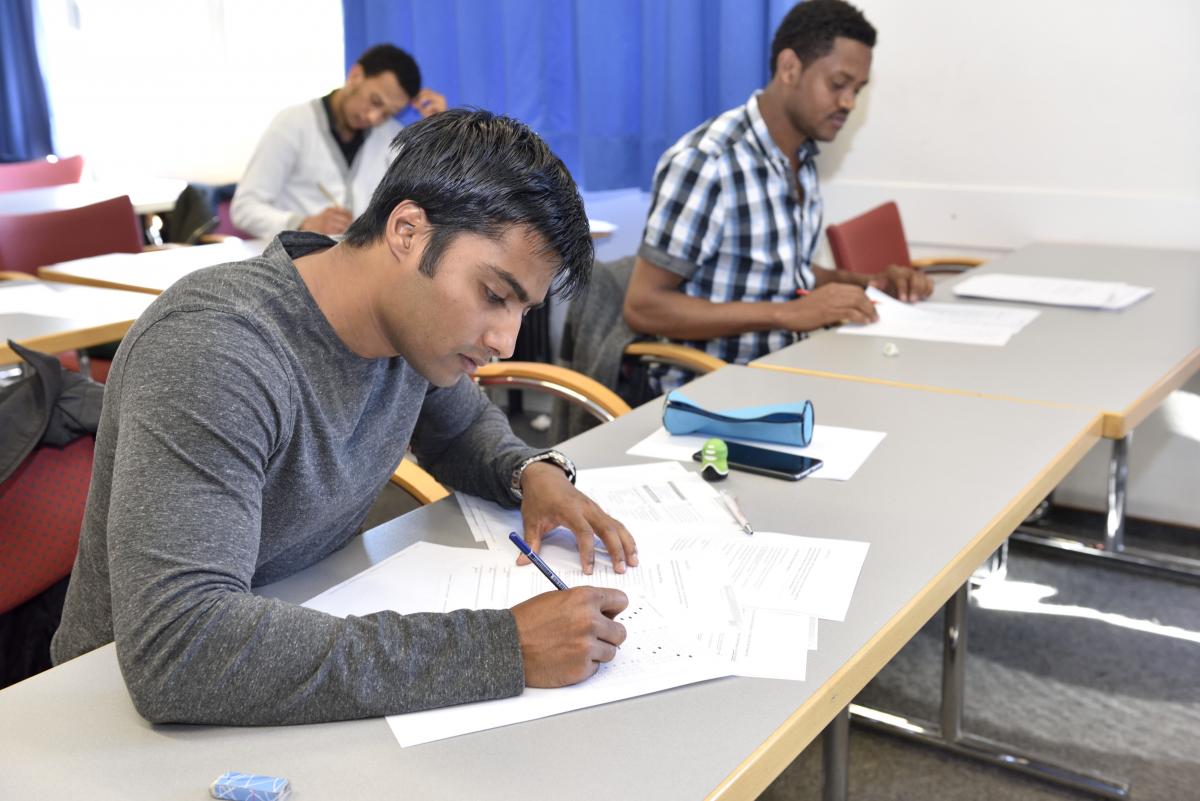 Students in Bayer's training programme
Sometimes Bayer found that a school leaver had as much knowledge as someone with a bachelor's degree, notes Dirk Pfenning, who manages the training programmes. So now, he says "we have a preparation course for vocational training".
This comprises one year of intensive schooling, practical training and language, all run by Bayer in-house. Bayer's vocational training itself takes 3.5 years: "I don't know how many will take the full course," said Pfenning. "Refugees need money. Often they leave after the language course and go for any job." It's possible that only 20% of the intake will get to the end. Bayer is paying them €900 a month but Pfenning acknowledges that amount is not enough. "Refugees then need money from the state to support families and they don't like this," explained Pfenning.
Nonetheless, since 2015 Bayer's training and language courses have expanded onto three sites. Its workforce is also encouraged to support refugees in their communities: Bayer gives them up to eight days' paid leave to volunteer with the German Red Cross and other charities.
Daimler
Automative group Daimler AG says refugees and migrants have long been part of its workforce: more than 140 nationalities work together across Germany alone. It set up a 14-week Bridge internship programme to help refugees access the German labour market, with practical training in production operations and language. In 2016, 600 refugees and migrants were involved. The company is also offering 50 apprenticeships for refugees, with the possibility of employment after that. Daimler says that after the first round of internships at its Mercedes Benz plant in Stuttgart-Untertürkheim, nearly all the participants had good enough German language skills to find work with other employers, while two started vocational training with Daimler. "We see it as our social responsibility to use our infrastructure and financial power to support job integration,"' says a spokeswoman. 
Vocational training at Bayer (credit: Bayer)
ThyssenKrupp also has a large training programme. Its employees are helping to train 150 apprentices, and supporting 230 internships. By early 2016 it had already offered contracts to 50 refugees.
Deutsche Telekom seconded employees to work with the federal government to process asylum requests, and set up a jobs portal where small- and medium-sized companies could post vacancies. Another electronic portal serves as a platform for advice and information. It too encouraged staff to help refugees prepare job applications, and provide language support. 
Elsewhere in Europe, the biggest corporate response has been in Sweden (see IKEA leads Swedish response). In France four companies joined forces in 2015 to provide a range of support from housing and access to healthcare to training. Air Liquide, Michelin, Sodexo and Total all said they'd tailor their efforts according to their own expertise and resources. Total chose to support IT training developed by Simplon.co. Participants were also housed and got French language education. The first class of 22 "refugeeks" graduated last September and such was the success of the programme, that Simplon said 1400 refugees would be trained over three years.
This is part of Ethical Corporation's briefing on the corporate response to the refugee crisis. See also:
Refugee crisis: What the West gains from a warm welcome
Refugee crisis: The firms going to heart of the problem in Jordan
Refugee crisis: IKEA at heart of Swedish response
Refugee crisis: CEOs in push to restore American Dream
Germany
corporate volunteering
CSR
United Internet
Related Reads
comments powered by

Disqus