on
Village-level power systems are crucial if India is to bring electrification to 200 million people without energy access. Mike Scott reports
Microgrids are seen as a crucial instrument to provide electricity to millions of people in India who currently lack access to power, says Atul Mudaliar, India programme manager at the Climate Group. "Currently, there are about 200 million people who don't have access to grid electricity."
Prime Minister Narendra Modi, who was elected in 2014, promised to provide electricity to all of the 18,000-plus villages without power, and in April this year announced that the target has been reached. But the definition of electrification is that at least 10% of houses and public places such as schools and health centres in the village have power, Mudaliar explains. "Just because a village has been electrified, it doesn't mean that all houses are connected and can get access to the power that they need," he says.
Minigrids in India, are a key part of the campaign to bring power to people living in rural areas
Microgrids, also known as minigrids in India, are a key part of the campaign to bring power to people living in rural areas, millions of whom lack access to electricity. The government announced an ambition to install about 10,000 minigrids – so-called because they have an element of infrastructure attached to them rather than just being single devices such as solar lamps – with an aggregate capacity of 500 megawatts (MW) by 2022. "Although there is no accurate count of projects installed in the country, the Clean Energy Access Network estimates that more than 14,000 systems have been installed, says Mudaliar.
There are a number of barriers to India achieving full electrification, including the fact that rural customers are not a priority for the nation's utilities because they are heavily subsidised and different states have different policies.
Solar panels being installed in a village in India. (Credit: greenaperture/Shutterstock)
In addition, microgrids are only allowed to operate where the grid has not yet reached, meaning that as villages get grid access, even if it is only partial, their opportunities are limited. And because the minigrids are operated by private companies, their costs are higher than the subsidised power provided through the grid by the large utilities and distribution companies.
Finally, there is suspicion from the distribution companies, which are already losing customers to rooftop solar schemes in the big cities and fear that microgrids may have the same impact. "There is a lot of pushback from the distribution companies not to have rooftop solar connected to the grid. They are creating hurdles," Mudaliar says.
For funding to increase, it's important that business models move to focus more on making a profit
However, at the same time, the distribution companies are losing a great deal of money because of technical and "commercial" losses (or theft of power) and they are under pressure from both the central government and the states to make the grid more resilient. Proponents of decentralised renewable energy are highlighting the potential for microgrids to help reduce losses by giving control of the supply to local people.
"There are moves to see if minigrids can be connected to the grid and operators can start to act as agents for the network," Mudaliar adds. "A couple of states have introduced regulation, including Uttar Pradesh, which introduced rules in 2016."
Minigrid operators have a number of options in this situation – they can work in parallel to the grid, connect their assets to the grid, making them eligible for feed-in tariffs, or sell their assets to the distribution companies.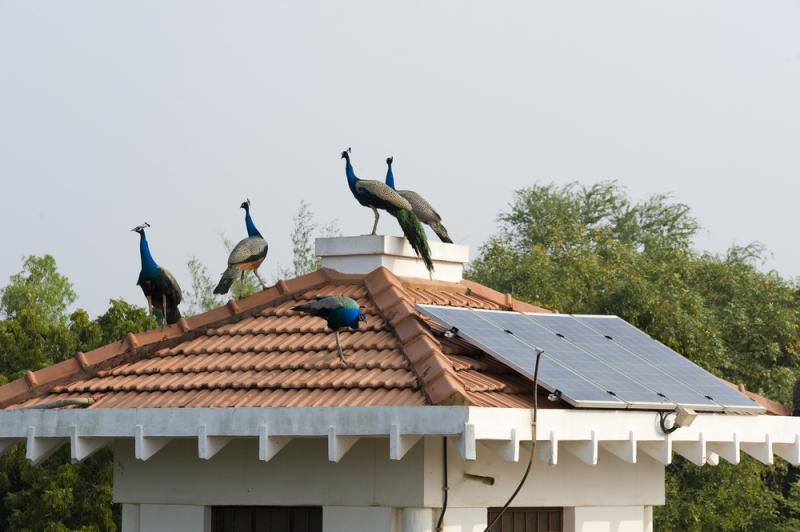 Power firms fear microgrids, like solar schemes, will hit their business. (Credit: Marco Saroldi/Shutterstock)
Many of the companies involved in the sector are social entrepreneurs, often backed by philanthropic institutions, that are focused on increasing access to electricity because providing power to people opens up economic development in remote areas and helps people stay in their communities rather than move to cities to find work. While the social entrepreneur model has been very successful in the initial stages of the minigrid rollout, the sector needs to become more commercial if it is to scale up, says Mudaliar.
"We are working very closely with the finance companies to see what their level of understanding is of these products and what they need to be comfortable funding them. For funding to increase, it's important that business models move to focus more on making a profit," he adds.
This should be entirely feasible. "These are essentially infrastructure assets with returns over 10-15 years," he concludes.
Mike Scott is a former Financial Times journalist who is now a freelance writer specializing in business and sustainability.  He has written for The Guardian, the Daily Telegraph, The Times, Forbes, Fortune and Bloomberg.
Main picture credit: Svetlana Eremina/Shutterstock
This article is part of the in-depth battery storage and microgrids briefing. See also:
Why California's dreaming about battery storage
From Hawaii to New York, US states are joining the storage revolution
How energy storage is unlocking the full power of offshore wind
South Australia's clean energy transition powers on
How microgrids are bringing green power to the people
microgrids
renewable energies
India
minigrids
Climate Group
Related Reads
comments powered by

Disqus