on
Amid over-tourism accusations and growing concern about climate impacts, Ethical Corporation looks at sustainability efforts in the cruise, hotels and airlines industries in this month's issue of the magazine
One of the things that gets me through the dark, damp days of a London winter is planning a holiday getaway in the sun or snow. And I am scarcely alone.
Roughly 1.3 billion overseas trips were made by travellers in 2018, according to the United Nations World Tourism Organization, another record year, and a doubling of the numbers just since 2000.
In our sustainable tourism briefing this month we look at what the hotels industry, the cruise sector and airlines are doing to try to reduce the climate and social impacts of their soaraway growth.
As Angeli Mehta reports in her package on airlines, CO2 emissions from aviation are on course to grow by up to 700% by 2050, with even the most ardent environmentalist having difficulty kicking the flying habit.
The contradictions are particularly evident as we publish this issue in the week that the World Economic Forum kicks off in Davos, where top executives have reportedly chartered 1,500 private jet flights to fly into a fragile mountain landscape to talk about what they plan to do to tackle climate change – an 11% increase in such flights from last year.
Angeli Mehta looks at industry moves to cut airlines' climate impact, including the use of biofuels, and assesses the impact of new voluntary rules for offsetting under the Corsia sustainable aviation scheme.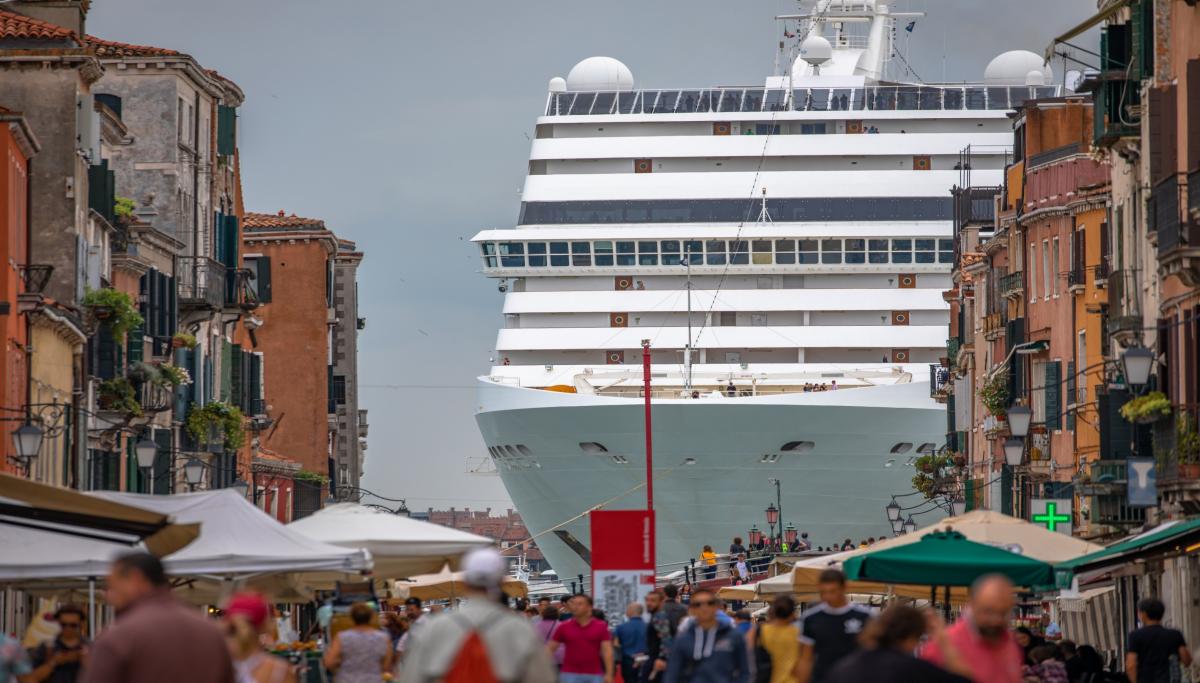 Many airports now claim to be carbon-neutral in their ground operations, but Heathrow Airport believes its greater impact will be in influencing what happens in the skies. Angeli Mehta reports on how the airport intends to use landing charges to incentivise adoption of cleaner and quieter fleets and wants to become a hub for the development of sustainable aviation fuels.
The cruise industry has been under fire because of the growing protests in European cities about over-tourism, and due to their contribution to pollution and CO2 emissions. In January a new €8 tax on "day-tripper" cruise passengers came into effect in Amsterdam, prompting two cruise lines, MSC Cruises and Cruise and Maritime Voyages, to cancel future stops in the city.
Eric Marx looks at how cruise operators are working to defuse their biggest sustainability challenges. And he also reports on how cruise companies are among the first in the shipping industry to show an interest in wind propulsion.
Meanwhile, Amy Brown reports warnings from The International Tourism Partnership that for the hotels industry to be compliant with the Paris Agreement, it will have to cut its carbon emissions per room per year by 66% from 2010 levels by 2030, and 90% by 2050. She looks at how big hotel chains are working to align themselves with the Global Goals and the Paris Agreement, setting goals to tackle water scarcity, carbon emissions, human rights and youth employment.
She also writes about how the hotel industry is at the frontline in the fight against human trafficking, while Barbra Anderson of Destination Better argues that the travel industry needs to put robust programmes in place to address the risks of participating in modern slavery.
Our second briefing is on the global push to rescue oceans, which are under unprecedented stress. Angeli Mehta looks at a plethora of initiatives, including the just-launched Alliance to End Plastic Waste, new rules to cut shipping emissions, the UN Global Compact Action Platform for Sustainable Ocean Business, and the proposed expansion of the Natural Capital Protocol to include oceans.
She also reports on how initiatives like Global Fishing Watch, Sky's Ocean Rescue and the retailer-led Seafood Task Force are trying to tackle over-fishing, a practice that is doing untold damage to the marine ecosystem.
As always, there's a lot to digest in our February issue. We hope that our subscribers will find that it is time well-spent.
travel and tourism industry
over-tourism
oceans
over-fishing
climate change
Aviation
Related Reads
comments powered by

Disqus