on
For the UK to deliver on its new net zero greenhouse gas target, car travel needs to reduce by 20% and flights by 18%. Mike Childs of Friends of the Earth urges the government to put climate change at the centre of its thinking, before it's too late
Is it possible to go too far, or too fast, in responding to the climate crisis?
No. And politicians have known for a long time that something needed to be done but continue to be wedded to business as usual.
One of the more egregious examples lies in The Department for Transport (DfT), for it has gone rogue on climate change. Transport is the only sector where greenhouse gas emissions have increased since 1990 – combining emissions from international aviation and shipping with emissions from surface transport shows there's been a 10% rise in emissions, while aviation emissions have more than doubled.
This perhaps isn't surprising. As research conducted for Friends of the Earth shows, the DfT has systematically side-lined climate change in its decision-making, for example in its own investment strategy, in its guidance advice to Highways England, in its appraisal methodology, and in what it says to local authorities. Frankly, the DfT has largely ignored the implications of the Climate Change Act for its own work. No wonder the government's official advisors have had to repeatedly write strongly worded letters to Secretary of State Chris Grayling.
The fact is that the scale of the challenge has only increased because the DfT side-lined climate change for so long
Now a new study for Friends of the Earth shows that for the UK to deliver on its new net zero greenhouse gas target, a 20% reduction in car travel needs to be a reality in the next 11 years. Further, 100% of new cars need to be electric, and flights will have to be reduced by around 18%. This may not sound terribly ambitious in the general scheme of climate change. But lining-up the alternatives to car-use – such as additional capacity on train lines, trams and segregated cycleways – takes time, as does change the public's car-using habits.
The fact is that the scale of the challenge has only increased because the DfT side-lined climate change for so long.
Given this, what scale of carbon pollution reduction from transport is now needed? The Committee on Climate Change is yet to give its verdict on this following the government's agreement to its net zero target. Next year the committee will make recommendations on the pathway to net zero, but what is clear is that it will need to be a steeper reduction pathway than the current pathway to the previous 80% by 2050 target.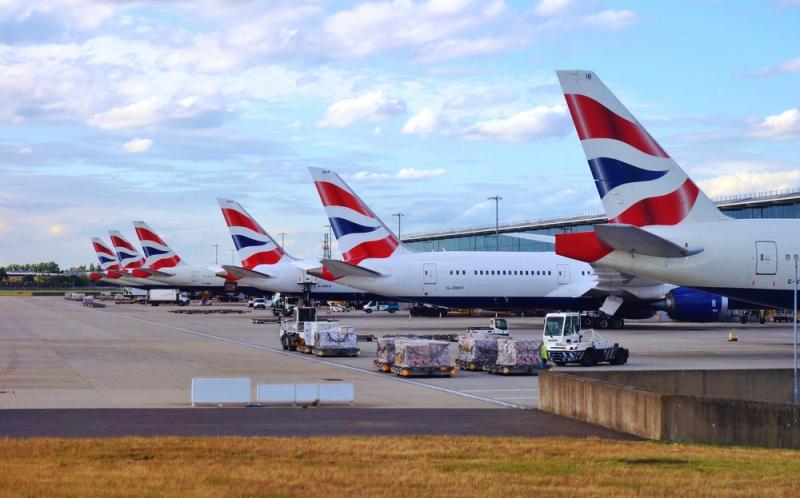 The government 'needs to stop the damaging fixation with aviation expansion'. (Credit: EQRoy/Shutterstock)
Some academic researchers have suggested that the cut in carbon pollution from transport should be as much as three-quarters from current levels by 2030 but the research for Friends of the Earth suggests the Committee on Climate Change is more likely to recommend a more conservative target of around a 55% reduction. This is still very substantial against a backdrop of rising aviation emissions and foot-dragging on the transition to electric cars.
Clearly, climate change should form the central part of any government thinking and legislation, including the DfT. If we get this wrong, there's nothing that can be considered safe, no area of day-to-day life that won't suffer – flooding in this country will increase and the moorland fires in Greater Manchester and Lancashire last year can be expected again for starters. These are undeniably bad, but can they compare to the loss of life and livelihoods elsewhere in the world where the sharp end of climate chaos is already felt? How about food security? It's understandable that faced with what runaway climate chaos can do that people feel overwhelmed, but government has to do better.
Kindly dispositioned people will have some sympathy for the scale of tasks that daily face Whitehall, but sometimes things don't have to be difficult and we're faced with a case of under-performing, successive governments having made bad decisions: these decisions now need to be rectified.
The DfT just needs to crack on, and for that we need a Secretary of State committed to addressing the climate emergency
The Dft is perfectly placed to make the changes that will result in massive benefits – it just needs to crack on, and for that we need a Secretary of State committed to addressing the climate emergency.
A sector that is now the biggest source of greenhouse gases is surely well positioned to fix things by investing properly, even generously, in cycling and walking. They need to stop the pointless and damaging fixation with aviation expansion, and accept that more roads are not the answer. All the research shows that building more roads leads to one outcome: more traffic, resulting in more emissions, and slower journeys: circular insanity.
The next Secretary of State for Transport under the new PM needs to lead a low-carbon revolution in transport because it's the obvious starting point.
Forecast GHG emissions for total transport in 2030 compared with actual levels in 1990 and 2017.(Credit: FoE)
Currently, aviation isn't included in revised carbon budgets – if it were, there's no way net zero by 2050 would be achievable.
Even so, we have to move away from far and future date promises: this PM (whomever that may be in a month's time) this cabinet, has to do the tough work now because there just isn't any time left to fiddle.
But the government has applied some sleight of hand in trying to have us believe that Heathrow expansion can be remotely considered compatible with net zero. Because it isn't possible, it decided to ignore aviation emissions. Clearly that's got to be sorted.
Don't underestimate the wide welcome from people if the demand for flying and driving was constrained
A frequent-flyer levy is a sensible policy that needs more research, but it'd be something. It may be unpopular with some parts of the electorate, but don't underestimate the wide welcome from other people if the demand for flying and driving was constrained. As well as helping meet carbon targets this would have enormous benefits for UK local tourism, air quality and public health.
Too often the cost of things are invoked when the discussion should be about the cost of not doing something, as well as the cost benefit – we'd be happier and healthier if transport was better.
Mike Childs is Head of Science, policy and research, at Friends of the Earth
Main picture credit: Jevanto Productions
Aviation
GHG emissions
climate emergency
Chris Grayling
DfE
Related Reads
comments powered by

Disqus