on
In an extract from her book Do Good, Anne Bahr Thompson outlines her five-step model for a new business ethos called 'brand citizenship'
Change is often a slow process, coming after we spend weeks, months, or years thinking about how we can be happier, more successful, or more fulfilled. Other times, change pursues us: we're fired from a job, natural disaster strikes, a spouse calls it quits, or a child is diagnosed with a potentially terminal disease. Whether by choice or necessity, we typically discover that change takes time, is full of competing demands, and is far from easy − even when it's by choice. 
The process of change is no different for a business, particularly now, because the model that's guided business for the last several decades must change. What was an optional path for companies before the millennium has become mandatory. The global economy, technology, climate change, generational shifts, and an evolving socio-political landscape are all dramatically altering the ways in which people consume, engage, and even abandon the brands in their lives. People want the companies they do business with to "do good" and make the world a better place, and to advocate on their behalf, making them feel as though they belong to a larger community or even a grander mission. Customers are calling for, yearning for − and paying for − a new business ethos that I've named "brand citizenship". 
Brand citizenship isn't about a company sacrificing to better the world. It's a five-step model that integrates "doing good" activities, such as fair employee policies, corporate and social responsibility (CSR), sustainability programmes, ethical sourcing, and charitable giving, with brand development to strengthen a brand's reputation, foster greater loyalty, and enhance value creation.
While more and more companies desire to partner in new ways with customers, employees, and other stakeholders, there is no definitive way to do this. Many executives wrestle with integrating sustainable, environmental, and social initiatives into their corporate mission, and aligning them with the products and services they offer. For a large number, the activities related to doing good still conflict with the classic business school mantra that has dictated corporate behaviour for decades: the primary purpose of a corporation is to maximize profits and shareholder value. It's a notion that was popularised by economists in the 1970s, most notably Milton Friedman.
Yet 30 years before Friedman, Theodore Kreps, a professor at Stanford's Graduate School of Business coined the term "social audit" as he strove to establish a process for companies to report their contribution to society. Since then, there's been a wealth of academic research on the rise of social consciousness in business.
A research project by my company, Onesixtyfourth, which explored brand leadership, good corporate citizenship, and favourite brands, found that "real" people define corporate social responsibility and corporate citizenship very differently from academics and experts. During the three-plus years of the CultureQ project, research participants told us that the first responsibility of a business is to live up to its promises to its customers and employees, followed by aligning its purpose with behaving responsibly, in a way that advances society.
With executives, academics and the general public having varying perceptions of the purpose of a business and role of corporate citizenship, it's not surprising many executives are hesitant to adopt new ways of working and integrate doing good into their corporate missions.
Today's consumers easily identify sustainability and philanthropic efforts that are "bolted on", or straight-up marketing ploys, disconnected from what they know or believe is true about a brand. At their best, such programmes fall flat or fail to grow revenue and fans. At their worst, they can significantly erode a loyal customer base. Further, as many corporate executives have been experiencing over the past two years,the rise of populism dictates more equity and fairness in business decision-making.
Beginning in 2011, participants in our research began expressing the belief that companies were better-equipped than governments to address and solve problems − from the ordinary needs of daily living to the big issues of our age. Our research also showed that people support companies that demonstrate they have their customers' and employees' best interests at heart. The qualitative and quantitative studies we conducted led me to uncover something unexpected: people want brands to start with a me-first orientation and then to span across a me-to-we continuum of brand citizenship. Brands must first deliver value to individual consumers (me) and then, depending on the brand's purpose, move outward toward delivering added value to society: the collective we. 
Brand citizenship is a five-step model reflecting our flattened world, where greater consumer–corporate collaboration can deliver significant benefits to customers, corporations, employees, suppliers, other stakeholders, and society alike. Until the economic crisis in 2008, as long as companies delivered on shareholder value, investment and growth generally continued every quarter. The peak of the crisis, however, emphasised a shift from shareholder to stakeholder value. Brand citizenship champions this by embracing profitability and responsibility as harmonious concepts.
Step 1: Engender trust
Brands that deliver on their promises are trusted more. Digital communications and information channels have made reciprocity one of five key requirements for trusted brands. Farrow & Ball's The Chromologist blog is a fun example of this. The UK paint-and-wallpaper supplier offers a deep dive into the world of colour in art, decoration, food, fashion, literature, and more. SunTrust, one of the largest regional banks in the US, has also discovered ways to give customers unexpected and worthwhile benefits that reflect its brand purpose through its onUp programme. Anyone, not just SunTrust customers, can join onUp and learn to become a good steward of their own money, no matter how modest their means, and the programme has nearly 2.6 million participants.
Step 2: Enhance daily life
People identify more with, and are less price-sensitive toward, brands that help them to simplify their routines, make mundane tasks less dull, and enrich their daily lives. The baby food manufacturer and public benefit corporation Plum Organics, for example, offers authentic, wholesome foods, packaged in innovative, environmentally friendly ways. Through its focus on nutritional intelligence, its "parenting unfiltered" initiative, and "the full effect"social impact programme the brand has grown a loyal following.
Step 3: Behave responsibly
Customers expect brands to treat their employees fairly, behave ethically, and be proactive in their business practices. Kimberly-Clark, a winner of numerous awards globally for being a great place to work, brought its billion-dollar brands to the forefront of delivering social initiatives, tackling relevant issues in its supply chain, and raising awareness of social issues. Importantly, the company's CEO is the number one advocate for embedding sustainability and social responsibility across the business. 
Step 4: Connect communities
Brands that rally communities, motivate behavioural changes and fix social problems – provided they are not overtly political – attract more loyalists. The British mobile operator Giffgaff has built a highly successful, award-winning brand in the competitive telecom space by creating a mobile community based on fair pricing, an online forum at the centre of its network, and reaching out to customers in a variety of entertaining and practical ways.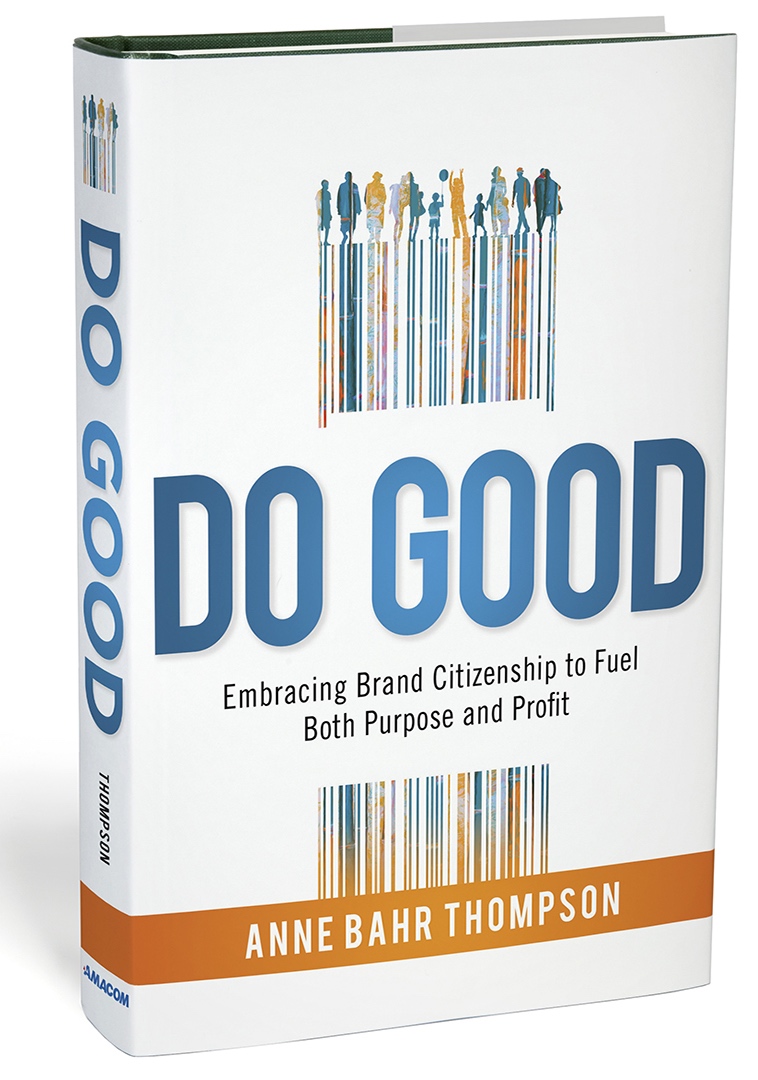 Step 5: Make a positive contribution
Brands that seek to play an active role in creating a more positive future attract loyal customers. Lush Fresh Handmade Cosmetics is a creator and purveyor of natural bath and beauty products, born of its founders' determination to live their purpose and embody activism. The brand continually expands its reach and the ways in which it connects its fans to sustainable products, fair trade, and philanthropic causes.
The phrase "doing good" conjures up images of idealism and altruism. Yet globalised sourcing, production, and sales all insist that long-term success be dependent on meeting the needs of a wide range of stakeholders. In an interconnected world where mashups of all kinds are mainstream and where social media enables people to share stories globally of good and bad experiences with products and services, the notions of doing good and earning a profit cease to be at odds with each other.
This is an edited extract from Do Good, by Anne Bahr Thompson, with permission of the publisher, AMACOM Books (www.amacombooks.org). None of the brands listed is a client of the author.
Main image credit: Lush
Lush Cosmetics
CSR
FMcGs
SunTrust
Farrow & Ball
Giffgaff
Kimberly-Clark
Plum Organics
Related Reads
comments powered by

Disqus