on
Negative progress towards a deforestation-free economy; global chemical industry faces pollution problem as demand increases; and fashion industry under pressure over transparency of its supply chains in Oliver Balch's sustainability news roundup
ONCE UPON a time, 2020 felt like a long way off. Now, with less than nine months until the start of the next decade, the landmark date looks mighty close. At current trajectories, corporations that set themselves 2020 deforestation targets look highly likely to miss them. So predicts a new report into the performance of the world's 500 most influential companies with forest-risk commodity supply chains. Of the 164 companies within the Forest 500 ranking that have 2020 deforestation commitments, not a single one is projected to achieve its objectives.
This depressing conclusion is the result of research by Global Canopy, an Oxford-based non-profit promoting a deforestation-free economy. More worrying still, progress by the companies under investigation appears negative. Of the 228 firms in Global Canopy's analysis, 70% did less to achieve their stated commitments this year than last year. Around two-fifths (40%) of the Forest 500, meanwhile, are judged to be "not doing anything" to tackle the threat of deforestation in their supply chains. The research focuses in particular on corporations connected to palm oil, soya, timber and cattle. The latter is particularly overlooked, the researchers suggest, with only 16% of relevant companies shown to have forest-related commitments for the beef and leather goods that they source and sell. Global Canopy also tracked the top 150 financial institutions backing its target forest-risk companies. In this case, it finds nearly two thirds have no financing policy for any of the four, high-risk commodity supply chains under scrutiny.
The findings come just as a campaigners step up calls to protect and restore the world's forests as a defence against accelerating climate change. In an open letter published in The Guardian earlier this month, 23 influential campaigners argued that one third of the greenhouse gas reduction required to meet the 2015 Paris Agreement could be provided by the restoration of forest and other natural habitats. Recent years have seen a few isolated reasons for encouragement. Pakistan, for instance, has planted 350,000 hectares of trees as part of its Billion Tree Tsunami project (although the country's forest cover still remains less than 5%, well below the 12% minimum figure advocated by the United Nations). In central Africa, meanwhile, the new Regreening Africa project aims to build on existing replanting schemes, such as AFR100 and the Great Green Wall Initiative, by restoring over one million hectares of degraded land over the next five years. If successful, such initiatives could see the realisation of the UN's call for the restoration of 865 million acres of degraded forest and farmland by 2030, as per the New York Declaration on Forests.
The private sector is not completely devoid of positive developments, however. Tech manufacturer HP, for example, has pledged that every page printed by one of its printers will be "forest positive". The commitment, which does not have a public target date, will see HP form partnerships with conservation groups to help develop science-based targets (SBTs) for responsible management of forests, among other activities. HP also announced that its HP-branded paper is now forest positive and that its zero deforestation target for its paper-based packaging will be achieved by 2020. In the tyre industry, meanwhile, leading manufacturers have come together to promote a joint initiative to combat deforestation and other socio-environmental issues related to the industry. The 37-member Global Platform for Sustainable Natural Rubber emerged out of the World Business Council for Sustainable Development's Tire Industry Project. The initiative's members, which also include rubber suppliers and processors, vehicle makers (Ford, General Motors and BMW), and voluntary organisations, met for their inaugural annual meeting late last month.
Chemical industry's pollution problem
In 2017, 1.6m people died from diseases linked to environmental chemicals. (Credit: Mikadun/Shutterstock)
LOVE THEM or loath them, chemicals are now an intrinsic part of our lives. Used in a vast array of different industrial and manufacturing processes, they bring multiple benefits but also potential dangers – both for human health and the environment. According to the World Health Organization, 1.6 million people died in 2017 from cancers and cardiovascular diseases linked to chemicals in the environment. This alarming figure appears in a major new report by the United Nations Environment agency. The Global Chemicals Outlook, now in its second iteration, warns that the world's cities will produce 2.2 billion tonnes of chemical waste every year by 2025, a threefold increase on 2009 figures. Demand is set to increase as well. The production capacity of the global chemical industry (which currently stands at 2.3 billion tonnes per year) is projected to double over the next decade.
Governments have been slow to respond, the UN states. From 2010 to 2014, only 57% of the parties to the Basel Convention on the Control of Transboundary Movements of Hazardous Wastes and their Disposal provided the requested data and information. The figure for the Stockholm Convention on Persistent Organic Pollutants was even lower, at 51%. The effort to improve standardisation is also slow. More than 120 countries are still to take meaningful steps to implement the Globally Harmonized System of Classification and Labelling of Chemicals, which is seen as particularly important for developing countries and economies in transition.
Historically, the preventative focus of the chemical industry, which boasts sales revenues of over $5 trillion per year, has concentrated on particularly harmful pollutants, such as asbestos (in the construction industry), mercury (resulting from mining especially) and pesticides (used in agriculture). In recent years, plastics and microplastics  have shot up the list of concerns. Around 50% of the 335m metric tonnes of consumer plastic produced every year is used only once; if all the plastic that is thrown away annually were collected, it would encircle the earth an estimated four times.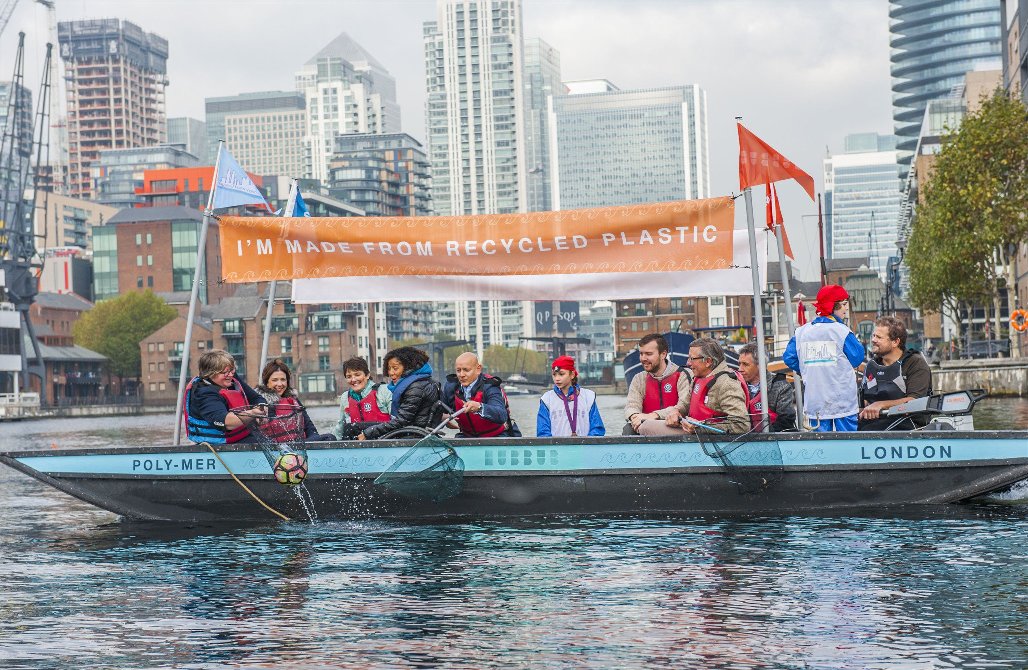 The Plastic Fishing Tour is now in its third year. (Credit: Hubbub)
Given this context, environmentalists have welcomed an announcement from US oil major Exxon Mobil that commits it to start reporting spills of plastic pellets from its chemical plants. Exxon has said the information will be included in its sustainability report later this year. The issue was the subject of a pending shareholder resolution tabled by campaign group As You Sow. The group says it will now withdraw the resolution. Coca-Cola European Partners, the largest Coca-Cola bottler in Europe, has also used its 200-page annual integrated report to reveal positive developments around its use of plastic. According to the company's own figures, over one quarter (27.6%) of the materials used to make its bottles were derived from recycled plastic last year, more than 10 times above the the beverage industry average (of 2-3%).
Coca-Cola European Partners' report also highlights a beach-cleaning campaign in Spain and Portugal that was co-funded by the company. The Mares Circulares initiative resulted in the collection of 584 tonnes of waste from 82 beaches, 12 ports and 11 marine reserves. In the UK, a similar clean-up is also scheduled. In May and June, a 12-seater punt made from 99% recycled plastic will travel up rivers and canals in and around the cities of Birmingham, Bristol and Manchester, as well as across regions of central Scotland. The punt, which is funded by revenues raised by coffee chain Starbucks from its 5 pence charge for disposable cup use, will be used to raise awareness of the need to recycle as well as clear up the selected waterways. The Plastic Fishing Tour is now in its third year. Meanwhile, the question of how plastic enters the world's waterways and what happens to it thereafter is the subject of a global initiative led by the University of Birmingham. Initial findings from the 100 Plastic Rivers Project, which took samples from the water and sediment of 60 rivers worldwide, will be published on the European Geosciences Union's website. 
Cleaner clothes: fashion sector urged to open up
Garment factories pose the second-highest risk of slave conditions. (Credit: SK Hasan Ali/Shutterstock)
FASHION RETAILERS and their designers are under pressure to increase the transparency of their supply chains in a bid to answer long-running criticisms about the maltreatment of workers and other abuses. The latest call comes from the C&A Foundation, the charitable arm of high-street fashion firm C&A, which has launched an online system that allows fashion companies to clearly disclose their suppliers around the world. The Open Apparel Registry works by giving a unique identification number to individual garment facilities and then using an address-matching algorithm to connect the facilities to suppliers and buyers. The project is akin to ForestMapper, an online tool supported by brands such as H&M and Marks & Spencer, which maps the world's ancient and endangered forests.
Among other abuses, it is hoped that the apparel-focused database will curb instances of modern slavery in the clothing industry. According to findings in the Global Slavery Index 2018, garment factories are the second most likely place to find some of the estimated 40m people working in slave conditions (the most affected sector is electronic tech manufacturing). In light of such risks, online fashion retailer ASOS has reported its intention to carry out "deep dive" sessions with supplier brands in the coming months to help them better address modern slavery risks. In its recently published, 19-page statement on modern slavery, the online fashion retailer reveals that it has fully mapped its Tier 1, 2 and 3 suppliers. In total, the firm sources from 1,134 factories in 28 countries, representing a total indirect workforce of 183,163. Its own direct employees number a mere 4,386. The global attention now given to the risk of slavery in the garment industry was recently highlighted in Brazil, where the country's largest fashion brand Fabula Confecção e Comercio de Roupas (owned by Grupo Soma) was named in a government list of companies involved in slavery. The charges relate to the treatment of 37 Bolivian workers in three São Paulo workshops, which Fabula had contracted to manufacturer its high-profile A.Brand and Animale clothing lines.
The fashion industry has a more positive story to tell with respect to sustainable cotton. New results published by the business-backed Better Cotton Initiative (BCI) find that retailers source more than one million metric tonnes of cotton certified under the Better Cotton standard – a 45% increase on the previous year. H&M, which has set itself the target of using 100% sustainable cotton by next year, was the largest buyer of certified cotton in 2018 (its third consecutive year at the top of the list). Adidas purchased 100% of its cotton from sustainable sources last year, although its net total was smaller than that of H&M. UK high-street fashion retailer Primark used the publication date of BCI's annual report to announce the launch of its first range of jeans made from 100% sustainable cotton. As part of its commitment to sustainable cotton, Primark is training 28,000 Pakistani and Indian farmers in sustainable farming methods. Global production of cotton grew 16% to 27m tonnes last year; only 4% of this is currently covered by the Better Cotton Initiative.
Main picture credit: Greenpeace
Forest 500
deforestation
Billion Tree Tsunami
rubber
chemical pollution
Exxon Mobil
Mares Circulares
Better Cotton Initiative
modern slavery
fashion industry
Related Reads
comments powered by

Disqus