on
Technologies such as blockchain, GPS, and mobile phones are helping companies root out human rights risk in their supply chains
The world's biggest companies have a global reach that is matched by their supply chains, which are long, complicated and very opaque, making it difficult to identify the plethora of potential human rights and environmental risks that could trip them up. In a world where the value of global trade was $16 trillion in 2015, according to the World Trade Organisation, this is a significant global challenge.
But just as a more connected world is shedding daylight on the possible abuses in companies' supply chains, technology is also helping companies bring transparency to their supply chains, and restore consumer trust. These solutions range from schemes that harness well-worn technology such as mobile phones to cutting edge initiatives such as blockchain, the technology behind cryptocurrencies such as bitcoin.
The UK NGO Twin is working with a Dutch company called Landmapp to give smallholder farmers producing cocoa in Ghana documentation proving that they own their land. "The majority of people in co-operatives own their land but that ownership has not been formalised," says Deborah Bickler, senior programme manager in Twin's producer partnership programme. "Ownership has been managed through the local chieftains, but it has never been formally titled until now."
Landmapp uses a smartphone GPS app and maps smallholdings by physically walking around the boundaries. "For smallholder farmers securing their land is very complex and an enormous challenge," the company says. Landmapp doesn't just map the land, it also educates farmers on the importance of land tenure, verifies their identify, validates the land claim with neighbours, submits the claim to the authorities for legalisation and places the final documentation in the hands of the farmers.
The female dividend
This process has a range of benefits that extend beyond the formalisation of the ownership process. "If the ownership is formally recorded, then people have a better understanding of their boundaries and it is a starting point for dealing with disputes," says Bickler, "and it makes it easier for farmers because it provides an accurate basis on which to calculate the inputs they need for their farm such as fertiliser and chemicals."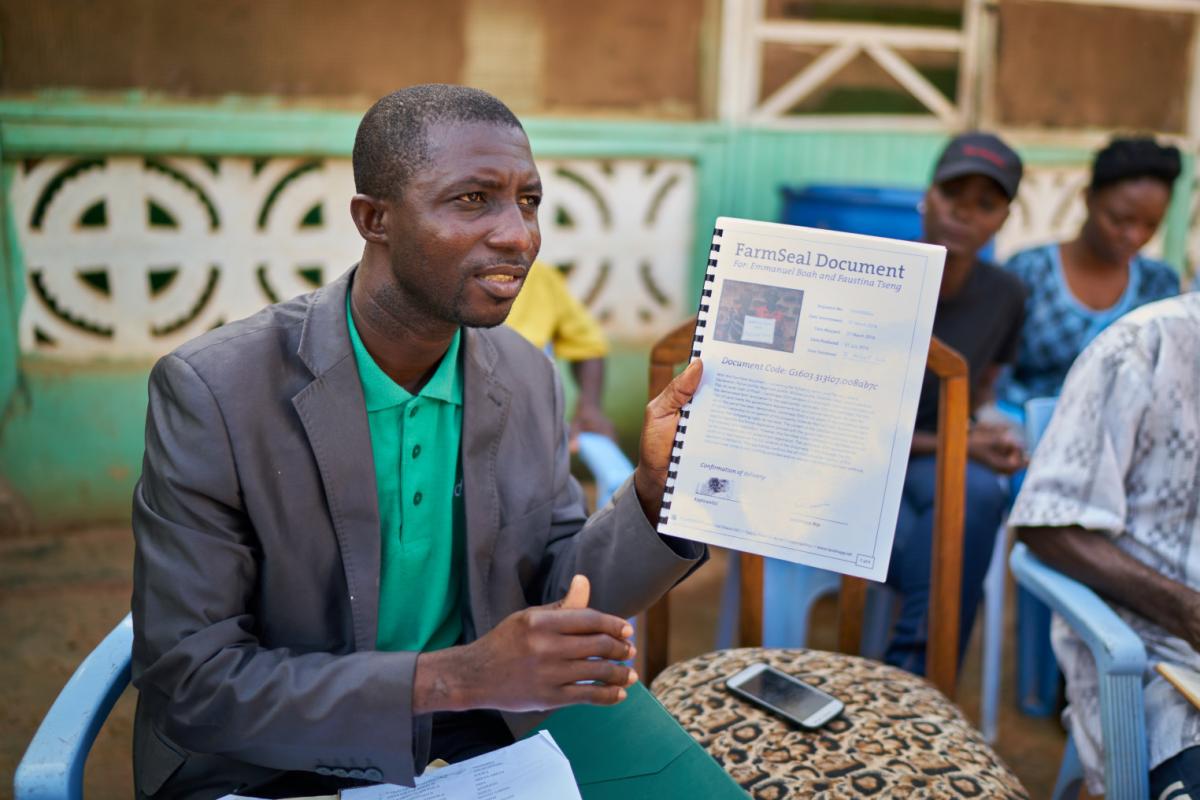 Landmapp allows cocoa farmers in Ghana to prove land ownership (credit: Nana Kofi Acquah)
The mapping has further benefits for co-ops that are trying to become certified to standards such as Fairtrade, Rainforest Alliance and UTZ, or to demonstrate their continuing compliance. "In a big co-operative, especially if it has to meet certification standards, the only way to manage that is through technology," she adds. "It's very useful for tracing who is producing what and for providing support for farmers."
And with NGOs such as Twin and major cocoa buyers Nestle and Mars trying to encourage more women to get involved in the sector, the mapping initiative has another benefit: "We are trying to encourage women to have greater involvement and leadership in the cocoa business. Land mapping is crucial in supporting that by giving them greater security," says Bickler. "They have found themselves excluded from co-ops in the past on the basis that they didn't own land, so it's really important for women."
Meanwhile, supermarket chain the Co-op has been working with a London-based start-up called Provenance, which uses blockchain to make supply chains more transparent.
"We have a long history of taking action to support customers' right to know about how the products they buy are made and sourced so that they can make an informed purchasing decision and the best choice for them personally," says Cathryn Higgs, head of food policy at the Co-op.
Tamper-proof transactions
Because blockchain is a public, tamper-proof record of transactions that is maintained and verified by a network of co-operating computers, rather than one central authority, it is well-suited to providing end-to-end supply chain visibility.
Every product has a story, says Provenance founder Jessi Baker (credit: Provenance)
"Being transparent still matters. But how do we make sure the Co-op stays ahead of the curve when it comes to building trust from transparency in the digital age?" adds Lawrence Kitson, service designer and product manager at the Co-op.
Co-op and Provenance are working on a proof of concept looking at the retailer's supply chain for gladioli, which have a supply chain that "has enough steps to be interesting, but is small enough for a proof of concept. "Our progress has given us the confidence that, despite the many challenges of scaling, this idea is something that's worth looking into further," says Higgs. It has also raised the possibility of collecting information about other issues, including nutrition, allergens, ingredients, origin and food miles, CO2 emissions, welfare and price per unit.
"All of this data already exists but within 'data silos' across different systems, organisations and processes," Higgs says. "We're thinking about how we could collect it, standardise it and make it open and accessible to teams."
A digital passport
Every product has a story, says Provenance founder Jessi Baker. "Our platform lets brands bring the origin and histories of products to the point of sale. Opaque supply chains pose a huge risk to business and compromise both people and planet.
"Provenance enables every physical product to come with a digital 'passport' that proves authenticity (Is this product what it claims to be?) and origin (where does this product come from?), creating an auditable record of the journey behind all physical products," she adds.
Blockchain can be used to, for example, record and immediately share which mine a shipment of cobalt comes from. The metal is vital in the production of batteries for consumer electronics devices such as mobile phones, computers and electric cars, but 60% of the world's cobalt is mined in the Democratic Republic of Congo, where working conditions in some mines are appalling and child labour is often used.
In its Human Rights 2017 report, risk consultancy Verisk Maplecroft describes the journey cobalt takes from a mine in the DRC, via a local metals market, to the capital Kinshasa. There it is smelted and blended with other cobalt ores and then exported to China, where it might be sold to another company in Vietnam to make batteries, which are then exported to other firms that make smart phones in China, Taiwan or South Korea. It is easy to lose track of it and not know if you are using cobalt produced using child labour or exploited workers unless you have some way to trace it along the length of the supply chain.
Children are involved in mining conflict metal cobalt in DRC (credit: Amnesty International)
Then there are the reputational risks of using the so-called "conflict minerals", gold, tin, tantalum and titanium, which often fund local militias and prolong the DRC's devastating civil war. They are subject to strict rules in North America and Europe. In in 2015 only 1% of firms could certify their products free of conflict minerals "with great certainty", according to a study in the Academy of Management Journal. Full chains of custody using blockchain could help to give companies greater certainty about the source of the minerals used in their products.
Provenance is also looking at using its technology to tackle modern slavery and illegal fishing in the global fishing industry, while Walmart is using blockchain to track the origin of pork from China and Everledger is seeking to bring blockchain technology to the tracing of diamonds from the mine to the consumer.
One of the risks that companies struggle to see is deforestation – one of the key drivers of climate change. A number of companies across a range of sectors have committed to having deforestation-free supply chains by 2020. However, only a fraction have adopted "time-bound, actionable plans for doing so" according to the Stockholm Environment Institute (SEI), creating an urgent need for a breakthrough in assessing and monitoring sustainability performance. There are many reasons for this lag, but one major obstacle is the "stupefying complexity of global supply chains", SEI research fellow Toby Gardner said at the UN Climate Change Conference in Marrakech last year.
Trase
Trase (Transparency for Sustainable Economies), a joint initiative by the SEI and the Global Canopy Programme (GCP) is an interactive online platform that allows companies, financial institutions, governments and others to explore data on the flows of globally-traded commodities such as palm oil, soya, beef and timber that drive two thirds of the world's deforestation and other environmental and social impacts worldwide.
Trase is an interactive online platform to fight deforestation (credit: Filipe Frazao)
Over the next five years, Trase aims to map the trade and risks for over 70% of total production in major forest risk commodities, catalysing a transformation in supply chain sustainability for the agricultural drivers of deforestation. "We see Trase as the start of a data-driven revolution in supply chain transparency," says Javier Godar, a Senior Research Fellow at SEI and one of the platform's founders. "Trase can help catalyse improvements across the board: in production practices, procurement and investment policies and the governance of supply chains by both producer and consumer governments".
Companies are already beginning to see the potential benefits of the platform. "Without transparency it is impossible to enter into a dialogue with our traders," says Lucas Urbano, programme management officer for Danone's climate nature and cycle sustainability strategy. Trase, he says, helps a company like Danone "move beyond the blame game and start a constructive dialogue about solutions."
The efforts of organisations such as Provenance,Trase and Halotrade (see separate box) are still in their infancy, but they have the potential to usher in a world of what the Co-op calls "radical transparency". Giving companies complete visibility over their supply chains could change the way companies do business for ever, to the benefit of their customers, the workers in their supply chains, the environment and their bottom line.
This is part of our big data and human rights briefing. See also:
Protecting privacy in the digital era

Refusing to dance with dictators

Barclays executive banks on blockchain

Kenyan mobile operators 'pressured to give up data'
Big data
Provenance
Landmapp
Trase
Walmart
deforestation
SEI
Global Canopy Programme
Nestlé
Mars
Coop
Conflict minerals
cobalt
Related Reads
comments powered by

Disqus