Los Angeles set to sign solar deal below $20/MWh; Europe 2019 PV forecast jumps to 18.8 GW
Jul 3, 2019
Our pick of the latest solar news you need to know.
Related Articles
Los Angeles set to sign PV power agreement below $20/MWh
The Los Angeles Department of Water and Power (LADWP) is set to agree a power purchase agreement (PPA) for 8minute Energy's planned 400 MW Eland solar plus storage plant at a record-low price of $19.97/MWh, media reported June 28.
LADWP officials will present the deal proposal to department commissioners on July 23, the reports said.
The lowest U.S. solar PPA price to date is $23.8/MWh, signed by NV Energy for 8minute's 300 MW Eagle Shadow PV plant in Nevada.
The Eland project will feature 100 MW of four-hour battery storage capacity and will be located in Kern County, California. Power dispatched from the battery across evening peak demand periods would receive a top-up revenue of $13/MWh.
The solar capacity will be built in two 200 MW phases and is due online by 2023.
U.S. solar PPA prices fell in most markets in Q1 2019, with the largest decreases in California's CAISO, the north-east PJM and Texas ERCOT markets, platform provider LevelTen said in a report May 8.
In California, the P25 solar index, which represents the most competitive 25th percentile offer price, fell by 15%, LevelTen said. Increased competition among developers and lower engineering, procurement and construction (EPC) costs had the greatest impact on costs, it said.
               10th percentile solar PPA prices by market in Q1 2019
                                                          (Click image to enlarge)
Source: LevelTen, May 2019.
NV Energy commits to 1.2 GW of new solar-storage build
Nevada utility NV Energy is to sign 1.2 GW of new power purchase agreements (PPAs) for three large-scale solar plus storage projects planned in Clark County, Nevada, NV Energy announced June 24.
The PPAs will cover the 690 MW Gemini Solar project, the 300 MW Southern Bighorn plant, and the 200 MW Arrow Canyon facility.
Due online by 2023, the projects will ensure NV Energy exceeds its target of doubling its renewable capacity between 2018 and 2023.
The giant Gemini project is being developed by Quinbrook Infrastructure Partners in collaboration with Arevia Power and will include a 380 MW AC battery storage system, NV Energy said. This would make it the largest battery storage facility in the US.
The Gemini plant would be located on federal land in Clark County situated 33 miles north east of Las Vegas, immediately south of the Moapa River Indian Reservation, according to documents published by the U.S. Bureau of Land Management (BLM).
An NV Energy substation and high-voltage transmission line are located less than four miles to the west of the Gemini site. Interstate 15 is less than half a mile to the west, the BLM said.
The Southern Bighorn and Arrow Canyon projects will be built on the Moapa River Indian Reservation in Clark County.
Southern Bighorn is being developed by 8minute Solar Energy and will include a 135 MW, four-hour lithium-ion battery system.
Arrow Canyon is being developed by EDF Renewables North America and will include a 75 MW, five-hour battery storage system.
Trump reverses ban on US sales to Huawei
President Trump has pledged to reverse a ban on sales of U.S. technology products to China's Huawei, just days after the company exited the U.S. solar inverter market.
Speaking June 29 at the G20 summit in Japan, Trump also confirmed the U.S. will not impose new tariffs on Chinese imports while the two countries negotiate to solve trade disputes.
Previously, the Trump Administration said that Huawei's technologies created vulnerabilities to cyber attacks by nations such as China.
Some experts believe solar inverters can present a cyber security threat to grid stability.
By June 24, Huawei had stripped back its U.S. inverter business to basic sales and services staff, media reported.
Huawei held a 4% share of the U.S. solar inverter market in 2018 and 22% of the global inverter market, according to data from Wood Mackenzie Power and Renewables.
WoodMac raises 2019 Europe PV forecast to 18.8 GW
Wood Mackenzie Power & Renewables has raised its Europe PV installation forecast for 2019 from 16.9 GW to 18.8 GW, representing a 76% increase on 2018.
Competitive tenders, subsidy-free prices and European Union (EU) renewables targets will drive up solar installations in the coming years, Wood Mackenzie said.
Annual installations will be around 20 GW for the next three years and will hit almost 25 GW by 2022, it said.
"Germany will remain Europe's largest PV market, installing 21 GW between 2019 and 2024. Spain will come a close second, with almost 20 GW of mostly utility-scale capacity expected," Wood Mackenzie said.
                               Forecast PV capacity in Europe (cumulative)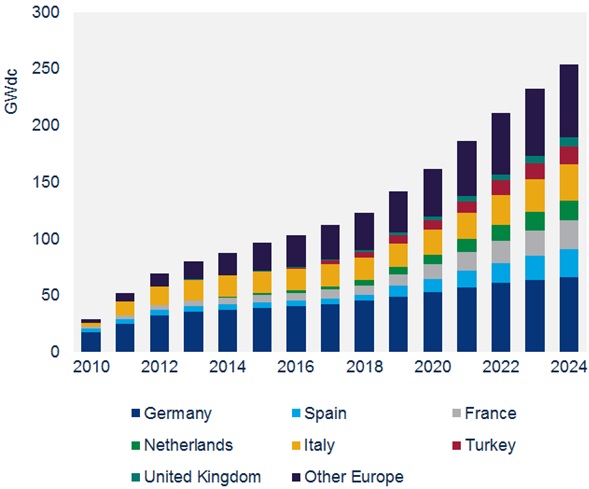 Source: Wood Mackenzie, June 2019.
"Price cannibalization" will worsen as renewable energy penetration increases, Tom Heggarty, Wood Mackenzie Power & Renewables Senior Analyst, warned.
"In developed European power markets, we already see that power prices can fall below 30 euros/MWh and rapidly towards zero as renewable energy penetration rises to about 50%," Heggarty said.
"Most low-priced hours are overnight but midday price erosion is a near certainty as solar's market share grows," he said.
China's Silk Road Fund acquires 49% of ACWA Power Renewable Energy
China's Silk Road Fund has purchased a 49% stake in ACWA Power Renewable Energy (ACWA Power RenewCo), the Saudi Arabian group announced June 23.
ACWA Power is a leading solar and wind developer in the Middle East and North Africa (MENA) and the dominant developer of concentrated solar power (CSP) plants in the region.
ACWA Power RenewCo owns 1.7 GW of PV, CSP and wind assets across the United Arab Emirates (UAE), South Africa, Jordan, Egypt and Morocco, the company said.
ACWA Power had already signed several strategic renewable energy agreements with Chinese groups and the Silk Road Fund is a major shareholder in ACWA Power's $4.4 billion Noor Energy 1 CSP-PV project in Dubai, UAE.
Currently under construction, the 950 MW Noor Energy 1 project will include three 200 MW parabolic trough CSP systems, a 100 MW CSP tower plant, 250 MW of PV capacity and 15 hours of molten salt CSP storage capacity. Shanghai Electric is the contracted Engineering, Procurement and Construction (EPC) supplier.
ACWA Power has also been a key player in Morocco, where it has developed three CSP projects for a total capacity of 510 MW and three PV plants for a capacity of 177 MW.
New Energy Update