Up Close and Personal: Emanuele Ostuni's Story – Committed to delivering hope
Emanuele Ostuni has seen patients up close since he was a boy in southern Italy. He is now living his dream job helping patients as Europe Head, Cell and Gene Therapy at Novartis Oncology. Read on to learn about his career path and what ignites his fire to never stop for patients.
By

Sep 15, 2019
on
As a young boy, Emanuele's father, a surgeon, took him to the hospital regularly. Emanuele knew all the nurses by name. He also occasionally helped in his dad's private practice. "My dad never turned anyone away," said Emanuele. Even on vacation, he remembers acting as nurse on their sailboat helping a fellow boater who was in trouble. He followed him on house visits and saw in his father a man who did all he could to help patients. But he also saw the danger of it as it could become all encompassing. When do you say no? His father advised him "Be aware of going into medicine because it is a difficult life."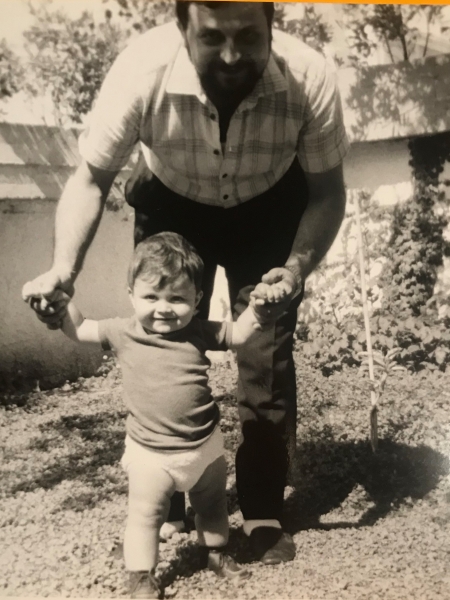 Emanuele was in a conundrum. He too wanted to help patients but was wary of following his father's path. Then when at Georgetown in a pre-med program, he was volunteering in the neurology department where he saw patients not progressing for months. He thought that maybe by going into research he could help people for whom there was currently no help. He ended up going to Harvard to get a PHD in Chemistry. There he collaborated with researchers at Harvard Medical School and MIT – developing new material surfaces and approaches to controlling single cells. 
The technology was interesting and he joined a start-up that would commercialize it. He loved understanding the science and soon realized he was drawn to the conversation around what makes good science successful in the market. It's where the rubber met the road; the test if your discoveries really made a difference. However, he didn't yet have the lingo to talk business or strategy. 
To fill that gap he spent four years at McKinsey. "They had the guts," Emanuele reflected, "to take people with PHDs and teach them the basics of business and send them out working with clients". It was like getting an MBA but with real experience. There he learned practical business acumen from real-world situations.
Eventually, missing the technology and wanting a more hands-on impact, he went back to Boston to join a start-up. While there, he started a biotech with a former colleague who became a professor at MIT. 
Always wanting to learn more and have a larger impact, his eyes turned to wanting to see the bigger picture. He wanted to see the process from discovery through manufacturing, approval, sales and marketing. So he started talking to Sandoz-a generics company. Against the advice of colleagues and friends he was convinced that it was the right business for him to join. The cycle times were fast, so he could see very quickly how products were developed and sold. He helped create many launches globally and learned how to run branded and generic pharmaceuticals businesses.  As he later worked in Eastern Europe he managed growth and expansion strategies in the backdrop of highly volatile markets – important skills for what was to come.
That's when the opportunity with CAR-T arose. It's a dream come true role for Emanuele. He had been watching the area develop from a distance and was taken aback by the impact the therapies were delivering to patients. He moved his family to Basel to build a team to deliver CAR-T broadly across Europe. It is completely unique because they have to find a way to deliver a living product. The infrastructure needed is new for the industry, requiring direct links to physicians who may prescribe.  His team had to develop services to support hospital readiness, service and logistics.  They had to build teams in all countries and develop approaches for sustainable reimbursement and market access.  In addition, new payment models are necessary to allow countries to access the product. It's a new and complex approach. 
What surprised you the most?
Emanuele said he didn't think it would be as complex as it has been. The intensity of the highs and lows has also been surprising, he added. Such a new, transformative product brings out the best and the worst in people and processes, he explained. The systems are not completely ready. Physicians were excited while at the same time the experience across Europe was limited.  Healthcare systems, hospitals, and payers were not ready for such a product that is given once and can have lasting effects over several years. Most healthcare systems are used to treating patients on a chronic, regular basis. Patient organizations have also been overwhelmed by the availability of these new approaches.  It's great, he says, seeing amazing collaboration among market participants but also frustrating when all those things don't work. Sometimes stakeholders forget what is at stake - patients' lives. 
What drives you to figure it out? 
"I am very close to patients now – if there is something that drives me – it's figuring out how to get a patient's access to the product - knowing it could be life-changing for them," explained Emanuele. "The thrill of solving a problem to improve someone's life; to have that real impact; that drives me," he added. "Sometimes we can't help. It's a fact of life. I have to feel positive that my team and I did our best," he added solemnly.
How do you help your team stay focused on the patient?
It starts with some major and minor signals that all add up, he explained. "We focus the team on supporting patient identification activities – we think of one regional goal – one common objective. This results in greater collaboration."
His first point in his communications when discussing performance is not on sales, it's on how many patients could access the therapy in a given period. The technicality of how they recognize revenues is secondary to how many patients they can reach. "Can we give access to the product to patients within label? That's our focus," explained Emanuele confidently. 
They ask every person "if you were a patient, would you want this/would this be ok with you? And if you were a physician, would you want this?"
He has seen that with this approach the lightbulbs go off. "When it really clicks, he said, you see real change in behavior. It's almost a militancy." People realize we should focus on patient access and not on bureaucracy. 
Emanuele is quick to point out that nothing happens without a strong team.  With his leadership team, early on, they worked to define their long term vision and the key principles behind it to make sure that "we could always check ourselves against them to stay on track".  The vision was given the name "Love and Liquid Nitrogen".  "We wanted to reflect the passion we have for patients and for supporting each other while connecting that to the task of delivering our product, which is shipped in liquid nitrogen". 
Beyond the leadership team which meets frequently, they organized an all-hands meeting to ensure all colleagues made the vision theirs and that they could learn from each other and connect.  "We recognize the importance and the gravitas of what we do and at the same time, we want to have fun together while doing it." 
Looking back, Emanuele remembers his first realization of mortality. "I remember some house calls with my dad and realizing the patient was just on palliative care – they weren't going to get out of bed," he reflected. He saw patient care at its best and at its limit – when there was nothing else that could be done. "Now, I'm working in a place where something can be done," he added with pride. There is a small group of patients, with these two cancers, that now have more options than before. 
"I am exactly where I want to be. I've been wanting and training to be here for a long time," Emanuele explained. He still has the bracelet he made with a Swedish patient group on the day he met Emily Whitehead – the first child treated with CAR-T at age 7 who is alive 7 years later. "That was a big day for my team and me. My team ask me why I wear this bracelet. It's my inspiration," he said, then added, "My role was announced on May 10, 2017. I didn't think anything of the date. That afternoon the pharma media was all abuzz – about Emily Whitehead – it was her 5-year anniversary of being cancer-free. It still gives me goosebumps. I feel very connected to my purpose." 
When I asked Emanuele what he wanted from this article. He said "I'm proud of my story. I want my story to help others find their own story and make a difference. If there can be more leaders driven by purpose, we as an industry can do better for patients. Sometimes people are so far removed from the patient that it is a real pity. I want to build a bigger community focused on what makes a difference and what makes the world better for patients." Thank you, Emanuele for your inspirational story. A rising tide lifts all ships. You made a difference sharing it. 
To learn more about Emanuele, enjoy this video interview where he answers questions like:
1)

What are you most excited about regarding new treatments for cancer?
2)

How important is patient centricity to collaboration and to creating effective digital tools?
3)

Where should patient centricity sit in the organization?
4)

How do you measure success?
5)

How do you help your team connect with what patient centricity means to them?
FREE TO ATTEND: Where pharma comes to life. The biggest and most important commercial pharma event in the world with over 2000 attendees across marketing, patient engagement, clinical, market access, medical affairs, commercial excellence, RWE, patient advocacy and digital health.